Last week, I wrote about Dan Mitchell's theory that the best Republicans on the super-committee can do to reduce the size of our debt is "nothing," since failing to reach an agreement would trigger a $1.2 trillion sequester. This is what the annual and cumulative spending cuts under the Budget Control Act sequester could look like: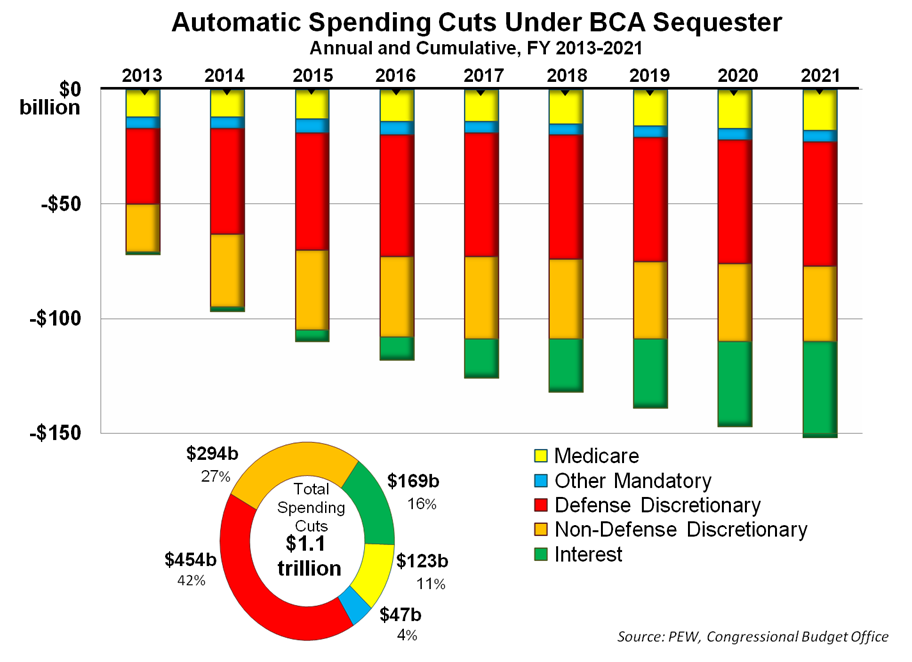 As PEW research explains: "The CBO estimates that about 70 percent of mandatory spending would be exempt from sequestration, virtually all of it in non-defense mandatory spending, such as Social Security and Medicaid. Most of Medicare would be limited to a two percent annual cut. About 42 percent of the savings from the automatic sequester, or about $454 billion over the next decade, would fall on defense discretionary spending. Another 42 percent would come from non-defense discretionary and mandatory spending, and the remaining 16 percent would result from lower interest costs."
Unfortunately, CBO's analysis can only approximate the ultimate results; the administration's Office of Management and Budget would be responsible for implementing any such automatic reductions on the basis of its own estimates.