Patrick: You are right to say that a 2 percent economic growth is disappointing. But it's worse than it looks. My colleague Keith Hall, a former commissioner of the Bureau of Labor Statistics, pointed out to me this morning that, according to Bureau of Economic Analysis, during the third quarter the private sector only grew by 1.3 percent. That's less than during the previous quarter, in which the private sector grew by 1.4 percent; at the same time government spending shrank by 0.1 percent for overall growth of 1.3 percent: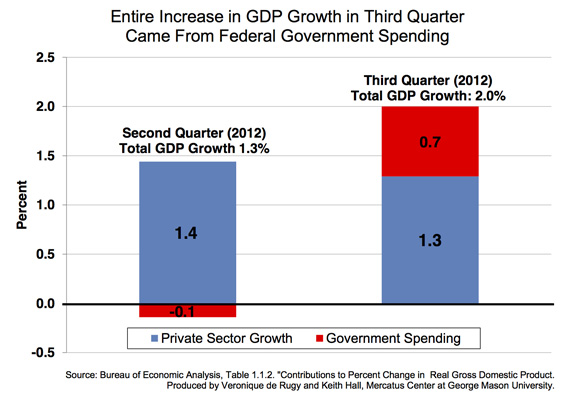 Interestingly, all of the difference in growth between the second quarter and the third quarter comes from an increase in government spending. In fact, this quarter, federal spending saw its biggest increase in two years, at 9.6 percent.
Where is this spending coming from? The Pentagon, it appears. The Washington Post's Brad Plumer notes:
Government defense expenditures surged by 13 percent between July and August. You can see the breakdown at the Bureau of Economic Analysis site. The Pentagon spent significantly more on weapons, training, operations, and maintenance. (Ammunition purchases, for instance, doubled.) Had these expenditures not occurred last quarter, the U.S. economy would have grown at a mere 1.36 percent pace.
For more details go here.
(Thanks to Tyler Cowen for pointing me to WaPo piece)