The election is more than a year away, but Senator Mitch McConnell is already running hard against Democrat Alison Lundergan Grimes, Kentucky's secretary of state and his likely opponent in the general election. He raised more than $2 million in the second quarter, and has nearly $10 million on hand. Grimes, a 34-year-old attorney, is scrambling to catch up. She hasn't held a public event since her shaky announcement, and just hired some consultants. 
According to Kelsey Cooper, a Kentucky GOP official, Grimes is in Martha's Vineyard this weekend. "While Alison Lundergan Grimes is in Martha's Vineyard living it up with rich fat cat liberals, Senator McConnell is spending time in the Commonwealth reaching out to Kentuckians and listening to the issues most important to them," Cooper says in a statement. "There is a clear contrast between a senator who has always known Kentucky comes first and a candidate eager to travel the country seeking the approval of the Obama crowd."
Politico's John Bresnahan reports that Grimes is there with Senate Democrats. More than 20 senators, he says, are at the summer colony. Meanwhile, McConnell was appearing in small, rural Kentucky towns today — and his office made sure to play up that contrast on Twitter:
@McConnellPress: Thanks #Campbellsville, #Kentucky. We enjoyed being part of your celebrations today – Sen. McConnell and Elaine Chao
Perhaps to taunt Grimes as she fundraises near the beach, McConnell also tweeted the below picture. All that's missing is apple pie and a bluegrass banjo.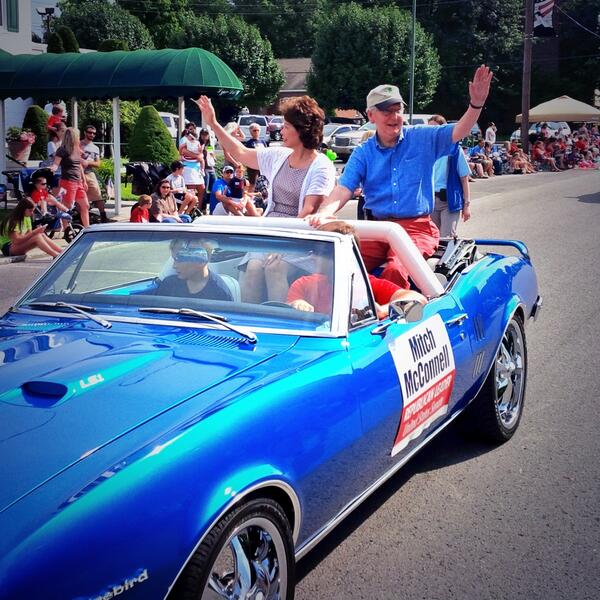 Most polls show the race close, with McConnell slightly ahead. Nate Silver thinks his reelection "is likely, but not guaranteed."