This is not Churchill's London.
What appears to be a jihadist flag has been spotted flying above the entrance of a housing estate in east London's Tower Hamlets area. Near it are the Palestinian flag and slogans related to the ongoing conflict in Israel and Gaza: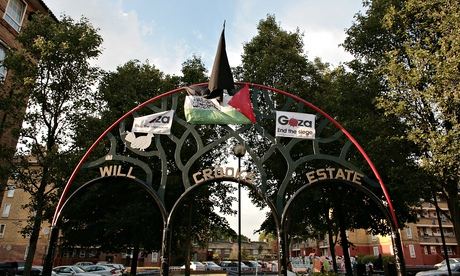 The black flag closely resembles flags flown by ISIS and similar groups: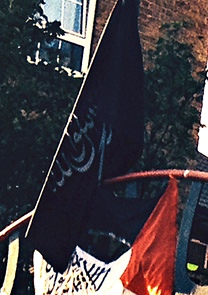 The Guardian reports:
The flag bears similar writing to the jihadi flags that have been flown by the extremist group in Iraq and other jihadi groups since the 1990s. When the estate was approached last night, a group of about 20 Asian youths swore at Guardian journalists and told them to leave the area immediately. One youth threatened to smash a camera.

When a passerby tried to take a picture of the flag on a phone, one of the gang asked him if he was Jewish. The passerby replied: "Would it make a difference?" The youth said: "Yes, it f[***]king would." Asked if the flag was an ISIS flag, one local man said: "It is just the flag of Allah." But another man asked: "So what if it is?"
The presence of radical Islam in the United Kingdom is not a new phenomenon. In 2005 the city suffered a series of coordinated suicide attacks targeting the Underground transit system. Last year Drummer Lee Rigby, a British soldier, was savagely murdered by two Muslim converts in a street in the city's Woolwich district. And in June the Daily Mail reported that more Brits have signed up to fight with Jihadist organizations in Iraq and Syria in the past year than have signed up for the UK Army Reserve.