Rick Perry's political-action committee is capitalizing on the Texas Republican governor's recent arraignment by selling merchandise memorializing it.
Supporters can now wear Perry's mugshot on a t-shirt reading "WANTED: For Securing the Border and Defeating Democrats," courtesy of RickPAC. The shot was taken last week when Perry turned himself in following his indictment for allegedly abusing his power by vetoing funds for a Texas anticorruption office.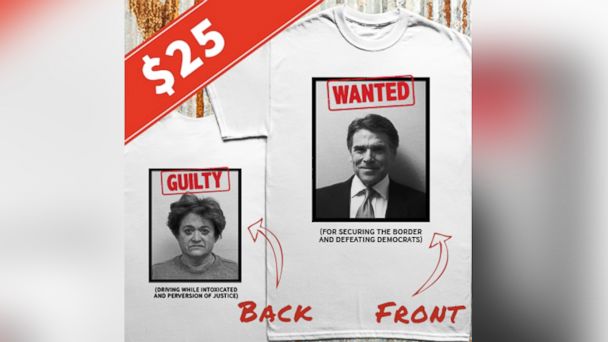 The Christian Science Monitor reports aides were seen handing out the t-shirts during Perry's recent visit to New Hampshire, a crucial primary state in the presidential nominating process. RickPAC's website says supporters can get their hands on one after a $25 contribution.
Perry threatened to veto funding for the anti-corruption office unless Travis County DA Rosemary Lehmberg, who oversees the office, resigned after getting a DUI. Lehmberg gets a spot on the back of the t-shirt: "Guilty: Driving While Intoxicated and Perversion of Justice."
The indictment against Perry has largely been dismissed, by Republicans and national Democrats, as weak and potentially politically motivated.