UPDATE 10:25 p.m. President Obama spoke tonight following the events of the past 24 hours to praise the accomplishments of law enforcement and to mourn the lives of those lost. He said there were "still many unanswered questions" in the case, but that the suspects "failed because, as Americans, we refused to be terrorized."
President Obama also briefly mentioned the recent disaster in West, Texas, vowing to help all those affected.
UPDATE 10:06 p.m. The suspect is now in custody and is being treated at Massachusetts General Hospital. CBS reports that he is in serious, if not critical, condition. The Associated Press released a stillframe of the suspect being loaded into the ambulance (Warning: Graphic). Boston Police commissioner Ed Davis told reporters that no explosives were found on the suspect.
Amid conflicting reports, CBS also clarified that the suspect has not been read his Miranda rights. The Justice Department has invoked as public safety exception, according to the report..
UPDATE 8:02 p.m. The Globe is now reporting that police are throwing flash bangs toward the boat to disorient the suspect.
UPDATE: 7:52 p.m. Reporters have now described a small number of gunshots, or what's been described as a "popping sound" in the area around the surrounded boat, which some speculated could have been sniper fire. A flash-bang grenade apparently also may have been thrown.
UPDATE: 7:25 p.m.: Pete Williams of NBC News is reporting that a body has been found. 
This is apparently the boat that's currently surrounded:
UPDATE: 7:15 p.m. It appears that authorities are taking their time closing in on the boat in which the suspect may be located and around which shots were supposedly fired — some reports say they've bringing in armored cars to tip it over, while Channel 7 in Boston broadcast images of a robot being brought in to probe for explosives first:
UPDATE: 7:10 p.m. The Boston Globe is also reporting that the remaining fugitive, 26-year-old Dzokha Tsarnaev, has been surrounded in Watertown.
Fox News is now reporting that law-enforcement sources are saying the second suspect has been caught — he was found hiding in a boat on a trailer in Watertown, hiding under a canvas covering, through which he'd poked holes at some point.
UPDATE: 6:59 p.m. CNN and NBC are now reporting that there has just been gunfire in Watertown. Reporters explained that they heard perhaps two dozen gun shots, and that police helicopters had gathered overhead before the shots were heard. In addition, one CNN correspondent explained that multiple policy vans, one so rushed that its rear doors were swinging open, had driven by, and that the level of activity was the highest that had been seen since this morning.
UPDATE: 6:30 p.m. At a press conference this evening, little information about the remaining suspect or his whereabouts was released, but at least one interesting, and surprising, fact was disclosed: While a 7-Eleven was robbed last night in Cambridge by someone armed, and the two Tsarnaev brothers were on the premises, they were not actually the robbers, according to State Police superintendent Timothy Alben. Earlier in the day, authorities had connected the murder of an MIT campus police officer, the 7-Eleven robbery, and then the standoff in Watertown, but it appears that the brothers only coincidentially witnessed the second crime.
As to the state of the manhunt, however, authorities had no news, or bad news: Colonel Alben explained that the police had not been able to establish a secure cordon during the shootout last night where one of the suspects was killed, saying "unfortunately, we did not have enough people" to secure the entire area and attend to the officers who had been wounded from, among other things, the explosives the terrorists were setting off. Governor Patrick explained that, later, a great deal of resources was put into an exhaustive search of a 20-block area, going door-to-door, without finding a suspect.
Law enforcement has also lifted its request that people stay inside, which had applied to the city of Boston and nearby towns (Watertown, Newton, Cambridge, Brookline, etc.) and re-opened the city's public-transport service, the MBTA, but reminded people to remain vigilant. Officials also stated that they did not believe the fugitive has left the commonwealth, but weren't sure of the report.
UPDATE: 6:08 p.m. CBS's Major Garrett reports:
The FBI has now confirmed to CBS News that they interviewed Tamerlan Tzarnaev two years ago at the request of another country, but found nothing.
UPDATE: 5:26 p.m. The Daily Mail is reporting that the elder brother, Tamerlan, was married to an American, and that the couple had a child together:
Boston terror suspect Tamerlan Tsarnaev has a three-year-old daughter with a middle-class college student who converted to Islam, MailOnline can reveal.

The 26-year-old Chechen – who was shot dead by cops last night – was regularly seen at Katherine Russell's family home in Rhode Island, alongside their young daughter Zahara.

And neighbours today spoke of their shock at waking up to see Katherine's home being raided by the FBI and cops before dawn this morning.

While a woman fitting the 24-year-old's description was seen answering the door at the family house, athough her identity has not yet been confirmed.

…

One neighbour told how Katherine – who also uses the last name Tsarnaeva – converted to Islam shortly after starting school at Suffolk University in Boston, saying she believed the couple were married.

Speaking from the quiet suburb, the neighbour said: 'I knew Katherine was married and she had converted to Islam.

'She went away to college about three or four years ago and I saw her a year later and she was dressed in the Islamic style. Her hair was covered and she was wearing very baggy, flowy clothing.'
UPDATE: 5:11 p.m. Michael Isikoff of NBC News is reporting that the police have found seven IEDs and are worried that Boston may be booby-trapped. From NBC's website:
Boston was a ghost town Friday with residents ordered to remain inside their homes during an all-day manhunt for suspected marathon attacker Dzhokhar Tsarnaev, as police scouring the city and its suburbs uncovered seven more bombs following a wild overnight shootout that left the other suspect and a police officer dead.

Some of the improvised explosive devices were recovered in Watertown, where the shootout capped a police chase with the suspects, and some at a house in Cambridge, police officials told NBC News. 
NBC has tweeted to this effect, too:
UPDATE: 4:29 p.m. For an interesting profile of the two brothers and their roots in Central Asia, see this brief from the Jamestown Foundation, a think thank which specializes in Eurasian security issues, especially the Caucasus. They note:
In light of preliminary information about the Tsarnaevs, there does not appear to be much, if any, indication that Jokhar had any connection to jihadist groups or sympathized with the most well-known terrorist organization in the North Caucasus called the Caucasus Emirate, or any other similar groups. . . . They were not present in Chechnya, either during the first war (1994-1995) or during the second war in Chechnya that started in September 1999. The brothers would not have been able to receive any type of fighting or military experience because of their age. Their family emigrated to the US when the eldest brother was only 16. Taking into account that before their move to the US they had lived in Russia for two years and prior to that they had resided for one year in Dagestan, it is hard to see their connection to militants operating in Chechnya or elsewhere in the North Caucasus.
However, it's been reported that the older brother flew to Russia within the past year, leaving the United States for six months, and we don't know what he did during that time. It's possible that during that time he received training in the Caucasus from one of the Islamist groups that operates there (or of course received such training somwhere else in Asia), but as Jamestown points out, direct connections between their terrorist work and Chechnyan militancy (which is in part Islamist) seem unlikely.
UPDATE: 4:25 p.m. Well, there goes that theory. . . (via @gabrielmalor)
UPDATE 3:09 p.m. The Boston Red Sox announced they have postponed tonight's game against the Kansas City Royals.
Tonight's Boston Bruins game is expected to be cancelled as well.
UPDATE 2:54 p.m. After the FBI released a "Wanted" poster for Dzhokar Tsarnaev featuring information about the vehicle he may be in, Massachusetts state police tweeted that it already has the car.
UPDATE 2:45 p.m. The White House has released a photo of President Obama meeting with his national security team to discuss the situation in Boston in the Situation Room.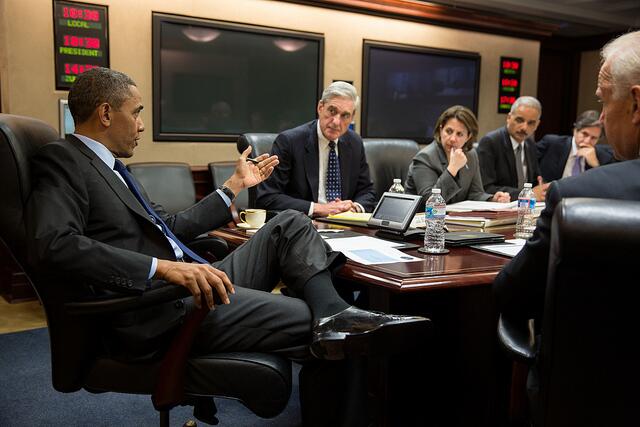 UPDATE 2:26 p.m. A Toronto woman claiming to be the aunt of the suspects told reporters that she believes her nephews were set up. "I'm suspicious that the picture was staged," said Maret Tsarnaev, but didn't know who might have done it.
UPDATE 2:16 p.m. A citizen journalist was able to capture video (albeit dark) and sound of authorities trading fire with at least one of the suspects in Watertown last night.
UPDATE 1:54 p.m. After several Twitter accounts were claimed to be Dzhokhar's, CNN and Buzzfeed have confirmed that the at-large suspect's account is actually @J_tsar. The account has offered some insight into Dzhokhar, especially showing that he tweeted at least seven times since Monday's bombing. Here are some of this week's tweets:
UPDATE 1:26 p.m. Late last night, following the robbery of a convenience store, the suspects hijacked a car with the driver still inside. Pete Williams reports that the suspects told the carjack victim that they were responsible for the bombs and the death of an M.I.T. officer.
The suspects eventually let the victim go free after about 30 minutes. A picture of the hijacked car reveals that it had the popular "Coexist" bumper sticker.
UPDATE 12:51 p.m. In a press conference with Governor Deval Patrick and Boston mayor Thomas Menino, the Massachusetts State Police superintendent Tim Alben told the public that "there has been no apprehension at this point." He said authorities had "several new leads" that they would be using.
Shortly after, NBC's Pete Williams reported that Boston Marathon bombing may be the work of more than just two people: "We've been cautioned here in the last couple minutes here, the last 45 minutes or so, not to think of them as the two Marathon bombers, suggesting that others were involved. It's these others that were involved in Marathon bombing, they believe, that are still out there."
UPDATE 12:29 p.m. NBC News has learned that Tamerlan Tsarnaev, the dead suspect, was out of the country for six month last year. He reportedly flew out of New York's John F. Kennedy airport to Sheremetyevo airport in Russia, one of Moscow's three airports. It is unclear what he did during those six months away.
Dzhokhar, his brother and the suspect still at large, also became a U.S. citizen last year on September 11.
UPDATE 12:21 p.m. Ramzan Kadyrov, Chechnya's Russian-backed president, issued a statement this morning to say that the suspects' heritage is not to blame for their actions because they were raised in the United States.
"Any attempt to draw a connection between Chechnya and Tsarnaevs — if they are guilty — is futile," he said. "They were raised in the United States, and their attitudes and beliefs were formed there. It is necessary to seek the roots of this evil in America." 
UPDATE 11:58 a.m. The sister of the suspects, who lives in West New York, N.J., has apologized for her brothers' actions.
UPDATE 11:35 a.m. The uncle of Tamerlan and Dzhokhar Tsarnaev held an emphatic meeting with reporters outside his Maryland home this morning, urging his nephew to turn himsef in. "Being losers, hatred to those who were able settle themselves, these are the only reasons," said Ruslan Tsarni on what may have caused them to commit these acts; when asked if they may have been motivated by their religion, he replied that "anything else to do with religion, with Islam is a fraud, is a fake!" unless "maybe somebody radicalized them."
"He put a shame on the entire Chechen ethnicity," Tsarniof added.
UPDATE 11:23 a.m. At the State Department this morning, John Kerry declined to comment on "hypothetical" Chechnya ties of the suspects:
Secretary of State John Kerry wouldn't weigh in Friday on the implications of the apparent Chechen ties of the suspects in the Boston bombings as he took questions from reporters.

"At this point law enforcement officers are carrying out an ongoing investigation and, frankly, they're at some critical stages here. And it would just be entirely inappropriate for me to be commenting on the tick-tock around the larger issues outside of it," he said at the State Department.

Pressed again, he declined to comment. "I'm not going to get into speculation, I'm not going to deal with a hypothetical."
UPDATE 11:12 a.m. An empty Kenmore Square:
UPDATE 11:07 a.m. On NBC, the press has been told to go to the ground for safety and is now being pushed back. The reporter described the scene as "incredibly tense."
UPDATE 10:43 a.m. From Reuters, Dzhokar Tsarnaev, the second suspect, is reportedly at gunpoint but may have a device on him.
UPDATE 10:29 a.m. The father of the suspects spoke with Good Morning America's Bianna Golodryga over the phone from Russia and she relayed that he encourages his son to "surrender peacefully, to give up, to give in, and to come home to Russia." He was also adamant that his sons were not the perpetrators in the Boston Marathon bombing. When asked about his son who has already died, the father said, if that is true, "all hell will break loose." 
UPDATE 10:10 a.m. From the Globe's Twitter account:
UPDATE 10:05 a.m. According to a local paper, the train stopped in Connecticut earlier this morning has been cleared after police failed to find a suspect.
UPDATE 10:00 a.m. The identity of the M.I.T. officer who was murdered by the suspects last night has been revealed: Sean Collier, 26, of Wilmington, Mass.
UPDATE 9:52 a.m. More from NBC News on possible accomplices.
Other reports say there is a second accomplice aside from the one on the train in Connecticut. Some reports say the second accomplice is in Boston.
NBC News also reports: "Two unidentified people were taken into custody at the Cambridge, Mass., home where Dzhokhar Tsarnaev and his older brother Tamerlan grew up, but they were not being described as additional suspects."
UPDATE 9:38 a.m. NBC News's Pete Williams, who's reporting has been arguably the most accurate this week, tweeted that authorities fear that there may be accomplices.
UPDATE 9:23 a.m. Local CBS-affiliate WBZ spoke with the uncle of the suspect. "I'm shocked. Wordless," said Ruslan Tsarni. "They do not deserve to exist on this earth. I have no idea." Later, in an interview with CNN, Tsarni gave the address of his brother, another one of the suspects' uncles, and invited reporters to join them.
The cable news channels are in no-commercials mode, as police hunt down the marathon bombing suspects. One, Tamerlan Tsarnaev, is reportedly dead, having been killed in the pursuit.
Overnight, the suspect brothers reportedly went on a rampage, robbing a 7-11, killing a Massachusetts Institute of Technology police officer, and hijacking a car.
The Boston Globe has a live blog up. Its most recent entry: A massive manhunt is underway this morning in Boston and several surrounding communities for one of the suspects in the Boston Marathon terror bombing attacks. A second suspect has died in a confrontation with police, while one police officer has been killed and another wounded.
Massachusetts governor Deval Patrick also put in place a "shelter-in-place order" for all of Boston