Good morning.
Here are several links from the past week that will make your Monday at the office a bit more bearable:
After another dominant start from Clayton Kershaw, a 6–0 shutout against the visiting Cardinals, the Dodgers have snatched first place in the NL West from the hated (and slumping) Giants.
Using Dwight Gooden as a comp, SB Nation's Steven Goldman shows that Tim Lincecum was able to exceed his present-day abilities to throw his second no-hitter in less than one calendar year.
As of this morning, the A's have the best record in the bigs, at 51–30, and look well positioned to capture the AL West for the third consecutive season. More than a decade removed from the publication of Michael Lewis's Moneyball, Will Leitch of New York Magazine explores what general manager Billy Beane is doing right this time around. Among the findings:
The A's do one thing more than any other team: They platoon. Most teams would look at players like A's catchers John Jaso and Derek Norris and lament how badly they struggle against pitchers who throw from the same side of the plate as they hit. This is seen as a liability. But Beane and the A's see it as a potential strength. Thanks to platoons, you can send a left-handed batter to the plate to face a right-handed pitcher and get a favorable matchup anytime. Which is what the A's do. Oakland has 12 players with more than 100 at-bats this season, tied for the most in the majors, and last season, according to Baseball Prospectus, Oakland had the second-highest percentage of "favorable-handedness matchups." And in baseball, every little bit matters.

It is difficult to find players who can do a ton of things well, and if you find them, they're quite expensive. But it's not as tough to find guys who do one or two things extremely well. And this has another advantage: Platooning keeps the players' "counting" stats down, which means it keeps them inexpensive. Jaso is a valuable hitter, but he's not even in the top ten among catchers in homers, RBIs, or hits. That's because he's 17th in at-bats. Arbitrators — who determine player salaries for the first part of players' careers —,look at these stats, and value them, more than they should, which means part-time players will cost relatively less than they should. It's another market inefficiency Beane exploits.
Despite their recent success in the standings, the A's have headaches away from the diamond. Fangraphs' Wendy Thurm briefs us on why last week's agreement to extend the team's lease at O.Co Coliseum for an additional ten years got nixed shortly thereafter.
Thurm's colleague, Paul Swydan, reminds us in "They Can't All Be George Springer" that even top prospects who rise to big-league stardom don't always do so right away.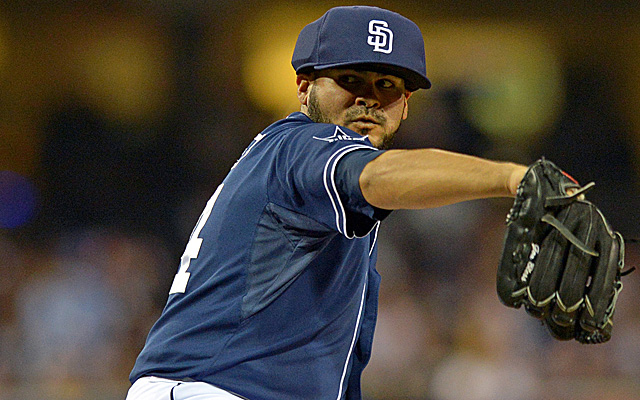 Gaslamp Ball 's "jbox" rightly takes umbrage at Mets color analyst Keith Hernandez for mocking pitcher Alex Torres for wearing one of the new, oversized caps designed to provide increased protection from batted balls.
That's it. Have a walk-off week!