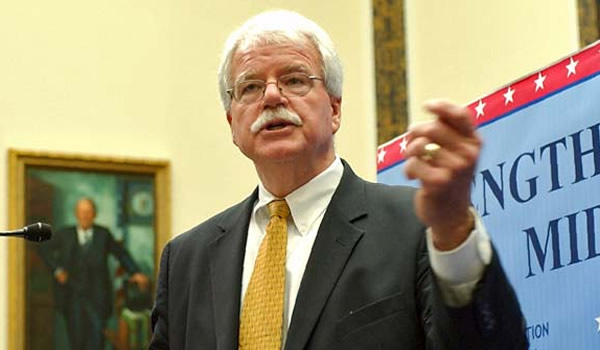 House Democrats want to double down on a flawed education law.
Two weeks ago, when the House Education and the Workforce Committee marked up two bills to update the No Child Left Behind Act (NCLB), Democrats and their allies screamed bloody murder. Ranking Democratic member (and former chairman) George Miller called the bills "radical" and "highly partisan" and said they would "turn the clock back decades on equity and accountability." A coalition of civil-rights, education-reform, and business groups said they amounted to a "rollback" of NCLB.
Miller put forward his own bills, which most of the same groups quickly endorsed, and which, Miller argues, "eliminat[e] inflexible and outdated provisions of No Child Left Behind and requir[e] states and [school districts] to adopt strong but flexible and achievable standards, assessments, and accountability reforms."
So let's see how Miller and company do at "eliminating inflexible and outdated provisions of NCLB" and requiring "strong but flexible" accountability systems. Their package:
1. Requires states to expect "all" students to eventually reach college- and career-readiness. (Didn't we learn from NCLB that calling for "universal proficiency" merely pushes states to lower the bar?)
2. Tightens the screws on NCLB's "subgroup accountability," requiring schools to hit targets on dozens of indicators in order to avoid stigmas and sanctions. (Why not let states develop new ways to ensure that vulnerable kids don't get overlooked — but without all the complexity?)
3. Makes failure even more likely by adding student-improvement and graduation rates to the mix (along with proficiency rates).
4. Potentially subjects a high number of schools to federally prescribed interventions. Rather than restrict the proportion of schools that must face the strictest sanctions to 5 or 10 percent, as Lamar Alexander's legislative package and the administration's own blueprint do, the Miller approach leaves the sky as the limit.
5. Micromanages the way that state accountability systems include students with disabilities, setting inflexible rules about how many students can take alternate assessments.
6. Establishes an enormous unfunded mandate by requiring states to translate examinations for every language group of 10,000 students or more. In larger states, this could mean the development of dozens of new assessment formats.
7. Penalizes school districts for doing more with less by keeping intact the "maintenance of effort" requirement — which substitutes Congress's priorities for state legislatures' and county councils' when it comes to spending limited state and local resources.
8. Mandates that states and districts redistribute "effective" teachers from middle-class to poor schools, even though recent research indicates that the "teacher-effectiveness gap" may not exist.
9. Keeps in place a mandate that districts hire "highly qualified teachers," even though its focus on paper credentials has been completely discredited.
10. Creates or reinstates myriad pet programs that Congress, often with support from the Obama administration, has already defunded.
So if Republicans are "radical," Miller and his allies must be "conservative," because they essentially want No Child Left Behind to stay the same.
— Michael J. Petrilli is executive vice president of the Thomas B. Fordham Institute, the nation's premier education-policy think tank. He is also a research fellow at the Hoover Institution and an executive editor at Education Next.