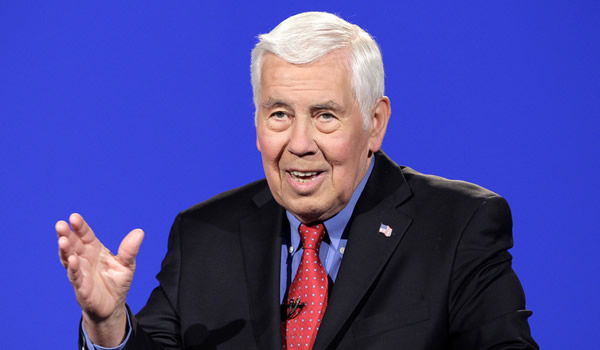 The 36-year incumbent makes the case for seniority.
Indianapolis, Ind. — "Dick Lugar's not been up in this area for a long time," says Diane Miller. A Republican from Albion, Ind., Miller is running for local office, as is half the audience, it seems, at the Noble County GOP's Lincoln Day Dinner. Sitting in the back of the dining room at the Cobblestone Golf Club, Miller admits, "I'm surprised to see him here."
Amid the bumper stickers and the yard signs and the roasted chicken and the baked potatoes, the dignified presence of Indiana's senior senator, who rarely attended political events in the past, almost seems jarring. Miller notices the discrepancy: "I'm surprised he stayed [for the whole dinner]," she says, with a hearty laugh.
But this is no laughing matter for the 36-year incumbent. His challenger, state treasurer Richard Mourdock, leads him 48 to 38 in a recent Howey/DePauw poll despite the fact that Lugar has won reelection easily since 1976. In the closing days of the campaign, Lugar is emphasizing his long tenure and the political efficacy he says that goes with it.
At the dinner, Lugar makes his case in front of the 60 or so attendees. It consists of three strands: One, he's cast a lot of votes — a lot of votes against President Obama. "I voted 42 times against every vestige of Obamacare," he tells the crowd, referring to the endless procedural votes in the Senate. And Republican delaying tactics forced the Democrats to engage in 30 hours of debate on the legislation, another unsung contribution to the conservative cause, he argues.
Two, he knows farming, an important industry in the Hoosier State. He mentions the 604-acre corn, soybean, and tree farm in Marion County, of which he is an owner. And he singles out for praise Representative Marlin Stutzman, who is also in attendance. "Marlin is my partner in the farm bill."
Lugar takes this opportunity to burnish his fiscal-conservative bona fides. Working with Stutzman, Lugar introduced a farm bill that would have cut $40 billion in federal spending by simplifying the subsidy schedule. After going through the Senate Agriculture Committee, the bill now cuts only $26 billion, but he stresses that at least he got that much done.
Three, he talks up his efforts in behalf of nuclear disarmament. He tells the story of the Nunn-Lugar program and then notes, "At a time of instability in the Russian government, we had better be very active." In other words, don't change horses midstream.
"These are serious issues," Lugar says in conclusion. "I would like the opportunity to continue working on them. I believe I need to be — for the sake of our country." As he walks back to his seat, the crowd gives him a standing ovation. Unfortunately for Lugar, his challenger, Mourdock, also gets a standing ovation that night.
"I think it's going to be very tight," says Jack Herendeen, an attendee.
Lugar's campaign is acting as if it agrees. It's pummeling Mourdock with negative ads on television and radio and emphasizing Lugar's electoral advantage. In an earlier Howey/DePauw poll, Mourdock and Democratic candidate, Representative Joe Donnelly, were tied. Lugar, on the other hand, easily trumps Donnelly.
Mourdock's supporters attribute his relative electoral weakness to his lower name recognition and the fact that he isn't the presumptive Republican nominee yet. But Lugar is milking this difference for all it's worth.
"I've seen polls that indicate that I would be the strongest Republican against a Democratic opponent in the fall," he notes to reporters at his headquarters in Fort Wayne the next day. "Please take a look at the whole picture," he tells the reporters, indirectly addressing skeptical Republicans. "Do you want a Republican senator from Indiana? Do you want a senator who's effective?"
During his chat with the press, Lugar takes aim at the tea partiers who are opposing him. "I don't condemn the Tea Party," he says. "There are certain individuals who really have agendas of their own," he adds, in a veiled reference to conservative groups such as the Club for Growth and FreedomWorks, which are backing Mourdock. "They're trying to prove their clout. . . . And I understand politics is a competitive business."
And he rejects the idea that he's compromised on his ideals in an effort to work with Democrats. "As I've tried to point out many times, it's not a question of 'compromise.' I try to be convincing," he argues. "But you've got to be in a position to do that." You've got to have seniority, he stresses.
At a meet-and-greet with supporters at the Beef O'Brady restaurant in Peru, Lugar tries to throw into relief the benefits of his seniority. When the Vietnamese foreign minister came to speak with him about China's threatening presence in the South China Sea, Lugar promised to help him — for something in exchange. He asked the foreign minister to help three Indiana couples who were trying to adopt children from Vietnam. The minister complied, and now the Vietnamese children live in Indiana with their new families.
"After dealing with these world leaders for a long time . . . I know I can be effective," he says.
At this event, Lugar also takes a swipe at critics of his voting record. Party purists say they won't get perfect representation this year, but they hope to do so in four or six years' time, he argues. "What's going to happen to the country in the meanwhile — while all this purity is being worked out?" he asks.
His supporters agree. "We want people who are going to govern, not just say no to everything," says Janet Corwin, a Republican activist at the restaurant.
But Lugar's campaign knows it will take more than persuasion to claim victory. As of Sunday, his campaign and volunteers had made more than 1.4 million get-out-the-vote phone calls since the start of the campaign. Because Indiana is an open primary and Lugar isn't particularly popular among Republican activists these days, his campaign is targeting independent and Democratic voters as well.
He'll need them, and he knows it. At the event in Peru, when his host, Mayor Jim Walker, asked the attendees if they had any questions for the senator, they initially sat there in silence. Walker broke the awkward pause with the joke, "You're doing everything right."
Chuckling, Lugar replied, "I'm not certain of that."
— Brian Bolduc is an editorial associate for National Review.