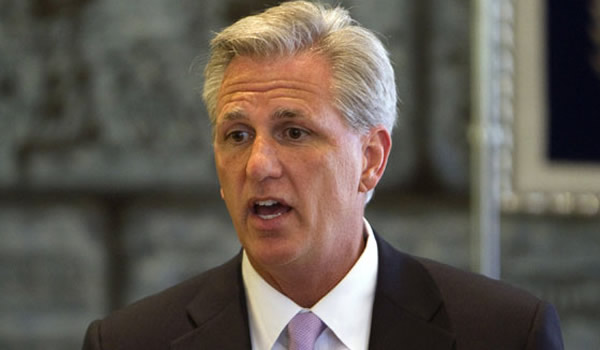 Majority whip Kevin McCarthy wants to make sure the GOP will keep control of the House.
California has not gone Republican since perestroika, and Representative Kevin McCarthy acknowledges that Mitt Romney is unlikely to end the losing streak. But McCarthy, the House's easygoing majority whip, would like to pick up a few congressional seats on the Left Coast.
So for the past year, the conservative from California's Central Valley has mentored a slew of Golden State contenders, many of whom he has known for decades. "It's like the Blues Brothers," McCarthy chuckles. "We are putting the band back together."
McCarthy, the former Republican leader of the state assembly, has quietly recruited and advised several of his former Sacramento colleagues, such as state senators Tony Strickland and Doug LaMalfa, who are now mounting House campaigns in toss-up districts.
McCarthy's push, however, is more than a pet project; it is a critical part of securing the Republicans' House majority. House minority leader Nancy Pelosi, a San Francisco Democrat, has underscored that the "road to the majority runs through California."
Pelosi, a former state-party chairman, calls her quest to win back the House the "drive for 25," a reference to the number of additional seats Democrats need to win the speaker's gavel. She has devoted much of her time to raising money for her political base: California incumbents.
Representative Steve Israel of New York, the Democratic conference's campaign coordinator, has also taken multiple trips to the West Coast. For Democrats, California is a piece of the larger electoral puzzle that includes deep-blue Illinois and New York, and it's a crucial one.
Democrats see hope in the suburbs of New York City and Chicago, where Republicans won a surprising number of seats two years ago. But if Democrats can't find a way to win most of the open seats in California, victories elsewhere would not be enough to retake the House.
Behind the scenes, McCarthy and Pelosi are putting an emphasis on fundraising and fieldwork. Democrats, who hold 34 of California's 53 seats, clearly have the stronger base, but that doesn't deter McCarthy, who has been involved in state politics since his twenties.
"Look, this is the canary in the coal mine," McCarthy tells me as we chat in his Capitol office. "After the census, due to people leaving the state, California did not gain a House seat. That's the first time that has happened since the 19th century. So there's an opening.
"People recognize that the state's a tough mess in a lot of areas," he says. "People are frustrated about what is happening on tax policy, both nationally and inside of the state. So this year, we really have to show up in areas we have avoided and have a debate."
Last week, during a tour of battleground districts, McCarthy announced that his Golden State Victory Fund has raised over $2 million for congressional challengers. McCarthy has personally raised over $900,000 for House candidates.
Most notably, McCarthy has ushered seven high-profile California candidates into the House GOP's "Young Guns" program, an exclusive fundraising and advisory group. And at least three of these candidates, according to the Rothenberg Political Report, are expected to win.
David Valadao, a 35-year-old state assemblyman and son of immigrant farmers from Portugal, looks like a lock in California's 21st district, which is an open seat in an area where Democrats have the registration edge. Valadao is running against a poorly financed liberal.
Strickland and LaMalfa, who were McCarthy's allies in the state legislature, are also running for open seats that are expected to go Republican. Strickland, who is running as a reformer and taxpayer advocate, is being opposed by a Democrat who entered the race late.
Other McCarthy-tapped Young Guns include Kim Vann, a pro-choice county supervisor, who is challenging incumbent Democrat John Garamendi, and Ricky Gill, a family farmer, who is challenging Representative Jerry McNerney, a potentially vulnerable Valley Democrat.
Businessmen John Tavaglione (CA-41) and Gary DeLong (CA-47) are also Young Guns, as is former lieutenant governor Abel Maldonado (CA-23). It is a diverse group, McCarthy says, but that's necessary in California, where moderates and independents win elections.
Two years ago, McCarthy managed national recruitment for House Republicans during the 2010 cycle, traveling across the country with the Almanac of American Politics and a suitcase. McCarthy's efforts were focused on finding candidates with strong local roots.
Now, as the third-ranking Republican in Congress, McCarthy has moved on to a larger role on Capitol Hill. But in California, McCarthy says, he is still playing the same role — training novice candidates and strategizing with cash-strapped state legislators.
"The Republican party in California is very weak," McCarthy says. "So we are building up, opening offices and keeping an eye on the future." Beyond the congressional candidates he is helping, McCarthy is deeply involved in state senate and assembly campaigns.
"We are looking not only at this year, but already preparing for two years from now," McCarthy explains. "Our successes will be in the congressional seats, because that will keep the majority, as well as developing Republican trailblazers for future runs."
As McCarthy sees it, he can embarrass Pelosi in her backyard as long as his "young guns" keep running well-managed, competitive campaigns. They certainly won't all win, McCarthy admits, but if they can block a couple of expected Democratic gains, Republicans will hold onto the House.
— Robert Costa is a political reporter for National Review.