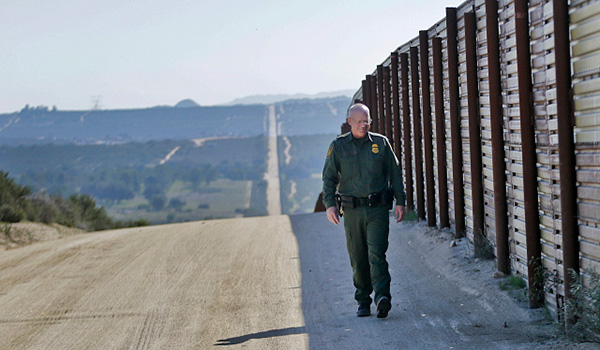 Voters from four key states are not enthusiastic about the Gang of Eight plan.
Much of the discussion surrounding the Gang of Eight's 867-page immigration-reform bill has focused on how many Republican senators will ultimately support it. Their Democratic colleagues, meanwhile, are generally assumed to favor the bill but have largely escaped scrutiny. This is particularly true of Democrats from conservative states seeking reelection in 2014, for whom supporting immigration reform could prove politically challenging. Recent polling suggests their constituents may not be so enthusiastic about the Gang's proposal.
Numbers USA, a group that favors "lower immigration levels" and opposes the Gang of Eight's bill, recently commissioned polling in states such as Alaska, Arkansas, Louisiana, and North Carolina, all of which voted for Mitt Romney, where incumbent Democrats are seeking reelection in 2014. The results, obtained by National Review Online, indicate that likely voters in those states do not support the major policies in the Gang's bill, particularly its lack of a strong border-security and enforcement trigger, and would be unlikely to back a politician who does.
Alaska
Senator Mark Begich is trying to win reelection in a state that Romney carried by 15 points, and has already broken with his party once this year on a major vote — he was one of four Democrats who voted against the Toomey-Manchin background-check legislation. An April poll of likely voters in Alaska conducted by Pulse Opinion Research suggests that Begich could face a backlash for supporting the Gang's immigration bill.
According to the poll, 60 percent of likely voters favor an approach that demonstrates "full enforcement of immigration law" before considering legal status for illegal immigrants. Only 32 percent backed an approach that closely aligns with the Gang's proposal, which would involve "legalization first, followed by border security, and then citizenship." An even larger majority (67 percent) said they would be more likely to vote for a political party that supports enforcing immigration laws first over a party that supports legalizing illegal immigrants first. The Gang's bill would allow illegal immigrants to apply for legal status almost immediately, as soon as Department of Homeland Security secretary Janet Napolitano submits a plan to achieve a high level of enforcement along the southern border.
Arkansas
Senator Mark Pryor, who joined Begich in opposing Toomey-Manchin, is similarly facing a tough reelection fight in 2016. (Romney carried Arkansas by a whopping 23 percent.) Supporting the Gang's proposal might be difficult for Pryor. The Pulse survey of likely voters in his home state found that only 24 percent favored providing legal status and work permits for "most" of the 11 million illegal immigrants estimated to be living in the United States. Just 19 percent said they would support a plan that provides work permits to illegal immigrants, and then implements border security and workplace enforcement measures over the next ten years, which is essentially what the Gang's bill calls for.
Louisiana
Incumbent senator Mary Landrieu's state voted 58 percent for Romney in 2012. Landrieu will already have a tough time explaining her vote for the Senate Democratic budget proposal, which called for raising taxes by at least $1 trillion, earlier this year. Louisiana likely voters strongly oppose the idea of giving work permits to millions of illegal immigrants, by a margin of 65 percent to 32 percent, according to the Pulse survey. Almost 70 percent favor implementing border security and workplace enforcement measures before considering legal status for illegal immigrants, while 64 percent said they would be more likely to vote for a political party that supports the same.
North Carolina
Although the state is more purple than the others on this list, having just narrowly voted for Romney in 2012, Senator Kay Hagan  will be a prime target for Republicans next cycle. She has already expressed vague support for "comprehensive immigration reform," but has yet to take a stand on the Gang's proposal. According to the poll, likely voters in North Carolina do not support the general progression of the Gang's plan — legal status, then border security, then citizenship for illegal immigrants — by a 58 percent to 38 percent margin. A larger majority (68 percent) said they favored an enforcement-first approach to immigration reform.
Meanwhile, most national polling from mainstream outlets shows that voters across the country aren't exactly thrilled about the Gang's plan either. Most senators have yet to take a position on the bill itself, but a vote is almost certain to be close, meaning there will be pressure on these Democrats to support it, and face the political consequences, even though the bill appears to have little chance of passing the House.
— Andrew Stiles is a political reporter for National Review Online.