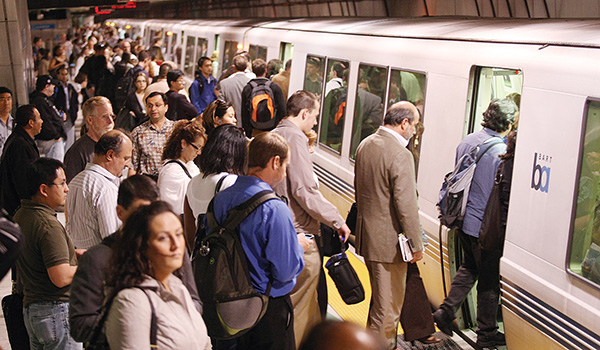 The BART strikes show why more of America's transit should be contracted out.
Bay Area Rapid Transit, the rail system that serves metro San Francisco, is running again, but only after a belligerent outburst by its workers that disrupted the Bay Area for months. This past July the agency's unions, Amalgamated Transit Union and the SEIU, organized a five-day strike that affected 400,000 daily riders, from remote Contra Costa County commuters to Oakland residents forced to cram together on cross-bay ferries. California governor Jerry Brown helped restore services by declaring a 60-day cooling-off period between BART and the unions in August, but that produced another strike, four days long, in mid-October, costing hundreds of millions of dollars in productivity and forcing Bay Area cities to compile makeshift transport plans.
Right before this second strike, a story from the other side of the globe highlighted one way cities like San Francisco can avoid such problems. It was a Wall Street Journal report on the rise of Mass Transit Railway Corporation, a Hong Kong firm responsible both for that city's subways and for much of the development around the stations. Although the company receives indirect government subsidies via land giveaways, it is still 23 percent privately owned, and, aided by Hong Kong's density and belief in efficiency, this has made MTR a great success. Last year net profits neared $14 billion, and the system's trains had a stunning 99.9 percent on-time rating.
This has caused MTR to broaden its reach, taking over operations — and improving efficiency — for lines elsewhere. A suburban London line's on-time rating went from 88.4 percent before MTR took over to 96.7 percent this year, while in Melbourne the figure went from 84.6 percent to 93.7 percent. This success has helped short-list the company for bids across several continents, and if it wins just a few, reported the Journal, it will become "the biggest operator of metro systems in the world."
Of course MTR is not the only profitable private rail company; others, such as France's Keolis and Veolia Transdev, have also expanded their global reach. Nor is Hong Kong the only city with an effective system. Several of Japan's major cities feature profitable inner-city metros to complement the privatized, intercity Japanese National Railways. And the competitive tendering that was brought to systems in London, Copenhagen, and Stockholm several decades ago reduced costs by as much as 50 percent, inspiring further deregulation across Europe.
But if these examples show what rail transit can be, they also reveal how anachronistic it still is in the U.S. In cities like San Francisco, rail is often run by regional authorities that, as in the Europe of old, are unionized and government-controlled. This has been a recipe for poor performance. Their workers can demand unreasonable salaries, protest layoffs, and stifle inconvenient reforms without having to fear competitors. All this, says transportation consultant Wendell Cox in a phone interview, helps explain why many American lines underperform: "Not only does the public pay more with public-transit monopolies, but that means low-income people get less service, and the good that transit can do for the community is compromised."
For BART, which exemplifies this top-heavy model, the details of the strikes only strengthen Cox's point. Currently, the average salary for the system's workers is $82,000, including the overtime added to their 37.5-hour workweeks. This does not include fringe benefits (health care and pensions, for the most part), which average $50,800, bringing total compensation to over $130,000 annually, among the nation's highest for transit workers.
Yet the strikes were partly because of worker disgruntlement over low pay. Before the first strike, BART management had offered salary increases of 5 to 8 percent over four years, and requested that employees contribute small percentages to their pensions. But the unions demanded 23 percent increases, and after both strikes, received 15.4 percent. BART management also sought to amend onerous rules that now discourage better technology and performance standards, along with a reasonable overtime policy. Management ultimately yielded because of union complaints that these reforms would slash administrative positions.
One consequence of BART's being effectively run by such rapacious unions is that it inflates the system's deficits, which this year will total $1.14 billion. Another consequence can be poor service. MUNI, a separate rail authority that serves only San Francisco, and whose unionized operators earn the nation's second-highest hourly wages, has on-time ratings below 50 percent. Both authorities, as any San Franciscan can tell you, also suffer from the under-frequency, and thus overcrowding, of trains.
These problems exist elsewhere, including in the New York City area. Nicole Gelinas wrote recently that only 41 percent of revenue for its Metropolitan Transportation Authority comes from fares, while the rest is from road tolls and other government aid. But because more than a fifth of the aging system's operating expenses go to employee pension and health benefits, there isn't enough left for maintenance or new construction, like on the long-stalled Second Avenue subway line. Yet in 2005, when the authority tried asking unionized workers to pay 1 percent of their salaries into their health plans, they went on strike — in this case, illegally. Since 2000 there have also been particularly ruinous transit work stoppages in Los Angeles, Philadelphia, and Boston.
The solution, Cox thinks, is not to disband these agencies, or even fully privatize them, but to require competitive tendering of services, so that operations are performed by the lowest bidders. The contracts that companies sign should include stringent accountability rules and have short timeframes to enable future bidding. While this strategy has succeeded in San Diego and Denver, producing the same sort of improvements found across Europe, it is still rare in the U.S. The reasons for this, Cox says, include federal regulations that require six years of severance pay for dismissed transit workers — an obvious impediment to hiring new operators. It also includes "special-interest control" from both management and labor that engenders natural resistance to market reforms. For these interests, after all, blocking such reforms will keep compensation high, expectations low, and the option to strike ever available. Unfortunately, this has left U.S. cities behind the curve on public transit and has proven, as the BART fiasco demonstrated, to be a raw deal for riders.
— Scott Beyer is traveling the U.S. to write a book on revitalizing major cities. He blogs at BigCitySparkplug.com.