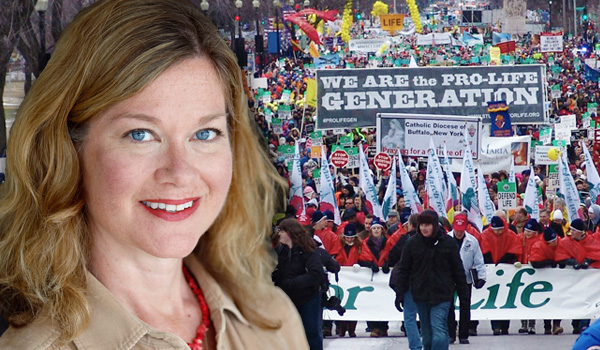 The president of the March for Life talks about abortion 41 years after Roe
Wednesday marks 41 years since the Supreme Court made abortion legal throughout pregnancy in the United States. This coming week, Americans will, for the 40th time, march on Washington both in protest of the 1973 rulings and in celebration of human life. Jeanne Monahan is the president of the March for Life and talks with National Review Online's Kathryn Jean Lopez about life, women, freedom, and the march.
KATHRYN JEAN LOPEZ: What's the point of marching year after year? It's been 41 years since Roe. Aren't you tired of protesting?
JEANNE MONAHAN: No sacrifice is too big when we are talking about the human-rights abuse of today, abortion. Every single person deserves life, and women, too, ideally should live in a culture where abortion is not falsely promoted as something good. We cannot stop marching while this human-rights abuse continues and a large portion of Americans (1.21 million annually) are denied the most basic of human rights, the right to life.
LOPEZ: Shouldn't a young woman like yourself be concerned about her maximum freedom? If it weren't for Roe, would choice be curtailed?
MONAHAN: Freedom is the ability to choose that which is good. The biggest threats to my freedom these days are in the form of health care, where I am being forced against my will to choose things that defy my conscience.
The idea that a right to abortion begets a woman's freedom is just plain false. I have met so many women who deeply regret their abortions. In fact, it may even be appropriate to say that grief over abortion can be a form of slavery — the antithesis of freedom. To these women I say that there is always hope and healing and the real possibility of happier tomorrows. The Roe decision denies the most basic of all human freedoms and rights, the right to life.
LOPEZ: How would you like politicians to think about women's health and freedom?
MONAHAN: Real freedom, again, is the freedom to choose that which is good. Real freedom does not coerce families into health care that defies their consciences and belief systems. Legislators should protect such freedoms. The founding of America lies in such freedoms, which, until now, have been protected. These basic protections and freedoms are slowly whittling away under the current health-care law.
Another important point is that access to abortion is not health care. It is the taking of life, not the preserving of it.
LOPEZ: What do roses have to do with any of this?
MONAHAN: In the early days of the March for Life, and up until security requirements on Capitol Hill stopped the effort, young marchers would personally deliver red roses to legislators in their Hill offices. The roses symbolized the lives of the unborn and were also meant to encourage members to support policies that protected and built a culture of life.
There is a lot to a red rose. Red is a symbol of mourning; we are saddened and always remember the 55 million unique American lives that have been lost to abortion in the past 41 years. Yet a red rose is also a sign of life and love. Our new logo revamps the red rose that has been the symbol of the March for Life for these past 41 years. We believe it conveys life, love, and hope.
LOPEZ: What's the significance of the new March for Life logo?
MONAHAN: It is our hope that the March for Life logo bridges old and new aspects of our organization and event. The new logo includes a rose with a mother and child within. The march is about mothers and babies. Abortion takes the life of a beautiful baby and hurts the mother — physically, psychologically.
LOPEZ: How many do you expect?
MONAHAN: We expect hundreds of thousands, as have participated for the last many years. We anticipate again that the majority of marchers will be young people. This is such a grassroots and organic event that we don't have sign-up lists or a check-in process. We don't advertise the March for Life; they just come. People want their voices heard on this most critical issue!
LOPEZ: How big of a component is social media to the March for Life this year?
MONAHAN: Huge! With so many youthful participants, we have a responsibility to speak their language, which is, in part, a digital language. The march is now active on Twitter, Facebook, and Instagram. We are also texting. For those interested in receiving mobile alerts from the March for Life (event notices, advocacy opportunities, etc.), text: MARCH4LIFE to the number 99000. Last but not least, the March for Life is proud to announce the rollout of our app this year.
LOPEZ: How can we better use social media to support adoption?
MONAHAN: Social media can be an extremely efficient means to promote the nobility of birthmothers and the blessing of being adopted. This can happen with stories, quotes, videos, graphics, etc. So many amazing people have been adopted. Among them are Ryan Dobson (speaking at the march), Ryan Bomberger (speaking at the Rose Dinner after the march), Steve Jobs, Nelson Mandela, Bill Clinton, and many, many more. 
Social media can also help to spread the word that adoption is not about "giving up" your child but is rather about making a tough choice — which mothers do all the time — a choice that is best for the child. Public perception is increasingly influenced by social media. We have promoted many wonderful adoption stories and images, commercials, etc. For example, see ichooseadoption.org and Radiance Foundation – they have beautiful videos and graphics that powerfully tell the story of adoption.
LOPEZ: If a pregnant woman happens to be reading this, considering an abortion, what would you hope she knew? Where can she go for help?
MONAHAN: ​Personal support and interaction is critical when a woman is facing an unexpected pregnancy. I would do everything possible to be with her in person and listen. If appropriate, I would try to help her understand that abortion does not solve her dilemma, and it does not undo or erase her predicament but rather compounds the situation. I would reassure her that all is well and that all will be well — that everything will work out. If it seemed right, I would talk with her about the noble choice that adoption can be. Once I understood her scenario more, I would do my best to connect her with some of the wonderful options out there such as the Northwest Center, a maternity home in D.C., or Care Net or Heartbeat centers where she could receive a free ultrasound and options counseling.
LOPEZ: It's got to be painful for some women and men to see all the anti-abortion protesters, given choices made. What's your message to them?
MONAHAN: ​I've read a few social-media posts on this topic in the last few weeks, and my heart goes out to courageous men and women who regret their abortions and come to the March for Life every year. We need to hear especially from these men and women — please continue to come! They have learned firsthand that abortion does not deliver on its false promises of making life easier, making a difficult situation go away.
The beauty of the grassroots aspect of the march is that so many different groups are represented. Not everyone agrees with every approach to building a culture of life, but it is not our role to limit free speech.
LOPEZ: What have you learned since going to March for Life full time? About life? About the march? About love and courage?
MONAHAN: ​It has been a very special honor to head up the March for Life Education and Defense Fund. It has also been a burden in the sense that I am fully aware of the significance of our organization and event; the March for Life is the world's largest pro-life event, held every year in the capital of the free world. I am a firm believer in God equipping the called rather than calling those who are fully equipped, and so that gives me great comfort. Probably the most important (and scariest) lesson that I have learned this year has to do with what Christians refer to as the "parable of the talents." While my natural temperament would prefer to play it safe and cautious, this year we have taken significant risks within the organization by expanding and bringing on (amazing) staff people, planning to grow legislatively, and placing a lot of resources in social media. The stakes are high, and the risks are sometimes scary, but when lives are on the line, we cannot play it safe and "bury" our potential. 
— Kathryn Jean Lopez is an editor-at-large of National Review Online.