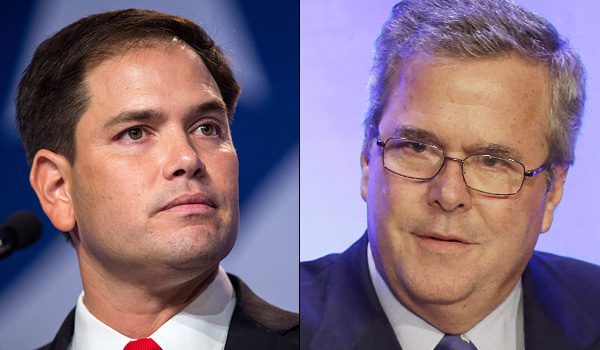 Would a presidential run by his mentor lock Rubio out of the race?
A decision by Jeb Bush to jump into the 2016 race would presumably make him, in an instant, the establishment front-runner. It could also have an enormous impact on his fellow Floridian Marco Rubio, whose political career Bush has nurtured from its inception.
A Bush run would create both personal and political obstacles for Rubio. It would either force him to defer a 2016 run entirely or put him in the uncomfortable position of campaigning against a longtime friend and political mentor.
Several Republican political analysts say they have difficulty imagining that Rubio will launch a presidential bid if Bush decides to enter the race. That's something that, according to a recent Washington Post report, many of Mitt Romney's major donors are urging Bush to do. If Bush gets in the race, "then I think Rubio does not," a top Republican strategist tells me. A Bush run, says another, "would complicate things for Rubio pretty severely." Ana Navarro, a GOP strategist and a friend of Bush's and Rubio's, is more direct: "I cannot see Jeb and Marco running against each other."
Some say that, if Bush decides to run, the Republican establishment will put pressure on Rubio to wait his turn. "This is the one window of opportunity for Governor Bush, and Senator Rubio will have many windows of opportunity in the future," says American Conservative Union (ACU) president Al Cardenas, who served two terms as chairman of the Florida GOP when Bush was governor and Rubio was a state representative.
Others, though, including some who know them both, say the men will make their decisions independently. "I don't think Jeb's decision is going to hinge on who else is running," Navarro says. "I suspect the same is true for Marco. The decision has to come from within them."
Dual runs would undoubtedly complicate the Florida primary, should both enter the race and make it to that point. Bush and Rubio would compete for many of the same supporters, including Republicans who favor the sort of comprehensive immigration reform that Rubio championed in the Senate last year — Bush laid out a similar plan, though it does not include a path to citizenship, in his 2013 book Immigration Wars: Forging an American Solution. One Republican strategist says that having Bush and Rubio in the race would touch off a "sub-primary" in Florida, which Bush would "clearly win." "The momentum would clearly be with Jeb," he says.
Rubio and Bush, however, are vastly different politicians, the former a 42-year-old Cuban American, the latter a 61-year-old son and brother of former presidents. Because of these differences, many say that Bush and Rubio runs are not mutually exclusive. For one, though they share many of the same donors and supporters, their bases do differ. Rubio mounted an insurgent candidacy for the Senate in 2010 that eventually forced the establishment Republican candidate, former Florida governor Charlie Crist, to leave the GOP and continue the race as an independent. Rubio continues to draw support from groups that routinely flout the party establishment, including the Senate Conservatives Fund and the Club for Growth. Bush, if he chooses to tap it, has an older and more traditional base, a network and a brand that extend to every city and town across the country and that have already clinched three presidential elections.
Rubio's friendship with Jeb Bush goes back nearly two decades. Bush has supported the first-term senator since he first ran for political office as a 27-year-old, for a seat on the West Miami city commission in 1998. Bush was Rubio's chief political mentor as he rose in Florida politics. "I was most influenced by the creativity and daring of Governor Jeb Bush, who was a one-man idea factory," Rubio wrote in American Son, his 2012 memoir, describing his time as speaker of the Florida house. While in the house, he aimed to fill the "policy vacuum" he said Bush's retirement had created in Tallahassee. When Rubio considered running for Senate in 2010, he wouldn't have facing off against Bush for that seat, he wrote: "If he were to run, no one would challenge him in the primary — certainly not me."
Bush's last term as governor ended eight weeks after Rubio became speaker. Over the next two years, Rubio battled Bush's successor, Charlie Crist, as Crist attempted to undermine the Bush legacy in Florida. (When Crist pulled back 283 Bush nominations to various state boards and commissions, the Tampa Bay Times noted, "For a guy who used to constantly refer to himself as a 'Jeb Bush Republican' on the campaign trail, Charlie Crist is doing a number on Bush's image.")
The affection and loyalty has gone both ways. Bush introduced Rubio on stage at his Senate victory rally in 2010. When Charlie Rose asked him during the 2012 campaign whether he had a favorite among the contenders for the vice-presidential nomination, Bush responded, "I do, Marco Rubio's my favorite." "We have a close relationship, I admire him greatly," he said. "He's probably the most articulate conservative elected official on the scene today." For good measure, he added: "I have a special place in my heart for him. It's hard to describe the pride I feel for his incredible success and how well he has moved into the job of being a United States senator with humility."
Though friends and analysts disagree about how the two will approach the pending decision, nearly all agree that a Bush candidacy is more likely now than it was a year ago. "Six months ago, I would have said it's unlikely though not impossible that Governor Bush would run for president in 2016," ACU president Cardenas says. "If you ask me today, my answer is different, it's 50–50. That's a significant moving of the needle."
Bush has taken steps to put himself back in the political debate, sitting down with Fox News on Sunday afternoon for an interview, teaming up with Louisiana governor Bobby Jindal to support a new political-action committee that seeks to promote a positive Republican reform agenda, and appearing earlier this month at a meeting of the Republican Jewish Coalition in Las Vegas, where he met privately with Sheldon Adelson, the Republican mega-donor who hosted the event in his private airplane hangar. At an event celebrating the 25th anniversary of his father's assuming the presidency, the younger Bush told Fox News's Shannon Bream that he'll make a decision on the 2016 race by the end of the year and that he's weighing whether he can run "joyfully."
"We're getting close to having to make a decision, and he's warming up to the idea of it," says Cardenas, who doesn't deny there's a lot of interest among the party's top-dollar donors. "Nobody is receiving as many calls as he is," Cardenas adds. "The best gauge of the intensity of support for somebody is whether the potential candidate is making calls as opposed to receiving calls. That's probably the most interesting indicator of the intensity of the interest out there."
Navarro says she and the Bush and Rubio clans are sitting tight. "At some point next year, I figure they'll both tell me what the hell they're going to do, and I'll pour myself a scotch," she says. "Until then, we'll all be like an episode of Barney the purple dinosaur — one big happy family. And I expect that if either is the nominee, the other will be one of his strongest supporters and surrogates."
— Eliana Johnson is media editor of National Review Online.