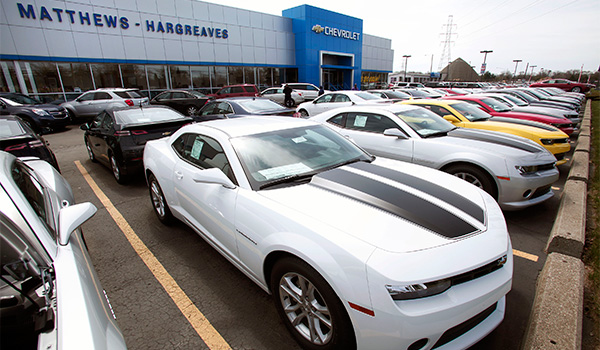 The recalls are multiplying, and the bailout stigma remains.
You may have noticed that General Motors recalled a lot of vehicles lately.
You may not have noticed just how many separate recalls the company announced, 30 since January 1, or just how many vehicles are being recalled — 13.79 million vehicles in the U.S.
For perspective, consider that GM sold roughly 2.6 million vehicles in 2012.
Two weeks ago, GM informed the National Highway Traffic Safety Administration of five safety recalls covering about 2.7 million vehicles. The recalls covered:
‐2,440,524 previous-generation passenger cars for tail-lamp malfunctions
‐111,889 previous-generation Chevrolet Corvettes for loss of low-beam head lamps
‐140,067 Chevrolet Malibus from the model year 2014, for hydraulic-brake-booster malfunctions
‐19,225 Cadillac CTS 2013–14 models for windshield-wiper failures
‐477 full-size trucks from the model years 2014 and 2015, for a tie-rod defect that can lead to a crash
For the owners of those 477 trucks, this isn't just a matter of driving your truck back to the dealer: "Customers are being contacted and told to have their vehicles taken by flatbed to their dealer, where the inner tie rods will be inspected for correct torque, and, if necessary, the steering gear will be replaced."
All of the above mechanical flaws can be problematic on the road, but the recall notice for the 477 GM trucks is the biggest potential problem for the manufacturer. Trucks cost more (often more than $40,000 per vehicle) and have larger profit margins than sedans. Morgan Stanley estimated that truck sales account for two-thirds of GM's earnings. In fact, one can easily argue that truck sales are keeping GM afloat:
Pulling off a smooth introduction for the 2014 Chevrolet Silverado and GMC Sierra big trucks is crucial, as they generate more than $12,000 per vehicle in profits. It is the most important vehicle introduction for the Detroit automaker since its bankruptcy and $50 billion U.S. taxpayer–funded bailout in 2009.
The May 15 notice of a tie-rod defect wasn't the only recall for recently made GM trucks.
On March 31, GM recalled certain model-year 2014 Chevrolet Silverado Light Duty Regular Cab, Double Cab, and Crew Cab 1500 series and model-year 2015 Suburban and Tahoe vehicles; GMC model-year 2014 Sierra Regular Cab, Double Cab, and Crew Cab 1500 Series and model-year 2015 Yukon and Yukon XL vehicles equipped with a six-speed automatic transmission, for a transmission oil-cooler line that is not securely seated in the fitting. "If the line is not securely seated and transmission oil leaks from the fitting, the oil could contact a hot surface and cause a vehicle fire."
On April 25, GM recalled certain model-year 2015 Chevrolet Silverado HD and GMC Sierra HD vehicles because of improperly torqued fuel-pipe connections, which posed a risk of fuel leaks and vehicle fires.
On May 20, GM recalled certain model-year 2015 Chevy Silverado HD vehicles and 2015 GMC Sierra HD vehicles made in January and February, because of "loose retention clips that attach the fuse block to the vehicle body," a defect that posed an electrical risk and could result in an engine-compartment fire.
Before these recent recalls, GM truck sales had been uneven. A March assessment of the auto industry at Motley Fool noted:
Typically, fresh designs of the trucks sell better, command higher transaction prices, and improve profits. The freshest pickups are easily Chevrolet's Silverado and GMC's Sierra, both under General Motors' umbrella of brands. Unfortunately for GM investors, sales haven't picked up even with the fresh redesigns. Sales of the Silverado were down 12% in February and are down 15% for the year. Sales of the GMC Sierra are also down 6% this year.
April's numbers improved, but that came after GM announced special pricing and incentives in March, cutting into the truck's profit margin. Some dealers are concerned that consumers are still digesting the news of the recalls.
When the government sold its final shares of GM stock — losing $11.2 billion in the process — GM's North American president Mark Reuss said, "This has been a long, hard road with no repeat customers and the label of 'Government Motors.'" He noted that "truck buyers are more vocal than other buyers."
Truck buyers are "more vocal" and residing in Texas, California, Oklahoma, Florida, North Dakota, South Dakota, Wyoming, Montana, and Alaska. Unsurprisingly, past consumer-data research indicates that pickup-truck buyers skew Republican by a margin five to one, according to a 2008 survey. In short, truck buyers are more likely to have strong views about a government bailout of an automaker.
So GM needs to rebuild brand loyalty — and truck purchasers are more loyal to brands than are car purchasers — among a demographic particularly bothered by its bailout and subsequent close relationship with the Obama administration.
Last autumn, the National Legal and Policy Center polled 500 consumers in Texas about their views on government bailouts of automakers; Texas is the largest truck market in the country, with more sales than the next three states combined.
Five hundred consumers in Texas were asked, "Would your decision to buy a specific brand of truck be influenced by whether that company received financial assistance from the federal government?" Forty percent answered "absolutely." About 12 percent responded "very likely," and 10 percent, "likely."
Whether GM wants to admit it or not, the "Government Motors" label did serious damage to its reputation and may not wash away so quickly.
Now GM faces another problem. After the revelation of the potentially fatal defects, unprecedented recalls, the report that GM engineers knew about the defective switch problems for years, poor reviews of the congressional testimony by GM CEO Mary Barra, and months of bad publicity, the federal government is stepping in and once again taking an expanded role in the company's day-to-day decisions:
[The National Highway Transpiration Safety Administration] has promised "unprecedented oversight requirements" that will have the agency up in the company's grill. NHTSA is demanding that GM change[] the way it does business when it comes to putting cars together and dealing with problems and defects. In addition to the fine, NHTSA "ordered GM to make significant and wide-ranging internal changes to its review of safety-related issues in the United States, and to improve its ability to take into account the possible consequences of potential safety-related defects." As part of the consent order signed Friday, NHTSA will micromanage G.M.'s internal investigation and recall efforts, specifically prescribing initiatives such as "including targeted outreach to non-English speakers, maintaining up-to-date information on its website, and engaging with vehicle owners through the media." What's more, G.M. must "submit reports and meet with NHTSA so that the agency may monitor the progress of G.M.'s recall and other actions required by the consent order."
The good news for taxpayers is that more far-reaching and intrusive NHTSA oversight is cheaper than purchasing GM stock and selling it at a loss. The bad news is that the expanding recalls — even of recently manufactured trucks — suggest that GM's culture never really changed, and that car and truck buyers may have good reason to be wary when they walk into the showroom. And the federal government, at taxpayer expense, is again attempting to fix a corporate culture that betrayed the trust of its customers.
— Jim Geraghty writes the Campaign Spot on NRO. His first novel, a comic satire of the federal bureaucracy entitled The Weed Agency, will be published by Crown Forum in June.