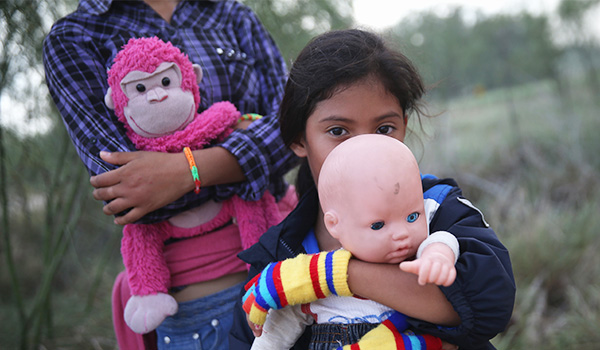 Sources say smugglers tell their human cargo they'll be allowed to stay in the U.S.
Human smugglers have told Central American families and children that they will get amnesty or asylum upon their arrival in the United States in order to encourage the large influx of illegal immigration at the United States' southern border, sources tell National Review Online.
Ana Quintana, a research associate on Latin America for the Heritage Foundation who visited Honduras last week, tells NRO she has learned from Honduran officials that the smugglers, also known as "coyotes," have created a massive campaign built on spreading the idea that illegal immigrants will be allowed to stay in America. "And now what's been happening is the coyotes recognize that the person might necessarily not make it through the first time or they might get sent back, so they're not just offering one-way passages anymore," she says. "It's kind of like, you pay a flat rate and you'll get three opportunities to be guided to the United States." Quintana says she has heard that the coyotes offer the Central Americans contraception for the journey because it's expected that up to 70 percent of the female travelers will be sexually violated at some point along the journey. She says new coyotes have begun popping up left and right.
Victor Clark-Alfaro, a San Diego State University professor and director of the Binational Center for Human Rights in Tijuana, Mexico, tells NRO that the number of smugglers involved in bringing people to the United States is impossible to determine. But, he says, he knows of two basic types of coyotes operating in Tijuana near the border. One kind of coyote transports people from Tijuana to nearby locations in San Diego and Los Angeles, and another kind uses a complex system of stash houses and bribery to move people on an international scale. Clark-Alfaro says several local coyotes he has kept in touch with for decades have told him that coyotes who have international operations have spread promises of amnesty in the U.S. throughout Central America. "I think that it is part of the phenomenon that we are witnessing," Clark-Alfaro says. "They [the coyotes] tell the children to look for the Border Patrol and tell them that they want asylum or that they want to study in [the] U.S."
In the past, he says, some travel agencies in Honduras and El Salvador have been linked to human smugglers. "In Tijuana it's very easy to find a human smuggler," he says. "You find them at the red-light district, but also some of the smugglers find you." Clark-Alfaro says the coyotes, and people who work for them, often approach potential clients at Tijuana International Airport. "They have such an ability, they approach them, and they ask them, 'Are you going to go to the U.S.? We can take you,'" he says.
The cost of transportation to the United States via a coyote varies and is mostly based on the level of difficulty of the journey, Clark-Alfaro says. Coyotes tell him the going rate for a trip from Tijuana to San Diego or Los Angeles is $6,000 to $7,000, he says, but a trip from Central America to New York City costs approximately $15,000. Coyotes charge between $35,000 and $50,000 for a trip from China, he says. Standard procedure is to pay half of the fee in the country from which the illegal immigrant departs, Clark-Alfaro says, and the other half upon arrival at his final destination. "You can cross everything you want to the U.S., even drugs or human people or whatever," he says. "It all depends on the money you are investing." While it may seem as though the smugglers would stand to make a hefty salary off of the illegal immigrants, he says, the coyotes often dispense most of the cash they receive in bribes to Mexican officials and to the coyotes' "labor division," which works to avoid or bypass various security measures and new technological defenses such as drones.
Albert Spratte, the sergeant-at-arms of the National Border Patrol Council Local 3307 in the Rio Grande Valley, says agents in the valley have heard from Border Patrol intelligence agents that the cartels are encouraging "mass entry" into the U.S.
Clark-Alfaro says human smugglers pay fees to pass through the cartels' territory, many operate under the control of drug cartels, and some cartels have smugglers dedicated to kidnapping migrants and then asking for ransom from their relatives in the U.S. Despite the illicit nature of their operations, Clark-Alfaro says, the smugglers are concerned about their image, prestige, and status. The coyotes rely upon word-of-mouth recommendations from their clients to keep their operation thriving. One of the coyotes Clark-Alfaro regularly speaks with told him he has already crossed ten families with children from Mexico this year. If Central Americans continue to flood America's southern border, the coyotes' lucrative smuggling business will only continue to expand.     
— Ryan Lovelace is a William F. Buckley Jr. Fellow at the National Review Institute.