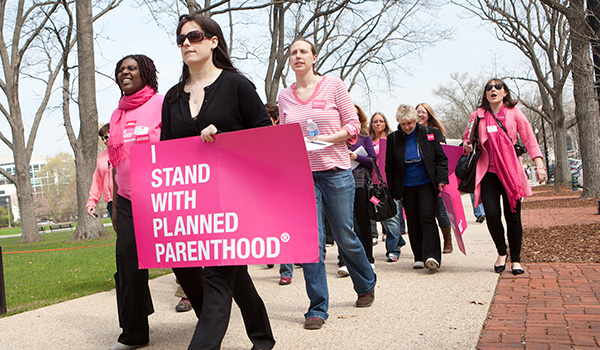 The billion-dollar nonprofit seems more pro-profit than pro-woman.
The slogan of Planned Parenthood, the huge national organization of women's clinics, promises to keep abortion "safe, legal, and rare." The group's fulfillment of the first part has long been questioned. Now, in some cases, it seems to be going in the opposite direction on the last priority.
A budget statement for 2010 fiscal year from a Planned Parenthood clinic in Bryan, Texas, records an "abortion quota" of 1,135 procedures at $313.29 each, according to Abby Johnson, pro-life activist and former director of the Bryan Planned Parenthood clinic. She left the clinic in 2009 after assisting an ultrasound-guided abortion of a fetus at 13 weeks gestation.
The clinic was expected to perform at least that number of abortions in order to make a certain amount of revenue, she says.
Johnson tells National Review Online that the quota doubled from 2009 to 2010, while she had believed at the time that Planned Parenthood wanted to reduce it. After expressing her concerns to her supervisor, Johnson told The Daily Caller, her supervisor laughed and replied, "But Abby, abortion is how we make our money."
She recently found the budget statement in her personal belongings and decided to release it. The news has angered one Texas congressman.
"The criminal behavior of Planned Parenthood has no limits," Republican representative Bill Flores, whose district is home to the Bryan clinic, told TheDC. "While the murder of any unborn child is appalling, even more criminal is the establishment of a target to kill over 1,100 innocent Texas children in order to meet financial targets."
Texas Right to Life has repeatedly proposed legislation targeting taxpayer funding of abortion because Planned Parenthood "centers its business model around abortion," says John Seago, Texas RTL legislative director. "It's not the pro-woman organization it makes itself out to be," he says.
Seago also notes that Planned Parenthood has protested House Bill 2, a Texas law passed in the summer of 2013 that restricts late-term abortion and requires abortion clinics to meet the standards of other medical clinics, by arguing that it would force abortion clinics to close in the Rio Grande Valley. While Planned Parenthood claimed to be worrying about south-Texas women, the organization invested money in a new north-Texas clinic, in Dallas, even though the city already has one.
When Texas RTL was seeking to pass House Bill 2, Planned Parenthood most strongly resisted the section requiring its clinics to comply with medical standards, Seago says. "That section would actually cost them money," because Planned Parenthood would need to upgrade its facilities, he explains.
The discovery of the budget statement came just after Johnson received a picture from a former clinic worker who now works at her ministry, And Then There Were None, showing a certificate awarded to a Colorado Planned Parenthood clinic for "exceeding abortion visits" in 2013 compared with 2012. Planned Parenthood confirmed the legitimacy of the picture but denied that it has abortion quotas, writing, "The baseless claim that Planned Parenthood has 'abortion quotas' is just the latest in a long line of attacks that are really about perpetuating stigma and judgment."
The organization could not be reached for further comment.
The stated goal of And Then There Were None is "to provide financial, emotional, spiritual and legal support to anyone wishing to leave the abortion industry." Johnson started the ministry in June 2012 after she herself had abandoned the abortion industry and a large group of like-minded former clinic workers contacted her for help. Johnson had looked unsuccessfully for a ministry like hers before creating her own.
The abortion issue has become more prominent in Texas as the gubernatorial election looms in November, pitting Republican attorney general Greg Abbott against Democratic state senator Wendy Davis, who made her name trying to block House Bill 2 in the legislature last summer. On Monday, Planned Parenthood donated $3 million to Texas Democrats for the 2014 general election.
"I find it almost humorous that Planned Parenthood said they can't comply with the stricter law because of the expense, and yet they spent $3 million on the campaign," Johnson says.
Despite Davis's best efforts, Governor Rick Perry signed House Bill 2 last summer, and since then, 21 of the 41 Texas clinics have closed, and only six may remain by September. Many of the closings resulted from budget cuts and transfer of funds from Planned Parenthood to public hospitals.
In its last annual report, Planned Parenthood reported performing 327,166 abortions and receiving $540.6 million in taxpayer funding, or nearly $1.5 million per day. It also reported $58.2 million in excess revenue and over $1.3 billion in net assets.
The second part of a lawsuit against House Bill 2 will be heard August 4. The Center for Reproductive Rights and several Texas abortion clinics are bringing the suit. Seago has "full confidence that the bill will be upheld."
— Celina Durgin is a Franklin Center intern at National Review Online.