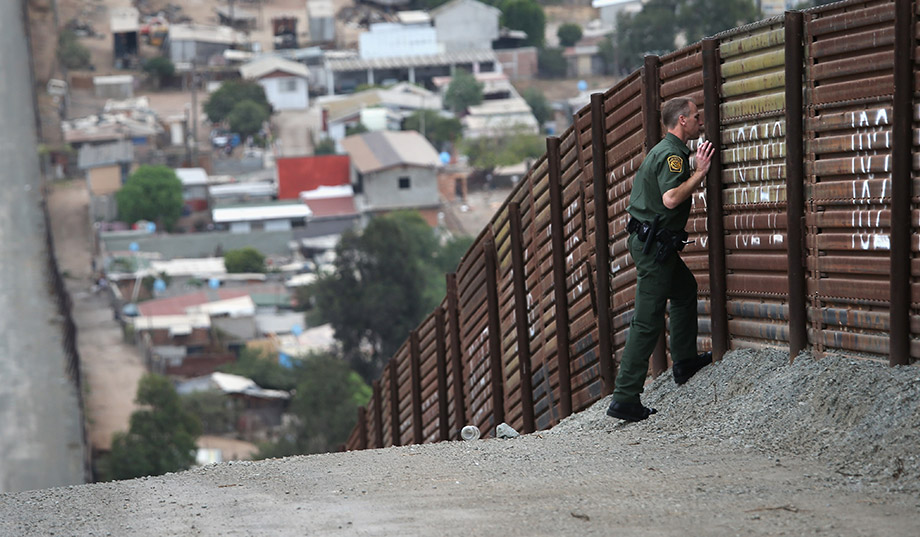 Top terror organizations know our border vulnerabilities "better than many law-enforcement officers do."
The rise of the Islamic State in Iraq and Syria has coincided with a security crisis at America's southern border, and experts believe the combined situation means the U.S. is absolutely vulnerable to terrorist infiltration.
House Intelligence Committee chairman Mike Rogers (R., Mich.) warned recently that the Islamic State is "one plane ticket away from U.S. shores" and said that the U.S. defense and intelligence apparatuses aren't configured in a way that could disrupt terrorists' plans.
One vulnerability Rogers could be thinking of: the Visa Waiver Program. The Visa Waiver Program allows the citizens of 38 participating countries to travel to the United States without a visa for stays of 90 days or less for tourism or business, according to the State Department website. Former national deputy chief of the U.S. Border Patrol Ronald Colburn tells National Review Online one can easily spot the potential problem posed by the program in reports of terrorists entering and exiting the United Kingdom.
"Members of Hamas, Hezbollah, and potentially in the near future, if not already, ISIS, [could come] over on visa waivers from places like Great Britain," Colburn says. "Which on the surface sounds innocuous, but isn't." Some intelligence sources, Colburn notes, believe the man responsible for beheading American journalist James Foley has roots in Great Britain, meaning he could come to the U.S. without a visa.
Not everyone is so concerned about that issue: Janice Kephart, founder and CEO of the Secure Identity and Biometrics Association and former counsel to the 9/11 Commission, says she thinks the U.S. is in a safer position on this issue because reforms implemented on the recommendation of the 9/11 Commission. But she has another cause for concern: the large amount of people crossing the southwest border.
"The physical border between the U.S. and Mexico is far worse than it was before 9/11," Kephart says. "The refusal by this administration to put modern technology to consistent, strategic use across the border with a clear policy to enforce the law at and inside the U.S. has made for an incredibly lawless situation which our border forces cannot handle, even if they had the go-ahead to do so."
If al-Qaeda or the Islamic State wanted to enter the U.S., Kephart says, they would likely do it on land — such as at the southwest border — where the infiltrators could arrive anonymously and unofficially. If al-Qaeda or the Islamic State attempted to access the U.S via a port of entry or via the Visa Waiver Program, then they would face greater scrutiny and may place themselves at greater risk of getting caught.
"The most sophisticated terror organizations are financed to be able to send travelers in-and-out, to test our systems, and to see what they can get away with and they do it," says Jessica Vaughan director of policy studies at the Center for Immigration Studies. "They have a better idea of how it works than many law-enforcement officers do." Vaughan says an organization such as the Islamic State is sophisticated enough to study entry programs, learn how to exploit the weaknesses, and then take advantage of the system. (That said, the Islamic State does not, unlike Hezbollah or al-Qaeda, have a long track record of trying to infiltrate the U.S. homeland.)
U.S. Border Patrol has taken steps to provide support to foreign allies to solidify their borders in a way that could help prevent terrorists from coming to America, Colburn says. Colburn has more than 30 years of experience working with U.S. Customs and Border Protection and served on the White House Homeland Security Council as the director of law enforcement.
When Colburn visited El Paso, Texas, this past weekend, in fact, Border Patrol's Special Operations Group informed him of their efforts to provide support to harden the borders of nations in places such as West Africa and Central America. As President Obama may be preparing for an executive amnesty later this summer, federal officials working to solidify the foreign borders of faraway lands may want to consider refocusing their efforts here at home.   
— Ryan Lovelace is a William F. Buckley Fellow at the National Review Institute.