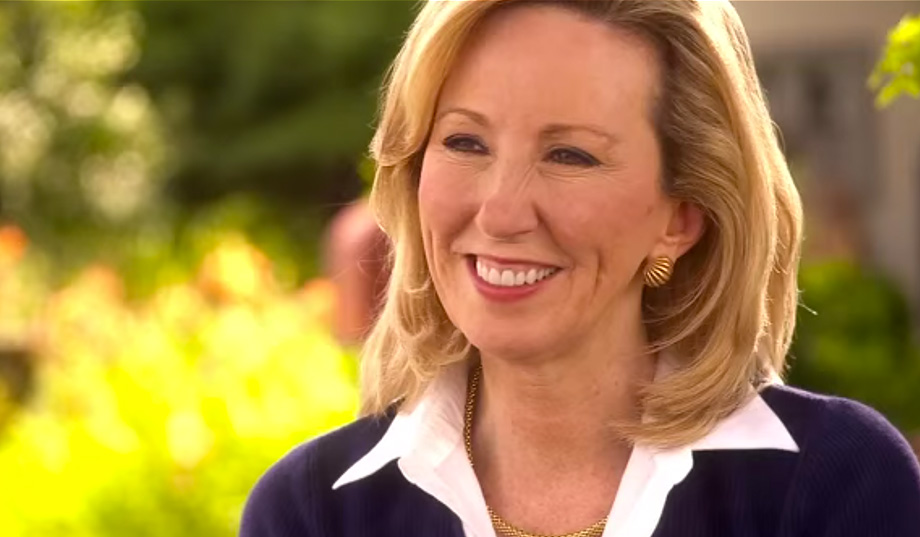 Barbara Comstock began her career in government in 1991 under the tutelage of Representative Frank Wolf. Now, after 34 years in the House, Wolf is retiring, and voters in Virginia's tenth district have the opportunity to elect Comstock, currently serving a third term in the Virginia House of Delegates, as his worthy replacement.
Rob Engstrom, senior vice president and national political director of the U.S. Chamber of Commerce — which endorsed Comstock in August — says the campaign to represent Virginia's tenth district will be "one of three or four of the most watched races in America." As the Republican candidate in a district that went for Mitt Romney by just one point in 2012, Comstock was already in for a trying campaign — but local Democrats, including her opponent, attorney John Foust, are keen to make it a mudbath.
In August, Foust told a Leesburg audience, "I don't think she's even had a real job." This month, Comstock's campaign responded with an ad condemning Foust's comments as "sexist, bizarre, insensitive, ignorant." The tenth district's Democratic party replied by tweeting, "If @barbaracomstock were a man, she'd be down 20 pts w women. Her record & policies are horrible for women. But voters assume . . . "
It is hardly surprising that the only war on women in sight is being waged by Democrats — but Virginia voters should not be fooled. Comstock is a woman of accomplishment, and more than capable of fighting back.
A Massachusetts native who migrated south in the early 1980s, Comstock is an attorney who has worked in the private and public sectors, in positions at the state and national levels. As a two-term senior aide for Wolf — who endorsed her in a web ad in early September — Comstock worked on issues ranging from health care and appropriations to tax administration. From 2002 to 2003, she headed the public-affairs branch of President George W. Bush's Justice Department, coordinating DOJ communications on terrorism investigations, the D.C. sniper case, judicial confirmations, and a host of other issues. After three years as a senior partner at law firm Blank Rome's D.C.-based government-relations affiliate, she co-founded her own public-policy and government-relations firm, Corallo Comstock. In 2008, drawing on her experience as a lead researcher for George W. Bush's 2000 presidential campaign, she served as a consultant to Mitt Romney's presidential campaign. (She also is a former board member of the National Review Institute.)
Her opponents have fixated on her work as chief investigative counsel and senior counsel for the House Committee on Government Reform from 1995 to 1999, in the so-called Clinton Wars of the nineties. Former Clinton adviser Paul Begala has accused Comstock, who worked on the "Travelgate" and "Filegate" investigations, of a "really almost sick, sort of stalker-like obsession with President Clinton." "If she wins," Begala says, "she will no doubt practice the same politics of personal destruction she and her ilk practiced in the Clinton days." This is Begala's way of saying that Comstock was a dogged investigator — with a lot to investigate.
Comstock should be proud of her work in the 1990s, but she has also proven herself a talented and creative legislator. She has worked tirelessly for conservative reform in her four years as a Virginia delegate, often winning bipartisan support for her initiatives. She has helped to secure tax credits for high-tech industries and telework, and extended the capital-gains tax exemption. She supported 2010 legislation that opened the Virginia coast to offshore drilling. As a proponent of repealing and replacing the Affordable Care Act, Comstock has opposed the expansion of Virginia's Medicaid program while arguing for health-care savings accounts, interstate insurance, and other consumer-focused health-care solutions.
Comstock's strong conservative presence in Richmond has earned her high marks from, among others, the National Rifle Association, the Family Foundation of Virginia, and the Virginia Chamber of Commerce, which awarded her its 2012 Free Enterprise Award. She has also received the endorsement of pundits such as Mark Levin and Sean Hannity.
But she has also proven her ability to work with colleagues across the aisle. Comstock's much-touted legislation increasing penalties for human trafficking received near-unanimous support in the Virginia General Assembly, as did earlier legislation she co-sponsored that provided additional government assistance to trafficking victims.
Mention of Comstock's work to protect Virginia's vulnerable young women is conspicuously absent among Democrats eager to claim that she is not a "woman's candidate." Nor do they mention her Young Women's Leadership Program, which offers career-development assistance to junior-high and high-school girls by connecting them with professional leaders, such as Erin Egan, chief privacy officer for Facebook, and CNN political commentator Donna Brazile.
Democrats are desperate to keep Comstock out of Congress — thus the war against her, and against the women she is helping. Local, state, and national Republicans — including the National Republican Congressional Committee, which ought to make this race one of its top priorities — should push back forcefully.
It is not often that National Review expressly encourages donations to a candidate, but we urge you to support Barbara Comstock. You can contribute to her campaign here. It will be one of your best investments of the 2014 midterms.