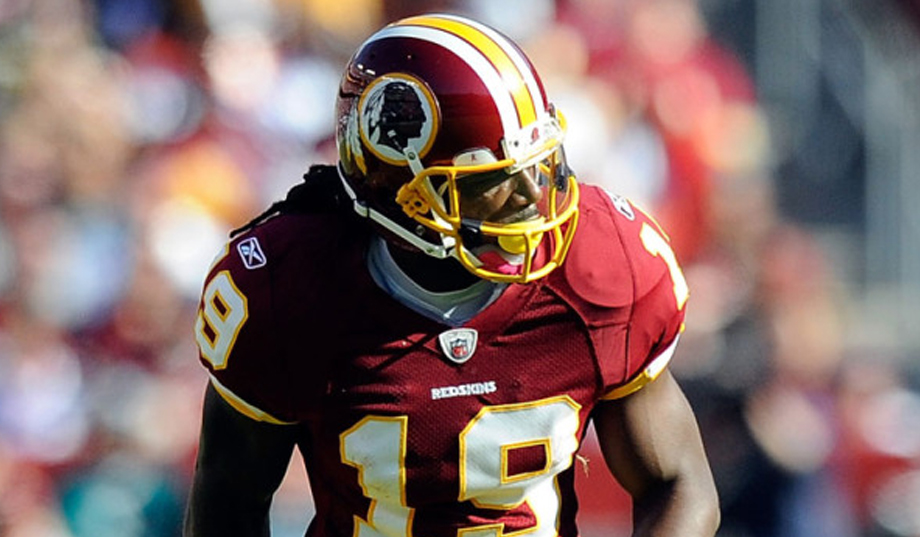 New national-security reporter has history with unnameable football team.
The Huffington Post Thursday infuriated advocates for Native American rights by hiring a former player for a National Football League team whose name is an unprintable expletive designed to promote genocide against North America's earliest inhabitants.
Donté Stallworth played wide receiver for a variety of NFL teams during his eleven-year career, including the rogue Washington, D.C., organization that continues to defy international norms, pleas from beloved political and media figures, shunning by sportscasters, and even a strong suggestion from President Barack Obama by refusing to change its mascot and name. The District of Columbia team is named for a slur against the indigenous persons of North America.
Following his retirement in 2013, Stallworth built a following with his social media aperçus, and the Huffington Post this week hired him as a fall politics fellow covering national security.
Although experts differ on how severely the team name victimizes America's original inhabitants, a survey of media coverage indicates that the name of Washington's football team is largely or solely responsible for American Indians' and Alaska Natives' very low rates of home ownership, income, education, and overall wealth. For example, the Huffington Post has more than 60,000 articles mentioning the team name and maintains a vertical dedicated to the naming controversy.
Other clubs where Stallworth hung his cleats include the Philadelphia Protected Species, the New England Imperialists, the Cleveland Minorities, the Baltimore Not-Colts, and the New Orleans Shahids. During the 2011 season, Stallworth played for the Washington team.
According to a 2011 season wrap-up posted by the team, whose name is being withheld by National Review Online in order to protect the mental health of our readers and improve the daily lives of Native Americans, Stallworth had 22 receptions for the year, gaining a total of 309 yards and scoring two touchdowns. The report added that Stallworth "may have been more valuable to the team for his role as a mentor to [other pro-genocide football players]."
Stallworth re-signed with the racist team during the off-season in 2013, but he was waived before the start of regular play.
During his time as an open supporter of the systematic annihilation of Native Americans, Stallworth was described by the Washington Post as a Voltaire-quoting current events-maven and regular reader of news magazines.
"He estimates that 95 percent of his bookshelf deals with U.S. history or psychological self-help," the Post's Rick Maese wrote in an article (NSFW) that included multiple mentions of the team name. "His active Twitter feed reflects that, as he might discuss nuclear arms one minute and gay rights the next. He quotes Einstein, Emerson, Locke and that philosopher of the hardwood, John Wooden."
In a 2013 post at the offensively named team's site, blogger Stephen Czarda notes that Stallworth "didn't snooze through his 7th grade social studies class," describing the receiver as an admirer of George Washington and Thomas Jefferson (the Fidel and Raul Castro, respectively, of U.S. history).
"I've always loved history, and I think what's made this country so awesome is the fact that our Constitution and Bill of Rights have been in place for as long as they have," Czarda quotes Stallworth as saying. "I try to remind people and enlighten people on how this country was founded and what the Founding Fathers' vision for the country was when they started out."
At no point does Stallworth mention the Washington team name's role in causing the destruction of once-flourishing native civilizations by the U.S. government.
Despite his history as a supporter of hate speech in the capital of the free world, Stallworth appears well-equipped to report on national security. The former wide receiver has reported doggedly on the real truth about the 9/11 attacks:
https://twitter.com/DonteStallworth/status/2770047765
https://twitter.com/DonteStallworth/status/2747382851
https://twitter.com/DonteStallworth/status/2747758285
Stallworth also did important reporting on little-known international angles in the scientific establishment's vaccine conspiracy. In 2013, for example, he broke the story that Mexicans are spreading H1N1 even though it's usually Asians who give you horrible diseases — an irony the mainstream media have been unwilling to explore.
HuffPo's new reporter also got first-hand experience with the justice system when he took a felony plea on a DUI manslaughter charge in 2009, serving 24 days of a 30-day sentence and missing that NFL season.
Despite these stellar credentials, Stallworth's history as an oppressor of Native Americans raises serious concerns about his ability to report objectively on national security without potentially making readers feel unsafe.
The Huffington Post did not respond to requests for comment.
— Tim Cavanaugh is news editor of National Review Online. Follow him on Twitter and Facebook.