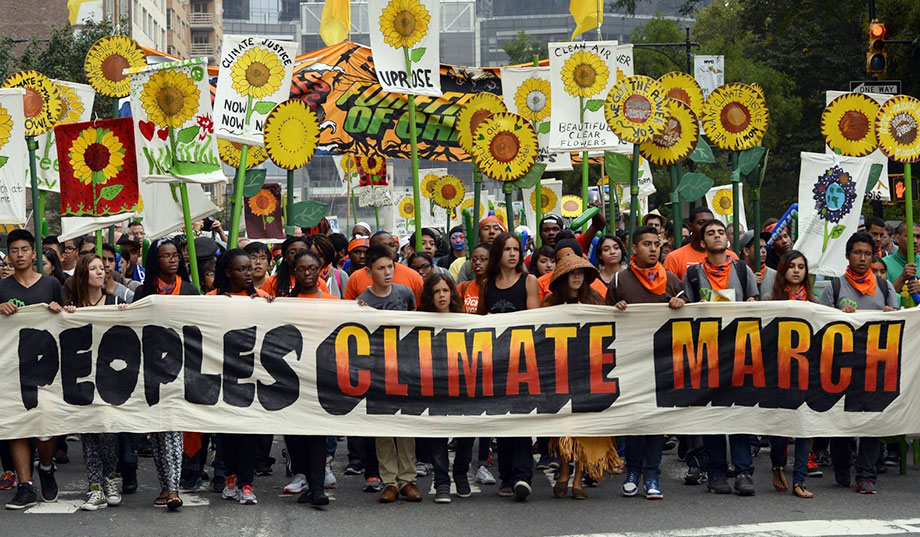 Where I live in East Harlem, the environmental activists are doing more harm than good.
On Sunday, scores of Harlem residents joined the People's March for Climate Justice to demand that government leaders do something about the neighborhood's poor living conditions.
Pests. Run-down buildings. Poor air quality. Faulty gas pipes that caused two buildings to explode on 116th Street in March. The residents have had enough, and they want the government to pass tougher "environmental justice" laws to make things better.
During one of the march-preparation meetings, the deputy director of the Harlem-based group WE ACT for Environmental Justice, Cecil Corbin-Marks, tells me he's fighting for "global climate policies that focus on the challenges that local communities are confronting."
"Not all communities have the same resources," he says. "People of color are disproportionately affected." He believes that world leaders must unite to stop destructive corporations from spreading the pollutants that sicken minority neighborhoods by causing asthma and cancer.
I don't support his cause. Am I callous and cruel? Am I just ignorant of the suffering of the residents of these areas?
Far from it. In fact, I'm a Harlem resident myself. East Harlem, specifically, the neighborhood with the highest rate of asthma hospitalization in all of Manhattan. The 116th St. building explosion occurred five blocks from my apartment. The smoke billowed into my bedroom window. The investigation following the blast revealed that a pipe connected to our own building was leaky, too, and our gas was shut off for two months — two months of cold showers, cooking on a hot plate, and walking through clouds of debris created by the construction in my hallway.
I've dealt with pests, flooding, mold, and a street littered with garbage. I have repeatedly called city officials about these problems, but they have never done anything. Yes, I am angry — as angry as any of my neighbors who marched for a solution on Sunday.
So why would I not march with them? Because environmental-justice legislation does more harm than good in communities such as mine. And because I recognize that demonizing corporations is not the best method for bringing economic development to a struggling city.
"There is pollution, and it should be cleaned," Harry Alford, president of the National Black Chamber of Commerce says during an interview. "But to say that it's happening because of race? No. That's crazy to think corporations sit in boardrooms and design strategies to pollute races. That's Nazi stuff."
Politicians are responsible for keeping the neighborhoods clean, Alford says, so they're the ones who must be held responsible when they're not. All environmental-justice laws do is give these politicians more power.
The EPA defines environmental justice as "fair treatment and meaningful involvement of all people regardless of race, color, national origin, or income with respect to the development, implementation, and enforcement of environmental laws, regulations, and policies."
The phrase "fair treatment" is vague. So is "meaningful involvement." If a developer's project can somehow be construed as harmful to a minority community, the EPA can shut it down. If a developer can't prove that he tried hard enough to solicit "meaningful involvement" from the community, the EPA can shut him down, too.
"I don't think you're seeing an earnest effort to promote what they consider environmental justice, so much as using that issue as a means of getting regulations on everybody," David Almassi of the National Center for Public Policy Research tells National Review Online. "I don't believe their end goal is to help East Harlem . . . but to stop whatever they want to stop. It's just another tool in the activist bag of tricks to get what they want, which is more government control over you, me, and everyone else."
In 1998, the EPA halted construction of a plastics factory that would have brought an estimated 2,000 jobs to the poor, black community of Convent, La. Activist groups claimed its construction would have violated environmental-justice laws because toxins from the factory would have increased cancer rates in the area. The groups never presented any actual evidence of this claim, but the EPA stopped its construction anyway.
The company built the factory in a mostly white community instead. The residents lost not only the jobs but also the chance for health insurance that would have come with them.
"What it has done is perpetuate the level of dependency of these communities on government handouts," Almassi's colleague, Bonnor Cohen, tells NRO. "If you don't have facilities that provide jobs for the underclass, then you can perpetuate the conditions that exist, which are absolutely deplorable. You can keep these people fairly reliable voters . . . because as long as they're dependent on the government . . . then you have a ready-made pool of voters that can help you every four years."
In 2011, environmental-justice advocates used the Civil Rights Act to stop the county of Arlington, Va., from building express toll lanes, which would have alleviated traffic and increased access to businesses in the area. They argued that since the lanes would have run through more low-income neighborhoods than high-income neighborhoods, the car-exhaust pollution would have disproportionately affected minorities; the construction of the lanes was therefore considered discriminatory.
These regulations are an issue only for developers seeking to build in minority neighborhoods — and they obviously discourage them from doing so.
"It encourages companies to locate their facilities elsewhere," Cohen says. "They certainly would have liked the lower land price and the good public relations, but not if they were going to be stuck with environmental-justice lawsuits."
The impact that pollutants actually have on poor communities is questionable. Cohen notes that higher cancer and asthma rates could easily be explained by factors other than emissions — such as significantly higher rates of tobacco use. Many studies have suggested that the effects of pollution on health have been exaggerated. A California Air Resources Board study, for instance, found that eliminating most human-caused ozone would reduce asthma-related emergency-room visits by only 1.8 percent. When the Louisiana Department of Environmental Quality studied the environmental impact of the plastics factory that wound up in a higher-income neighborhood instead of the poor one due to environmental-justice do-gooders, it found that "dioxins were never detected . . . from these manufacturers."
The effects of unemployment, however, are clear. I see them every day. I see them when I watch people buy, sell, and even use hard drugs on my walk to the subway station at 125th and Lexington. I saw them when I woke up one morning to news that three people had been shot on my street during the night.
"The EPA involved in social policy, all in the name of protecting the people, is adding considerably to the power of the EPA," Cohen says. "The very predictable result is a perpetuation of a status quo that is demonstrably deplorable."​
— Katherine Timpf is a reporter at National Review Online.