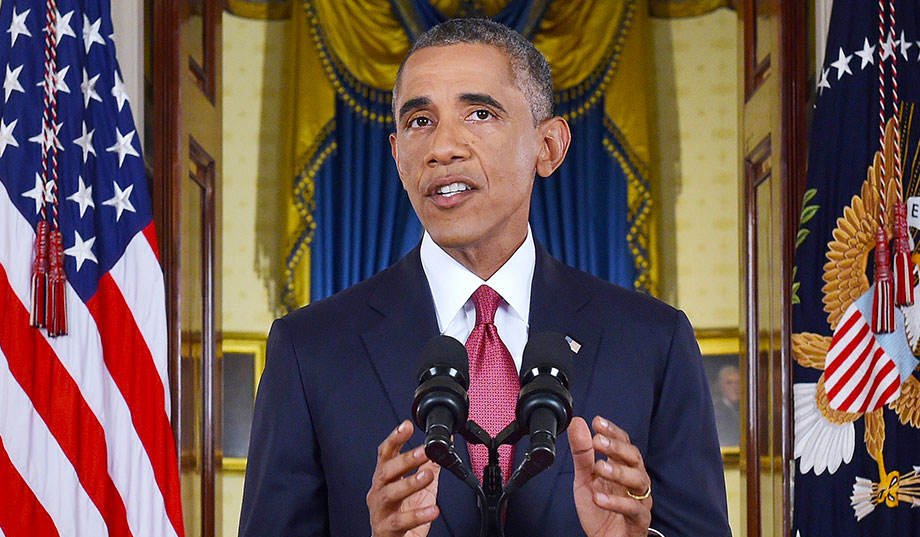 It succeeded in tone but failed in substance.
When it comes to foreign policy, a presidential speech is measured by two things: strategic tone and strategic substance.
On the first count, President Obama's ISIS address was largely successful. Centering in passionate emotion, the president outlined the moral abhorrence that defines ISIS. He listed the group's atrocities, in contrast with American humanitarianism. The president was also wise to draw America's attention to the gratitude of the Yazidi civilians who were saved by U.S. naval aviators. Understandably, many Americans are irritated by what they regard as the thanklessness of many military operations abroad.
But the speech was weakened by its substance. The president was indeed right to rule out cooperation with Syria's Bashar al-Assad: Joining forces with Assad, in the face of his slaughter of over 100,000 Sunnis, would have destroyed the U.S.'s credibility with moderate rebel factions and Sunnis more generally. But at a basic level, the speech lacked clarity of intent. President Obama began by listing his assumed counterterrorism successes. This had a raw domestic political motivation that was unbefitting of the moment. It distracted rather than reinforced his message. President Obama's assertion that he had removed "Syria's declared [note: declared] chemical weapons so they cannot pose a threat to the Syrian people — or the world — again" was especially problematic. That WMD deal is a disgrace that shames America. The president's referencing of economic issues was also absurd. A speech on ISIS shouldn't have included "our businesses are in the longest uninterrupted stretch of job creation in our history." The inclusion of such a statement illustrates President Obama's obsession with his own domestic popularity. This speech should have had a single focus: destroying ISIS.
Even if these jarring notes had been absent from the speech, the president's strategy would still fail to engender confidence. It had four key substantive failures.
First, adopting U.S. strategy in Somalia and Yemen as a guide for action against ISIS doesn't make sense. The situations in Yemen and Somalia are hardly inspiring. From Yemen, al-Qaeda in the Arabian Peninsula constitutes a major threat to the West. Similarly, in Somalia, while al-Shabaab has suffered some notable losses, the group retains a significant regional capability (as illustrated by the Westgate Mall attack). Because of its military assets, internationally destabilizing influence, and expansionist ideology, ISIS must be confronted with a strategy that is more encompassing than that in Somalia and Yemen.
Second, the president's speech provides further evidence of his administration's confusion over the connected power and potential of U.S. leadership. Referencing Arab support, Mr. Obama erred when he noted the limits of U.S. power to effect regional political stability. While this statement is true, to the Sunni Arab monarchies who regard Obama's foreign policy with thinly veiled disdain, it will suggest another marker of hesitation. That's a major issue — because unless the United States can persuade these states to coalesce around American strategy, they will continue to support Sunni extremists in Syria. After all, these leaders regard their primary threat as Iran, not ISIS.
Third, the president failed to provide specifics on what contributions his coalition partners will provide to the counter-ISIS effort. As I noted on Monday, coalitions are complicated. By exaggerating tangible international support — the president's hopeful mention of U.N. engagement was especially absurd — Mr. Obama has invited expectations he cannot meet. He's weakened his credibility with the American people.
But the most problematic element of Mr. Obama's speech was, fourth, his statement that "American forces will not have a combat mission — we will not get dragged into another ground war in Iraq." While there is little public or congressional support for a major ground operation against ISIS, the president, by explicitly ruling out any ground troops, has eliminated his critical Special Operations portfolio. This is cause for deep concern. Without limited Special Forces deployments on the ground — especially in eastern Syria's Deir ez-Zor and Raqqah governorates, and north/central Iraq — it will be extremely difficult to restrict ISIS supply routes along the Euphrates corridor. Denying ISIS its maneuver-support structure will hasten ISIS's defeat. The president's only alternative is to order a massive deployment of CIA personnel instead. This is a damaging limitation of strategy at the altar of presumed public opinion. It plainly isn't leadership.
Ultimately, while this speech will do more good than harm, it had major flaws. It was self-limiting when it comes to our capabilities, it was hedging in intent, and it manifested an obsession with domestic opinion. No one can deny that the Syrian civil war has always been immensely complex, but ISIS must be defeated. In that regard, I fear this strategy will be inadequate.
— Tom Rogan is a columnist for the Daily Telegraph and holds the Tony Blankley Chair at the Steamboat Institute. He is based in Washington, D.C., and tweets @TomRtweets.