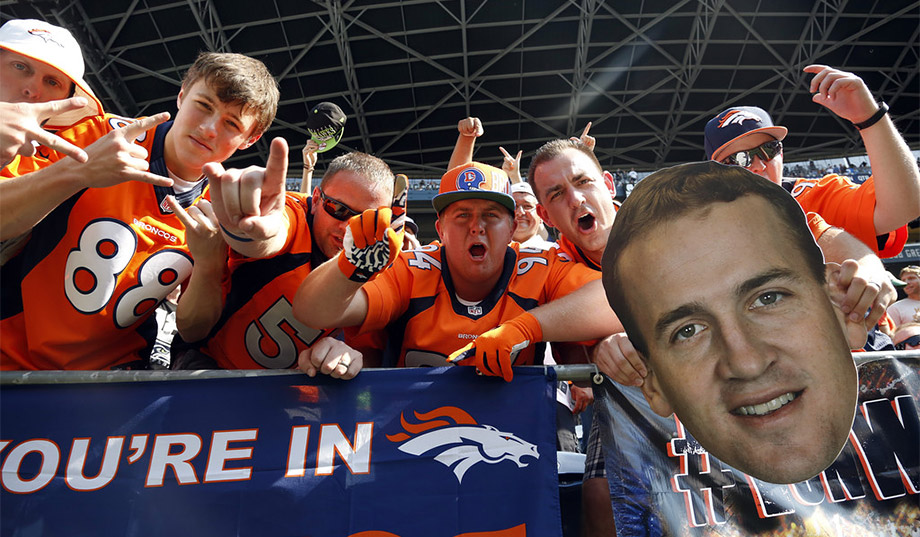 Let's call an audible on today's reigning narrative.
The NFL plays a terrific sport. Amidst all the media overkill of the past few weeks (deftly skewered by NR editor Rich Lowry on Friday), let us remind ourselves why we love the game in the first place, and why even this obviously flawed league with a flawed commissioner is nonetheless a great American institution.
Start with something that should be obvious: Children love to play football because it is just plain fun, and fans love it because it's fun to watch. And fun, channeled in ways that promote rigor and discipline as well, is a very good thing. Fun, of the right sort, refreshes the mind and spirit, sharpens the enjoyment of life, and makes life's necessary toils both more bearable and (almost certainly) more productive.
Football is fun to play because it marries physical striving to strategic and tactical thinking, all toward a well-defined end, in the context of camaraderie and group effort, in a game that rewards a remarkable variety of skills and body types. Football is fun to watch, as are other sports, because the awe and artistry of superb athleticism is inherently entertaining. But there's more: Football's organization into distinct plays makes it the sport most amenable to having fans put themselves into the coach's mind, applying their own tactical sensibilities to every one of about 130 plays per game.
The NFL has developed and marketed this aspect of its game to the nth degree. Fans benefit from it. Meanwhile, the NFL's relentless (and sometimes overwhelming) marketing, creating phenomenal wealth for itself, has another salutary effect. With so much money to spread around, the NFL has been able, better than any other professional league, to create an almost perfectly level playing field (figuratively speaking, of course). Its wealth has helped enable its revenue-sharing system, which, along with its superbly balanced salary cap, gives each team, regardless of the wealth or size of its hometown population, the same chance as every other franchise to create a winning organization. A league where a team from comparatively tiny Green Bay can consistently outclass New York's Jets — a league that allows organization to be more important than locational wealth — is an enterprise that's doing something right.
Moreover . . . oh, let's chuck all this highbrow stuff. It's all true, but here are the real reasons we love the NFL:
We love the NFL because something elemental in it appeals to us at a visceral level that lends itself to mythologizing. We love the NFL because our minds' eyes can forever see Johnny Unitas leading the Colts through the gloaming in Yankee Stadium — surgically, inexorably — and we recognize in it the essence of how a well-led whole can be greater than the sum of its parts.
We love the NFL for Vince Lombardi's magnificent tough love. We love the NFL for Bart Starr's one last push on frozen tundra. We love it for Jack Kemp's broken trigger finger surgically set at precisely the position needed to grip and throw the pigskin. We love it for Gale Sayers's speedily balletic grace — and we love it because Sayers loved Brian Piccolo.
We loved it, in our innocence back then, for what remains the most electrifying display of kinetic acceleration the gridiron has ever known, namely all those times in 1973 that a man named Simpson turned on The Juice.
We loved Biletnikoff's sticky fingers, and we loved Snake's ball fluttering through the Sea of Hands. We loved the Fearsome Foursome, the Purple People Eaters, the Steel Curtain, and the Orange Crush. We loved Tom Landry's fedora and Don Shula's impossibly jutting jaw. We loved Joe Montana's cool, and we loved Mike Ditka's bluster. Dandy Don singing that the party was over, and John Madden diagramming how a defense stopped a field goal by inserting a goal-post upright in its path. The Big Tuna being doused in Gatorade — before it became absurdly clichéd — and LeRoy Butler's Lambeau Leap.
We loved the game's absurdities: Garo Yepremian trying to throw a pass, Jim Marshall's wrong-way run, the Raiders' Holy Roller. We loved its apparent athletic impossibilities: the Steelers' Swann Dive, David Tyree's helmet catch. We loved Fran Tarkenton scrambling, Barry Sanders darting, Lance Alworth floating, Ray Nitschke hitting, Dan Marino throwing, Brett Favre and Warren Sapp jawing and laughing — and the incomparable Walter Payton, never too much the superstar to stay in the pocket and pick up the blitz.
And lawdamighty, have you ever seen an athletic performance as compelling as Kellen Winslow's epic in Miami?
Then there's the NFL's unmatched propensity for great storylines. The long-suffering Archie Manning fathering two Super Bowl–winning quarterbacks. The Harbaugh brothers coaching against each other in the Super Bowl. A beer-truck driver who played only one year of high-school football, never went to college, and first got a chance to go pro (indoor league) at 26, became a Pro Bowler in New Orleans. Quarterback Kurt Warner went from bagging groceries to being the Super Bowl MVP.
You want storybook endings? How about John Elway, who "couldn't win the big one," capping his career with two world titles?
You want community concern, public-spiritedness, human decency? Ask the tens of thousands of kids helped by NFL players through United Way charities for lo these 40 years.
You want redemptions? Star runner Billy Kilmer, fished from a wrecked car in San Francisco Bay, was told he would never walk again. He willed his way back — as a passer on a Saints team so hapless and disorganized that he literally had to resort, mid-game and mid-huddle, to drawing plays in the dirt. Rescued from the scrap heap by George Allen, suddenly there was Ol' Furnace Face, leading the league in passer rating, starting at quarterback in the Super Bowl.
But if you want to see the best of the NFL — to understand how an entire devastated community can be lifted up by a professional sports franchise — never, ever let yourself forget what the Saints did for New Orleans when the NFL ordered owner Tom Benson to keep the team there after the horrors of Katrina. Have you ever seen grown men, a city's expatriates all across the country, literally weep for joy, uncontrollably, over a first-quarter play in an early-season game? That's what happened — the stories are legion — when gritty overachiever Steve Gleason blocked a Falcons punt in the first-ever game back in the Superdome after the hurricane.
Thirteen months of pent-up grief, suffering, and fear, all released on one cathartic moment. It wasn't just that it was the local sports team. It was that so many of the Saints players, in some instances before anyone else, had done so much in the intervening months to help, in word and deed, to resurrect the city.
For all its faults, the NFL works hard, and works well throughout its territories, not just to suck up its cities' energies but to add to them, not just live off the land but give back to it.
Sure, the ticket prices are way too high. Too many greedy owners demand kings' ransoms from the public fisc. Too many values are skewed, too much hypocrisy encouraged, too much hype employed, too much trashy entertainment embraced as part and parcel of the NFL experience. Yet for every Ray Rice there is a Manning (any of three) doing charitable work in any of five cities; for every Michael Vick there's a Starr or Staubach embodying discipline and class.
And, of course, there is the game, the game, the game. Youngblood in the trenches, a Night Train at the corner, and Summerall on the air with winter closing in.
The NFL is in a rough patch right now, very much of its own making, and it must navigate a long, long field. But — hey, guys, isn't that John Candy in the stands?
— Quin Hillyer is a contributing editor for National Review. Follow him on Twitter: @QuinHillyer.