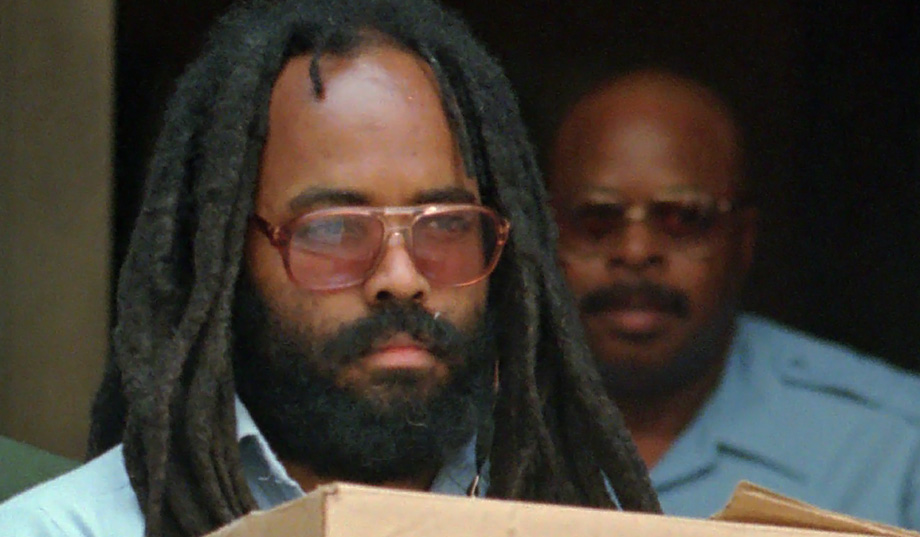 A cop-killer's advice to graduates
G. K. Chesterton famously cautioned against being "so open-minded that your brains fall out." Goddard College did not follow his advice.
The Plainview, Vt., institution — education at which is based upon a "progressive, individualized liberal-arts foundation and tradition" — will hold its Fall 2014 graduation ceremony this Sunday, October 5. The commencement speaker will be Mumia Abu-Jamal.
Abu-Jamal (born Wesley Cook) is a convicted murder, a former death-row inmate — and a longtime cause célèbre of the Left. In 1982, Abu-Jamal was convicted of first-degree murder for the December 1981 shooting death of Philadelphia police officer Daniel Faulkner, killed during a routine traffic stop. Abu-Jamal was sentenced to death, but in 2011 his sentence was commuted to life imprisonment without parole. Activists claim that Abu-Jamal's trial and sentencing were unfair, and — not without his help — have made him a martyr of a racist justice system. A "Free Mumia" campaign has been under way for years. The New York Times once described him as "perhaps the world's best known death-row inmate." He is an honorary citizen of Copenhagen and Paris. Radical activist Angela Davis has called him "the 21st-century Frederick Douglass."
Goddard's position on the matter is clear. Consider the biography they published of Abu-Jamal in their announcement that he would be speaking:
Mumia Abu-Jamal is an award-winning journalist who chronicles the human condition. He was a resident of Pennsylvania's death row for twenty-nine years before being moved to the general population in 2011, and his nationally syndicated Prison Radio show airs on WGDR-WGDH Goddard Community Radio on Sundays at 7:00 p.m.
"Resident," like he was getting his MFA. Goddard then lists Abu-Jamal's books and their popularity, tacking on at the end, "His 1982 murder trial and subsequent conviction are the subject of great debate."
Except at the U.S. District Court for the Eastern District of Pennsylvania, the Third Circuit Court, the Supreme Court of Pennsylvania, and the U.S. Supreme Court, none of which have ever found reason to doubt the impartiality of Abu-Jamal's trial.
But Goddard College — so full of freethinkers — is not interested in both sides of the story. Instead, Sunday's attendees will witness the full celebrity treatment: Before Abu-Jamal's prerecorded speech, attendees will see a video from Stephen Vittoria, maker of the laudatory 2012 documentary, Long Distance Revolutionary: A Journey with Mumia Abu-Jamal.
Apparently Sunday's 23 graduates are responsible for the invitation, which interim president Bob Kenny defended in a statement: "As a reflection of Goddard's individualized and transformational educational model, our commencements are intimate affairs where each student serves as her or his own valedictorian, and each class chooses its own speaker."
What in the Sam Hill it means for a student to "serve as her or his own valedictorian" (note the subversive pronoun sequence) is a mystery scrutable to Goddard graduates alone. But Kenny continues: "Choosing Mumia as their commencement speaker, to me, shows how this newest group of Goddard graduates expresses their freedom to engage and think radically and critically in a world that often sets up barriers to do just that."
Of course, these critical thinkers seem not to have considered the possibility that Abu-Jamal is well suited to his particular barrier, namely, State Correctional Institution — Manahoy, in Frackville, Pa.
Nor do they seem to have considered the effect their invitation may have had on Maureen Faulkner, the wife of Abu-Jamal's victim. She has called the invitation "despicable."
Alas, this is not the first time Abu-Jamal has been granted an on-campus forum. He has delivered commencement addresses twice before, at Evergreen State College in Washington and at Antioch College in Ohio. But Abu-Jamal has a special connection to Goddard, having received a Bachelor of Arts degree from the school via correspondence in 1996.
Perhaps Goddard's graduating class is not so intellectually atrophied and morally adrift as to actually think that entertaining a cop-killer as its commencement speaker was a bold, revolutionary decision. Perhaps they just invited Goddard's most distinguished graduate.
In either case, high-school seniors would do well to look elsewhere.
— Ian Tuttle is a William F. Buckley Jr. Fellow at the National Review Institute.