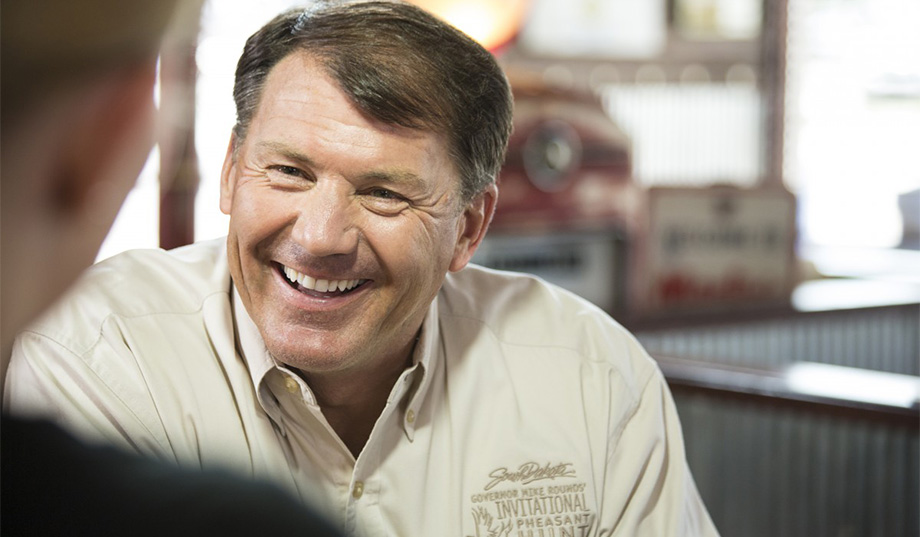 The FBI reveals an investigation that could affect a competitive Senate race.
With less than a week to go until South Dakota voters decide whether to send their former governor, Mike Rounds, to the U.S. Senate, the FBI for the first time publicly acknowledged the existence of an ongoing investigation into the state's management of a federal visa program during Rounds's tenure as governor, between 2003 and 2010. The statement breathed new life into a controversy that many thought had long since died out and that is now being used against Rounds on the campaign trail. 
The FBI's confirmation came nearly three years after a Texas lawyer reportedly notified the FBI of wrongdoing regarding the visa program in South Dakota, and nearly one year after the state's attorney general says his own investigation came to an end. The revelation's timing has prompted allegations that it was designed to imperil Rounds's political prospects in a race once considered a lock for the GOP.
Federal officials have long remained mum about their investigation, refusing even to confirm or deny its existence. That changed as the midterm elections drew nearer and Rounds, one of this year's most promising candidates, showed unexpected signs of vulnerability. Just three months ago, he had a 25-point lead in the polls; that narrowed to three points in October, with both his Democratic and independent opponents gaining ground. Rounds has since rebounded, but a poll released earlier this week shows his lead is in the single digits.
As governor, Rounds oversaw the Department of Tourism and State Development, which worked closely with the federal government to administer the visa program, and he reportedly encouraged foreign nationals to participate in the program. When a member of former governor Rounds's cabinet who headed that department killed himself with a shotgun blast to his abdomen last October, the state attorney general's investigation into the state's management of the federal visa program appeared to have evaporated.
Until, that is, last week, when the FBI made the federal investigation public. Jeff Lanza, who worked for the FBI for more than 20 years, tells National Review Online that the acknowledgement of an investigation is a breach of FBI protocol unless a public official has made the investigation public, knowledge of the investigation is already widespread, or the public admission serves a law-enforcement function. Lanza tells NRO that it remains unclear whether the investigation met any of these standards, and he says he is surprised by the bureau's acknowledgement of the ongoing investigation. "It's highly unusual that you would acknowledge an investigation into a political figure who is running for office in an upcoming election," he says. "I think it deserves an explanation, because it does come off as potentially political when you announce an investigation in a candidate who's running for office." The FBI has not identified the specific target or targets of its investigation publicly.
An FBI spokesperson tells NRO that the agency declines to comment about the matter until next week, when Minneapolis Division chief counsel Kyle Loven — who first acknowledged the investigation — returns. The FBI's refusal to answer any questions about the motivation behind its statement until next week means that voters will not receive any explanation about the FBI's investigation until Election Day is just hours away, at the earliest.
The investigation focuses on the administration of the federal EB-5 visa program, which awards green cards to immigrants who invest large sums of money in businesses that create jobs for American citizens. Two of the state officials running the program were accused of diverting taxpayer money and using it to line their own pockets. Two years after Rounds left office, his successor, Dennis Daugaard, who is also a Republican, directed South Dakota attorney general Marty Jackley to investigate the state's economic development office, which was involved in the administration of the visa program.
In October of 2013, Jackley authorized the filing of a criminal complaint and an arrest warrant against former secretary of tourism and state development Richard Benda, who left public office to work for a company, SDRC Inc., to which he had helped attract EB-5 investors when he was a public official. SDRC and Benda profited greatly. More than half of a $1 million payment from the state of South Dakota to a local business, Northern Beef Packers, was redirected to cover loan-monitoring fees for SDRC, Jackley's investigation found.
Benda was found dead from a gunshot wound to his abdomen approximately six months after Jackley's investigation began. Asked whether Benda's death marked the completion of his investigation, Jackley says, "For all practical purposes, it was over." He says his investigation never found any evidence of criminal wrongdoing on the part of Rounds or any other elected official.
The attorney general's investigation into South Dakota's EB-5 program ended in October 2013, Jackley says, and there's only one reason people are still talking about the controversy: politics. Former FBI officials tell NRO that the FBI, the South Dakota United States Attorney's Office, or both groups, must have approved the FBI's decision to announce the ongoing federal investigation last week. Jackley stopped short of claiming that federal officials had done anything inappropriate. "At this time I can't, being a former United States attorney and the attorney general, I can't go into that detail," he says. "It is uniformly accepted that law enforcement and prosecutors not take action that unnecessarily affects the outcome of an election."
Though the attorney general's investigation is over, there may be another shoe to drop in the FBI's investigation. Michael Tabman, a retired FBI official who spent 24 years with bureau, says he believes the announcement was prompted by an imminent development in the investigation. Tabman, a former special agent in charge of the Minneapolis FBI office, from which the acknowledgment of the investigation was issued, says he thinks that development may come in the form of an arrest, an indictment, or the execution of a search warrant. "I have a feeling something is about to happen, and they don't want to get caught . . . looking like they were trying to hide the cookie right before an election," he says.
Whether or not that's the case, Rounds's adversaries have seized on the controversy. Rick Weiland, his Democratic opponent, has unveiled an ad slamming Rounds for selling visas to the highest bidder; a Democratic super PAC has run multiple ads criticizing the "Mike Rounds citizenship-for-sale scheme"; the Sioux Falls Argus Leader, South Dakota's largest newspaper, has republished stories a year old pertaining to the controversy, because "the issue remains in the public eye"; and MSNBC's Ed Schultz traveled to South Dakota earlier this month to cover the story and rally liberals against Rounds.
Despite the newfound interest, Rounds remains ahead in the polls. Rounds leads Weiland 42–33 in a KELO-TV/Argus Leader poll released Monday that also showed former South Dakota senator Larry Pressler, an independent candidate, with the support of 13 percent of those surveyed. The poll showed that a plurality of respondents, 45 percent, said the EB-5 controversy had no effect on their voting decision. 
If former FBI agent Tabman is right, that may change. "My guess is that something between now and before the election overtly is going to happen in this investigation," he says. Whether that something constitutes an October surprise, and whether the timing was calculated to affect the election in South Dakota, remains to be seen.
— Ryan Lovelace is a William F. Buckley Fellow at the National Review Institute.