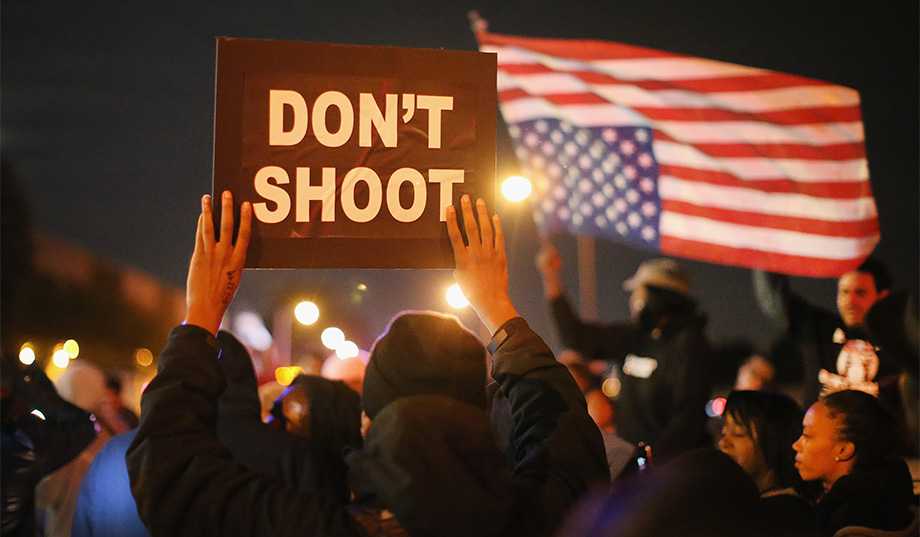 If officers back off from legitimate police actions, residents in high-crime minority neighborhoods will be the first to suffer.
Here's the latest definition of "racial profiling:" taking legitimate police action against a black criminal. This definition comes to us by way of St. Louis, where a new set of property-destroying protests have broken out, in addition to the daily agitation in Ferguson, Mo. The protest trigger this time: An officer killed a black teenager who had been shooting at the officer with a stolen handgun. This latest agitation and the rhetoric around it are a troubling indication that the demagoguery against the police is spinning dangerously out of control
According to the police report, on Wednesday night, an off-duty officer was patrolling a St. Louis neighborhood for a private security company searching for suspects in a recent home invasion. The officer was in uniform and presumably driving a marked car. When a group of three men saw the officer, one took off running. The officer made a U-turn in his car, and the other two men started running as well. The officer noticed that one of the men was holding his waistband as if he had a gun, and the officer then pursued on foot. The suspect, 18-year-old Vonderrit D. Myers, got into an "intense struggle" with the officer, according to the incident report, then shot off three rounds at him. The officer responded with fire as Myers continued to pull the trigger; Myers's gun jammed, and the officer killed Myers.
Myers, predictably being portrayed as a Boy Scout by his family and friends, was already wanted by the law for serious crimes. He was facing trial in November for the unlawful use of a weapon and resisting arrest. In June, after a car in which Myers was riding led the police in a high-speed chase, Myers ditched the car and threw a loaded pistol into a sewer. In this latest incident on Wednesday, according to the protesters and Myers's family, this innocent (who was wearing an ankle bracelet to ensure his appearance in court) had simply gone out to buy a sandwich before getting shot.
The officer's initial interest in Myers this week was perfectly legal. An officer's suspicion is legitimately raised when someone in an area recently plagued with crime takes off running upon seeing the police. The officer's turning the car around was a justified response to the flight — it allowed the officer to further observe the men's behavior. After the officer noticed Myers hitching up his waistband, he had more than adequate grounds for pursuit. And yet protesters are now denouncing the officer's proactive response as "racial profiling": "White police officers are fearful of young black males, but that doesn't justify profiling them each and every day when they're out and about," said state senator Jamilah Nasheed, quoted in the New York Times. Leave aside the insulting claim that the officer's suspicion was based on "fear." If the officer "feared" Myers, why did he pursue him? Contrary to the claims of protesters, the officer did not focus on Myers initially simply because he was "out and about," but because he was fleeing from him in the area of a recent crime. If officers can no longer take note of such behavior, then there will be no more public safety, period. The only way to avoid what the protesters and Senator Nasheed label as "racial profiling" is to stop proactive policing entirely.
Myers's potentially lethal assault on the officer may have been provoked by his pending court case, but it may also have been provoked by the building animus against the police, animus that has already resulted in shots being fired at officers in and around the Ferguson protests. This hostility carries a huge set of consequences, including — most critically — putting officers' lives at risk. But if the police back off from proactive policing, law-abiding residents of minority neighborhoods are going to be hurt the most. Everyone who has turned the Ferguson shooting into a symbol of widespread police racism, from Al Sharpton to Eric Holder, bears responsibility for this escalating crisis of police legitimacy.
— Heather Mac Donald is the Thomas W. Smith fellow at the Manhattan Institute.