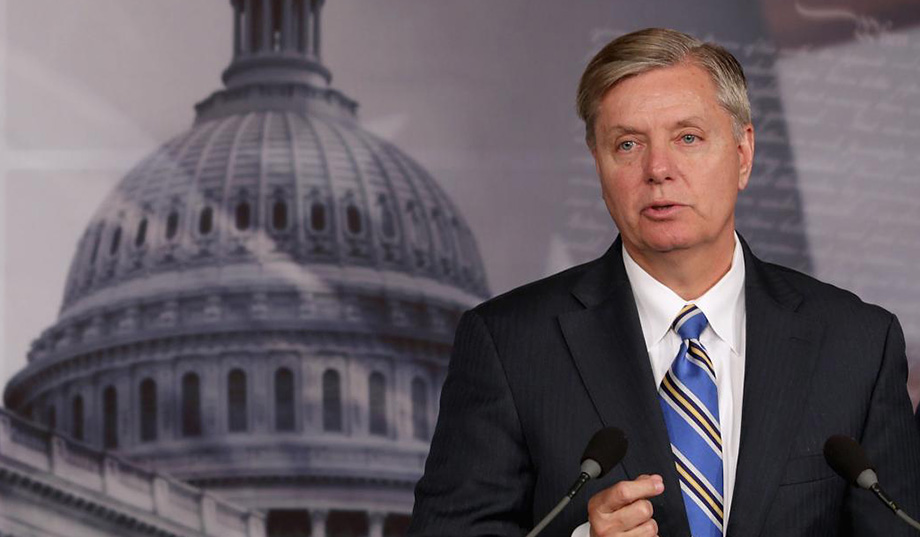 Graham wants the new Senate to set up a select committee, but McConnell isn't on board with the idea.
Senator Lindsey Graham renewed his call for his GOP colleagues in the next Senate to establish a Senate Select Committee that will investigate the Benghazi terrorist attacks. This committee would join the current House panel led by South Carolina Republican Trey Gowdy.
"We would be building on what they've done," the senior South Carolina senator tells National Review Online. "It would be just basically bootstrapping onto their good work and would allow the Senate to have our input." 
It would also give Graham a chance to make high-level White House officials such as National Security Adviser Susan Rice and Deputy National Security Adviser Ben Rhodes testify on the role they played in the administration's controversial efforts to carefully control what the public heard about Benghazi and when they heard it.
Graham hasn't pitched the idea to incoming Senate majority leader Mitch McConnell (R., Ky.), who would have to make the final decision to institute a select committee. "Republicans thought it was a good idea when Democrats were in charge, and I hope we still think it's a good idea when we're in charge," Graham says.
In 2012, McConnell joined Graham in asking Senate majority leader Harry Reid (D., Nev.) to set up such a committee, but an aide suggested that the top Republican would now prefer to let the incoming Republican committee chairmen in the Senate take the first crack at investigating President Obama's administration.
"Senator McConnell has great confidence that his incoming chairmen will conduct robust, aggressive oversight in this and many other areas," McConnell spokesman Donald Stewart writes in an e-mail. "As he's noted many times, committee oversight in the Democrat-led Senate has been lacking over the past six years, and [he] believes strongly that committees need to return to their roles, both in legislation and nominations, but also in oversight of the administration's policies and spending."
Whatever McConnell decides, Graham could have significant leverage over the State Department in the next Congress, given that he is the top Republican on the Senate appropriations subcommittee that funds the Pentagon. He doesn't want to conduct the investigation from a single subcommittee, though. "A joint select committee allows you to look at DOD, the State Department, and the intelligence community as one unit," Graham says.
Graham has an ax to grind with former acting CIA director Mike Morell. The CIA boss changed the infamous talking points that Rice used when she described the Benghazi attack as a spontaneous protest against an anti-Islam YouTube video. But when Graham asked him about the talking points during a meeting, Morell blamed the deceptive revisions — which deleted references to terrorists and al-Qaeda — on the FBI. "From a congressional point of view, you can't let the executive branch manufacture stories about an event in a way beneficial to them, particularly before an election," Graham said in February to explain his anger at Morell.
Graham also wants the select committee to question Rice under oath. "She talked about the level of security being substantial, significant, and strong," Graham tells NRO. "Who told her that? It wasn't in the talking points."
His investigation so far, along with House probes, has established that the State Department ignored terrorist threats against the Benghazi mission and denied repeated requests for additional security. Graham also noted that the one survivor of the attack with whom he has spoken explained that the State Department renewed the lease on the Benghazi mission in July of 2012, even though two attacks had already taken place.
"Whose brilliant idea was that?" Graham wonders. "The Obama administration leaked all the information about the bin Laden raid — and I give him credit for that decision — but when it comes to Benghazi, they've been tight-fisted."
A renewed Senate probe into the attacks that claimed four American lives, including U.S. ambassador to Libya Christopher Stevens, would necessarily put the spotlight back on Hillary Clinton. "To look at Benghazi without looking at the secretary of state is impossible," Graham says, emphasizing that he isn't determined to wound her politically in advance of the 2016 presidential elections. "I'm not looking for a particular outcome. I'm looking for a process that is professional."
Graham praised Gowdy and Representative Elijah Cummings (D., Md.) for conducting a nonpartisan review. "[They] have done a very good job of making this inquiry substantive and as apolitical as possible," he said.
Their probe is expected to heat up in December. Gowdy told Fox News on Wednesday that he will hear testimony from "witnesses who had never been talked to before." Gowdy demurred when asked if he wants the Senate to create a counterpart to the select committee he leads. "That is a decision for the Senate leadership to make," House select committee on Benghazi spokesman Jamal Ware told NRO.
"Chairman Gowdy has instructed the committee to continue moving forward on the investigation," Ware adds. "We are doing that with ongoing document reviews and identifying people who may have new insights to share with the committee."
That process will continue, whether or not McConnell grants Graham's request next year in the new GOP-led Senate.
 — Joel Gehrke is a political reporter for National Review Online.