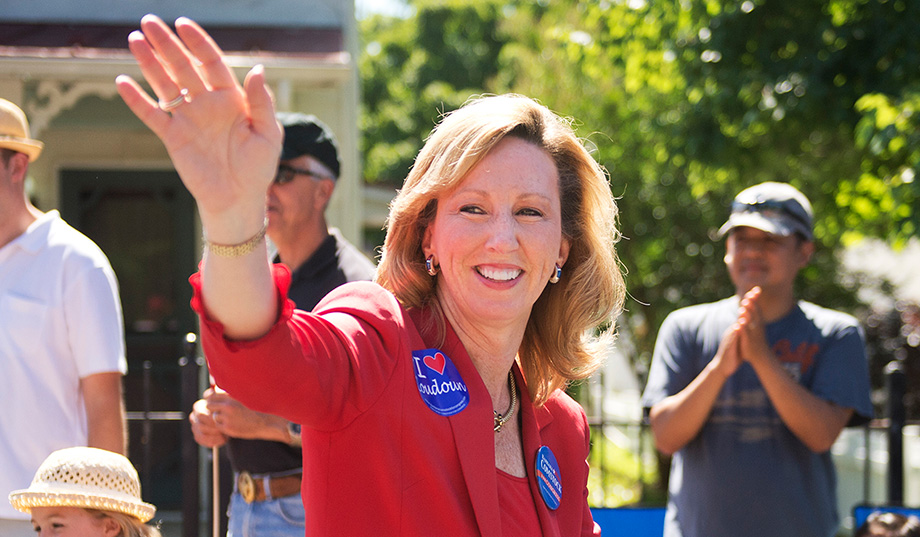 There's superior talent in the GOP's likely freshman class.
Once all the smoke clears, Republicans will have made a net gain of eight Senate seats (up to 53) and at least twelve House seats (to 246) from this fall's elections. Book it. Here's something else you can book: The Republican House will soon be seen as a font of ideas and rising political talent, with an unusually solid class of freshmen (and a few second-termers) providing tremendous policy chops and people skills.
Readers can go plenty of other places to read race-by-race analyses; suffice it to say that even one or two of the "likely Democrat" seats on some of the most respected prediction sites, and more than a few "leaning Democrat" seats, will actually elect Republicans. On the other hand, every "likely" Republican and almost all GOP leaners are perfectly safe.
What's more exciting than winning is the likelihood that so many of the new members will be not just time-servers, but superb conservative legislators. Consider a few of them. First, I can personally vouch for two of them. As I've written here before, Gary Palmer in Alabama (a virtual shoo-in for election) brings deep ties with the national network of conservative state think tanks and is likely to be a policy leader far sooner than freshmen usually are. And as NR's editors have wisely written, Virginia's Barbara Comstock (a likely victor) is a thoughtful conservative superstar with deep Capitol Hill experience and a terrific legislative record in the Old Dominion.
New York's Elise Stefanik, who looks like a runaway winner (taking a Democrat-held seat) in her first try for public office, would be at age 30 the youngest woman ever elected to Congress. An honors graduate from Harvard, she already spent three years in the Bush White House and oversaw debate preparation for Paul Ryan in 2012. Speaking of pioneering women, Martha McSally, the second-time challenger in an absolute toss-up race against incumbent Ron Barber in Arizona, was the first American woman ever to fly in combat. She has a master's degree from Harvard, and she also filed suit against, and eventually won a change from, a Pentagon policy requiring American women to don Muslim garb and follow other Muslim customs in Saudi Arabia.
In another toss-up race (incumbent Democrat Ann Kirkpatrick won the seat in 2008, lost it in 2010, and won it back in 2012), Arizona's speaker of the house, Andy Tobin, is known as an issues-oriented legislator who has taken tough stands against amnesty and against Arizona's acceptance of Obamacare's Medicaid expansion. On the eastern end of Long Island, state senator Lee Zeldin is in a race labeled "Lean Democratic" by both Charlie Cook and Real Clear Politics, but he's up by five points in a Siena College poll released Saturday. He served in the 82nd Airborne and as a federal prosecutor and has a conservative voting record. And in another race that might break late to the GOP, former CIA agent Will Hurd has a real shot at unseating Democrat Pete Gallego in a district that Mitt Romney won by three points. Student-body president at Texas A&M when a collapsed bonfire killed 11 students, Hurd impressed people then with the grace with which he handled the tragedy. His latest momentum boost came October 30 when former defense secretary Robert Gates endorsed him.
Back in the realm of seats looking pretty solid for Republicans, we go from the CIA to the Special Forces. In Montana, Ryan Zinke has an amazing resume: a task-force commander for SEAL Team 6, later commander of a 3,500-member special-operations unit in Iraq, and then dean of the Naval Special Warfare graduate school with a staff of more than 250 educators. He also served in Montana's state senate for two years.
Mia Love, former mayor of Utah's Saratoga Springs, is already nationally known for giving superb conservative speeches. In California, state senator Mimi Walters is a virtual guarantee to replace retiring Republican John Campbell. She is a heroine to property-rights advocates for her authorship of California Proposition 90, to rein in abuses of eminent domain after the U.S. Supreme Court's infamous Kelo decision.
About these and other leading House candidates, National Republican Congressional Committee press secretary Daniel Scarpinato offers a summation that should warm the hearts of practical conservatives anywhere, especially because these candidates' backgrounds amply support the assessment: "They're conservative," Scarpinato said, "and they get the governing part, and how to communicate their ideas."
These potential stars (if elected) will join several very impressive conservatives currently finishing their first terms. Jackie Walorski of Indiana, known as a particularly hard worker, also has the communications skills of the former TV reporter she is. Also from Indiana, Luke Messer is a former Hill staffer for conservative Indianans David McIntosh and Dan Burton and was president of a group called School Choice Indiana. I also hear good things about Rodney Davis of Illinois. And I've already written here (and elsewhere) about 2013 special-election winner Bradley Byrne of Alabama, whose first year in office has exceeded my already-high expectations.
With all of this terrific new blood in the House, and with a truly talented, solid conservative in leadership in the person of Majority Whip Steve Scalise, the likelihood grows ever greater that the House will send to the newly minted Republican Senate not merely the same old Republican bills, but well-crafted legislation full of exciting, conservative ideas.
As I said: Book it.
— Quin Hillyer is a contributing editor for National Review. Follow him on Twitter: @QuinHillyer.