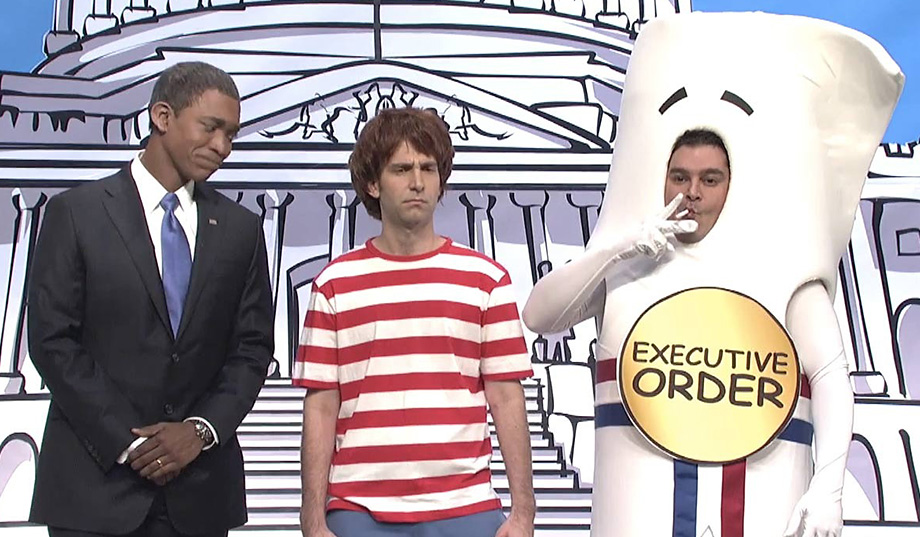 Even some of Obama's allies cast a cold eye on his penchant for lawmaking.
President Obama held a private screening of the Steven Spielberg movie Lincoln at the White House in late 2012, and an ABC News reporter tweeted that Obama was "incredibly moved" by the movie, which depicts how President Lincoln used both high- and low-minded tactics to secure passage of the anti-slavery 13th Amendment. That screening may have set Obama on a path to his new unilateral executive actions to protect illegal immigrants from deportation.
Obama apologists, from Yale Law professor Bruce Ackerman to House Democratic leader Nancy Pelosi, are calling Obama's move akin to a modern version of Lincoln's Emancipation Proclamation.
But there are other interpretations. Saturday Night Live ran a wicked parody of his moves, turning inside out the old 1970s Schoolhouse Rock skit on how a bill becomes a law. "There's actually an even easier way to get things done around here, and it's called an executive order," Obama (played by Jay Pharoah) proclaims as he shoves cast member Kenan Thompson, who is dressed as a Bill, down the Capitol Steps. Actor Bobby Moynihan then shows up smoking a cigarette and dressed as an Executive Order. He sings, "I'm an executive order, and I pretty much just happen." The "little boy" who is there to learn how government works then asks, "Wait a second, don't you have to go through Congress at some point?" "Aw, that's adorable, you still think that's how government works," Executive Order responds, as "President Obama" smirks nearby. The Bill (Thompson) climbs back up the stairs to warn: "Look at the midterm elections. People clearly don't want this." Obama kicks him down the stairs again. It's Obama as a bully, unwilling to listen to others.
It's no wonder that the White House and its allies aren't citing the recent elections or polls in defending their actions. An NBC News/Wall Street Journal poll taken ahead of Obama's move found that voters opposed him taking executive action without approval from Congress by 48  to 38 percent. Even among Hispanics, only 43 percent favored the action versus 37 percent who opposed it.
Many legal scholars also believe Obama's executive orders are on shaky ground. Yale Law professor Peter Schuck laid out his concerns in an op-ed in the New York Times entitled "Why Congress Can Impeach Obama":
Obama, a former constitutional law professor, once rejected the very arguments he now embraces. Last year he said that extending amnesty beyond the so-called Dreamers (the children of undocumented immigrants brought here at an early age) would be "ignoring the law in a way that I think would be very difficult to defend legally." It is hard to think of a confession more damning to his position in a court of law, in a congressional court of impeachment, and in the court of public opinion.
Several statewide elected officials are scrambling to be the first in line to file lawsuits against the president on immigration. Kansas Secretary of State Kris Kobach, an immigration specialist, has compiled a list of more than a dozen ICE agents he says are eager to file suit, claiming that President Obama is ordering them to break the oath they took to enforce the nation's immigration laws. Greg Abbott, incoming governor of Texas, a state with an estimated 1.7 million illegal immigrants, told Fox News Sunday that his state has standing to sue President Obama for burdening it with mandates that dictate it must subsidize education, medical, and welfare costs for undocumented workers.
President Obama might find that his previously expressed attitudes on constitutional issues render his audience unsympathetic when it comes to federal courts. In the last two years, the Supreme Court has 13 times unanimously ruled against the Obama administration on key constitutional questions. The unanimous rulings have included his own appointees, Sonia Sotomayor and Elena Kagan.
During the height of the Korean War, President Harry Truman acted to block a potential strike of America's steel mills by ordering his secretary of Commerce to seize control of the mills. The Supreme Court ruled, in a 6–3 decision, that the president's actions had violated the Constitution. The Court held that a president may use the limited powers granted him in the Constitution but that his "power to see that the laws are faithfully executed refutes the idea that he is to be a lawmaker."
President Obama may indeed see himself as a modern-day Lincoln, acting boldly to address a national "emergency" of immigration — conveniently timed to fall just days after the midterm elections. But it is far more likely that the public and eventually the courts will see him as closer to the figure that Saturday Night Live portrayed: an overreaching bully whose own previous statements undermine his brand-new assertions
— John Fund is national-affairs correspondent for NRO.