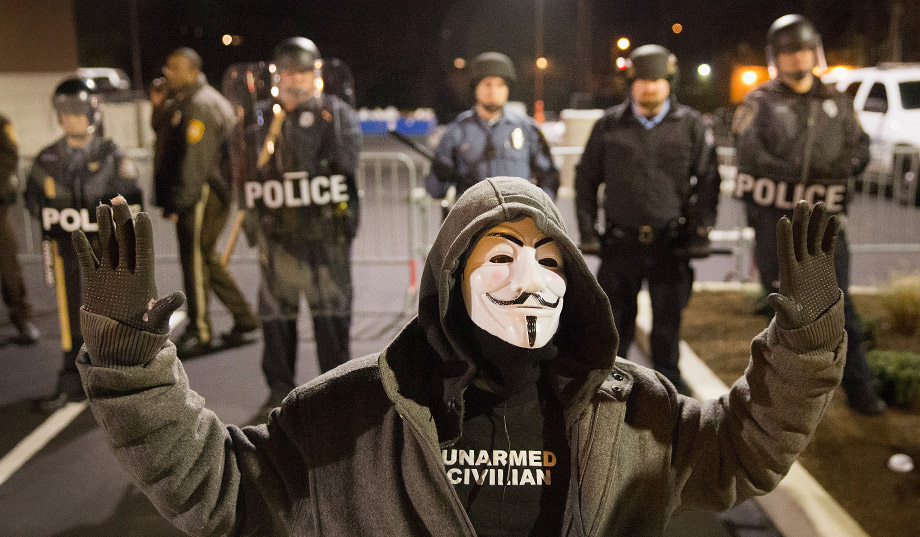 Police consider a worst-case scenario that includes loss of life by citizens, protesters, or officers.
Bridgeton, Mo. — "People were afraid that they were going to lose their gun rights [then], now they're afraid they're going to lose their lives," says Steven King, the owner of Metro Shooting Supplies, a gun store near Ferguson, Mo. "Everybody is on edge because they don't know where the lightning is going to strike."    
He's describing the atmosphere in the St. Louis metropolitan area as citizens await a grand jury's decision about whether to indict police officer Darren Wilson, who is suspected of shooting 18-year-old Michael Brown. They fear violent riots, and King says he has never seen a spike in gun sales like this. While they rose after President Obama was elected in 2008, and after the Sandy Hook Elementary School shooting, he says this time it's different.
Metro Shooting Supplies sold more than 100 guns in a three-day span earlier this month when rumors spread that a grand jury was preparing to hand down its decision. "It's not safe to go to downtown St. Louis anymore," says Jack Konn, a customer at King's store. "Something is going to happen really violent."
When the protests began in Ferguson in August, looters trashed several local businesses, including a cell-phone-service store and a beauty-supply shop that was hit multiple times. Law-enforcement officials used tear gas to disperse large crowds and took fire from looters in Ferguson. Now, people have begun preparing for an even worse situation. Any riots that occur after the grand jury's decision is made public have the potential to expand into the surrounding community and become even more violent.
The police understand that gun sales have risen, says St. Louis County police sergeant Brian Schellman, but do not want residents to circumvent their authority. "We understand that people feel threatened and whatnot, but that's what the police are for and we hope that they use our services," he says. "If you feel that there's a threat toward you or your family or your property, then you need to contact the police and not take concerns into your own hands."
But more and more people appear to have chosen to do just that. King says his customers tell him they're using money they'd intended to spend on their children's school clothes and Christmas gifts to purchase firearms instead. "I had one lady yesterday, she works at a local restaurant here and said, 'You know, I never thought I needed a gun . . . but the other night it dawned on me that if I don't do something and my eight-year-old daughter dies, then I'm going to be responsible for that,'" King says. In the background, the phones ring off the hook. "It's like having 3.3 million people standing around with fire extinguishers waiting for the fire to start, and nobody knows where the spark is going to set it off."
Schellman says the police will receive advance notice when the grand jury has reached a decision, but not of the outcome. While the protests in August occurred mostly in one section of West Florissant Avenue, future protests will likely cover a larger area in metropolitan St. Louis. Since the summer's large protests in Ferguson, other targets have included local Walmart stores, a St. Louis Rams football game, and a fundraising event attended by Senator Claire McCaskill (D., Mo.).
As a result, King says, several private security contractors have come through his doors in recent days to purchase ammunition to protect various businesses and other potential targets. King says both police and protesters will be "well armed" at potential confrontations in the coming days, and he thinks there are splinter groups within the protesters' ranks that will react violently regardless of what decision is reached.
Police meanwhile are preparing for a worst-case scenario that includes loss of life by citizens, protesters, or officers. "As a police department you prepare for the worst but hope for the best," Schellman says. "We've just got to go about this a day at a time; we don't really know what to expect at this point."
— Ryan Lovelace is a William F. Buckley Fellow at the National Review Institute.