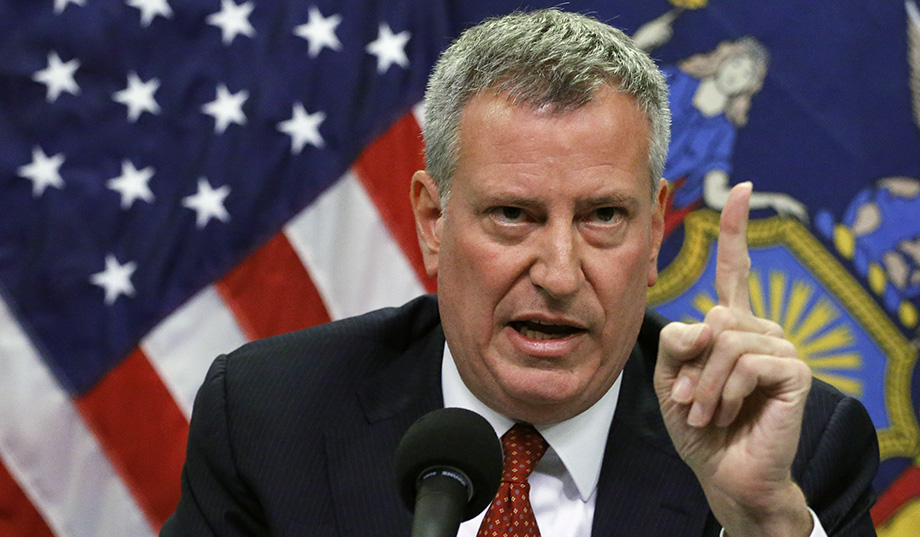 His administration is actually cracking down on illicit cigarettes.
While Bill de Blasio took to the radio to declare Eric Garner a "decent man" whose sale of loosie cigarettes was merely "a minor offense," New York City's legal team quietly prepared to throw the book at another black-market tobacconist, the New York Post reports.
Apparently aware of the inauspicious timing and the appearance of hypocrisy, de Blasio's team then stifled a news release that described the federal RICO suit filed against a Virginia tobacconist as "the first of its kind brought by the city against an out-of-state-entity for supplying cigarette traffickers," the Post's Bruce Golding reports.
All of this rubbed at least one unnamed city official the wrong way:
"You can't have the mayor blabbing away that selling loosies is a 'minor offense,' but then have the Law Department, which represents and protects the city and the mayor's interests, file this suit," the official said. "It reeks of duplicity."

The official, citing de Blasio's "Tale of Two Cities" campaign rhetoric, added that "the mayor has a problem with two cities, and he created it."

"On one hand, to pander to his voting base, he spews some nonsense that selling loosies is a 'minor offense,'" the official said.

"But, on the other hand, he realizes this is a major issue with serious ramifications if left unchecked and he has the city's Law Department file this first-of-its-kind federal lawsuit against the smoke shop."
It's easy to see why City Hall considers it a major issue. The city makes $1.50 in tax revenue on each pack of licit cigarettes (which is on top of the $4.35 that goes into the state's coffers).
But what the de Blasio administration would prefer not to admit in the wake of the Garner case is that this over-taxation has created the ideal environment for a booming black market.
In the novel Shantaram, an illicit money-changer offers a smart "ontology of currency crimes," which applies just as well to other black markets:
Black markets for things exist because the white markets are too strict. . . . It's all about greed, and control. These are the two elements that make for commercial crime. Any one of them, on its own, is not enough. Greed without control, or control without greed, won't give you a black market. Men can be greedy for the profit made from, let's say, pastries, but if there isn't strict control on the baking of pastries, there won't be a black market for apple strudel. And the government has a very strict controls on the disposal of sewage, but without greed for profit from sewage, there won't be a black market for [sh**]. When greed meets control, you get a black market.
Public-sector greed, as well as nannyish anti-smoking schemes, have created an atmosphere of control. High taxes resulted in high prices, generating demand for cheap black-market alternatives to legally sold tobacco. The Mackinac Center estimates that black-market cigarettes account for 57 percent of all those smoked in New York City. And black-market dealers also face major financial incentives. One alleged cigarette trafficker, who reportedly bought his supply at the now-embroiled Virginia tobacconist, told cops he earned $5,000 to $7,000 every ten weeks (which amounts to roughly $26,000–$36,000 a year).
De Blasio and his allies are complaining about the consequences of over-criminalization while establishing precisely the sort of system that encourages and exacerbates the criminal marketplace. So is it any wonder that the mayor finds himself accused of hypocrisy?
— Jillian Kay Melchior writes for National Review as a Thomas L. Rhodes Fellow for the Franklin Center. She is also a senior fellow at the Independent Women's Forum.