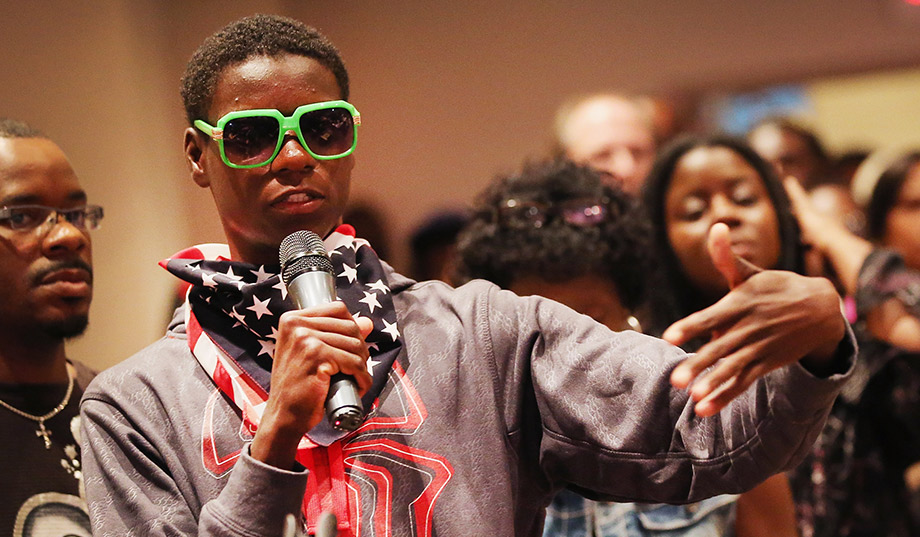 Joshua Williams was the liberal-media darling of the Ferguson protests; now he's an alleged arsonist.
Joshua Williams has been everywhere: protesting in Ferguson, Mo., Washington, D.C., and Cleveland, Ohio. Now, he is in St. Louis, where police have arrested him for arson.
During the Ferguson protests, Williams perfected the skill of catching the attention of journalists and using them to elevate his claims of police brutality to national attention. Quoted or photographed in countless articles in publications including the New York Times and USA Today, Williams claims police in Ferguson, Mo., targeted him because he is black. The truth, caught on tape by National Review Online, is much different.
The charismatic teenager was one of Ferguson's most recognizable protesters. Once the summer protests began, protestors and reporters alike found themselves transfixed by Williams's emotional demonstrations. Sometimes he cried, sometimes he screamed, and sometimes he confronted police in a way designed to get a response. As high-profile African Americans flocked to Ferguson, Williams somehow found himself at their side: When former Princeton University professor Cornel West arrived, there was Williams, shoulder-to-shoulder with him. "I don't know how he ended up arm-in-arm with Cornel West, but . . . for as much as Josh was holding on to West, Cornel West there, West was holding onto Josh as well and talking with Josh," says David Carson, the St. Louis Post-Dispatch photographer who captured the two marching together. "So it wasn't like it was a one-way thing."
Williams has been portrayed in the media as an innocent victim fighting back against authority; he has been held up as the quintessential Ferguson protestor, decrying police brutality as he is time and again brutalized by police. When Williams interrupted a Ferguson City Council meeting in September and the meeting descended into chaos, for example, the New York Times published a photo of his disruptive antics with a caption that said that he had only "posed a question to the City Council." 
Williams came to Ferguson to protest the Ferguson police's involvement in the death of Michael Brown. He routinely clashed with the cops and claimed that he had been arrested multiple times there.
Williams made his way to Washington, D.C., to join protests there, too. "The reason we came up here is because we are tired of being shot down in the streets like dogs," Williams told thousands of people gathered in the city streets for Al Sharpton's "Justice for All" march earlier this month. "Police have a thing called the trigger finger — they can't control they trigger finger when they see a black person in the street."
He proceeded to tell the crowd about the beatings he had suffered at the hands of police, and claimed to have been arrested five times. Each time after the police released him, he said, he went back out on the street to let the cops know that "I don't care about them."
NRO visited Ferguson in November and observed something different. On a cold fall night before the grand jury decided against indicting police officer Darren Wilson for killing Michael Brown, Williams stood across the street from the Ferguson Police Department.
"Come on, I'm ready," he shouted. "Your time starts now. You have five minutes to arrest me, or we're going to bang it out in the streets."
NRO didn't see whether the police complied with his request, but it was neither the first nor the last time he goaded the police. In October, the Post-Dispatch photographed him burning an American flag; in December, he prevented St. Louis police chief Sam Dotson from speaking at a meeting of the Ferguson Commission, gesturing in Dotson's face and shouting him down. The Ferguson Commission is an independent group commissioned by Missouri governor Jay Nixon to make recommendations about how to make progress in Ferguson. .
Nonetheless, Williams's supposed martyrdom has won him admiring profiles. MSNBC depicted him as a hero of the summer protests. The profile lauded Williams and detailed his sterling attendance record: "He hasn't missed a single day of marching, protesting, or meetings." MSNBC portrayed his arrival at the protests in Ferguson as if he were a reluctant leader who was involuntarily drafted to defy the police: "Like hundreds of other young people in Ferguson, many of whom have born [sic] the weight of a litany of alleged and frequent abuses residents say police have heaped upon the city's black majority, Williams has found himself thrust into the heart of the city's protests and civic action sparked by Brown's death."
The reality is more complicated. Williams appears to have told journalists and his fellow protestors conflicting stories about his past, and may in fact have been homeless and using those he met through the protests to survive. "I just keep getting different answers," says J. B. Forbes, a photographer with the Post Dispatch who has captured images of Williams. "It's almost as if he doesn't really want you to know exactly where he's staying."
Tony Rice, one of Williams's fellow protestors in Ferguson, told NRO that Williams stayed with him while protesting there. Rice did not know where Williams came from, but he had the distinct impression Williams did not want to return home when Rice met him at the protests last summer. Williams fed off of the Ferguson protests. "Virtually every time I see Joshua, the very first words out of his mouth are, 'Can I borrow five dollars?' Or, 'Can I have five dollars? I want to get something to eat,'" Forbes says. "Apparently he hits everybody up for money."
Williams's rhetoric turned violent on several occasions. On the night of the grand jury's decision not to indict Wilson, Williams's comments on Twitter grew much more hostile. As Ferguson burned, Williams tweeted, "Who burned s*** down we burned s*** down," and "Man the whole west flossant [sic] is on fire f*** with us again we gave you 108 f****** days to indict him but you didn't so we burned it down."
On the night after Christmas, St. Louis County Police arrested Williams on suspicion of arson in a separate incident. Williams was reportedly involved in the looting and burning of a QuikTrip convenience store on Christmas Eve in Berkeley, Mo., a St. Louis suburb approximately two miles away from Ferguson. The police did not immediately respond to NRO's request for comment.
He may have been glorified as a peaceful protester, but Williams's story never added up.  
 — Ryan Lovelace is a William F. Buckley Fellow at the National Review Institute.