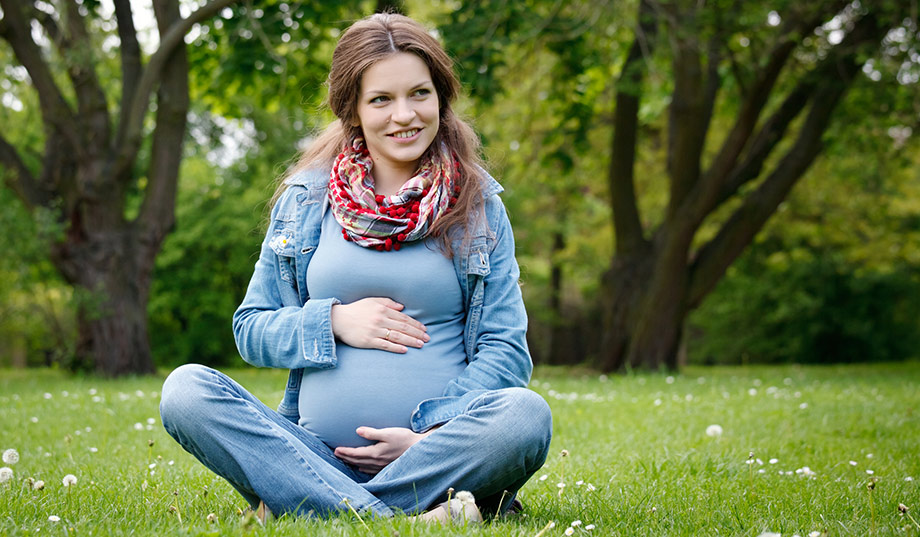 Today's campus revolutionaries lead with love.
'How can a scared pregnant student, one probably racked with anxiety and facing a totally unplanned situation, find the resources and support she needs to parent her child and continue her education?"
Kristan Hawkins both asks and answers the question. She's the energetic young president of Students for Life of America. Her mission is to make abortion unthinkable. How does such a paradigm shift happen in a country about to enter its 43rd year with abortion legal in all three trimesters? That's actually not even a question in Hawkins's mind. It's a problem to solve, a puzzle to complete, the cause for which she lives her life. But it isn't just that: It's a walk she walks. Although no longer a student herself, she has the life part down, currently pregnant with her third child.
And now Students for Life has just launched a Pregnant on Campus initiative. The goal is to connect pregnant students with resources and to be a community of support around each pregnant student, to meet her needs and allow her to see how she can both be the mother that she already is and continue her studies.
Hawkins knows, from her near-decade of work with college students, that there are existing resources on many campuses, in college and university towns, and in the surrounding areas, but the students who need to know this often don't. And with abortion sold as a supposed problem-solver to keep hopes and dreams alive, many students never get the opportunity to breathe in the options around them. "If we educate pregnant students and those who care about them and want to help about the many resources they can use, a huge burden can be lifted from their shoulders," Hawkins explains. "They can start to prepare for the future and finish their education."
Pregnant on Campus groups will hold baby showers and diaper drives for expectant mothers on their campuses. They volunteer at local pregnancy help centers and shepherd pregnant women through paperwork and bureaucracy. "This is one of the best programs we have ever started," Hawkins tells me, "because it helps pregnant students in very tangible and practical ways and shows the college campus that the pro-life movement is very much pro-woman and that we all could do more to support women in crisis."
A young woman "should never have to choose between her education and her child," Hawkins says. But that's absolutely what a pregnant college student is most likely to be told. "Often the message she hears is: Have an abortion or drop out of school." It's a false choice. There is a new life here which should not be denied, and there is an education that will make life better for both of them. "For her and her child's future and well being, our goal should be to make sure she graduates," Hawkins says. She adds that "a child born into poverty is seven times more likely to live in poverty his or her whole life."
And so, on 838 campuses across the country, Students for Life groups are prepared to activate a network of support for a student in need, "to help her navigate the resources available at her college, help her find appropriate housing and financial aid, give her the emotional support she needs, and help her through a possibly difficult time in her life." Hawkins observes that "Colleges aren't naturally pregnancy/parenting friendly," adding: "We can change that culture and help women and their babies through this program."
Asked whether campaigns using pregnancy and parenting images and offering resources could unintentionally encourage pregnancy among college students, Hawkins states the obvious: "No student looks at a pregnant student on campus and says, 'She's pregnant. That looks easy.'" Hawkins adds: "The pressure on a pregnant student to abort her child is enormous — she could be getting pressure from her family, her friends, her partner, her professors. She absolutely needs to know that abortion is not her only option and that there are caring people on campus who really want to help her."
That doesn't mean anyone is sugarcoating anything. "It will certainly be a challenging journey," Beth Rahal, Students for Life's Pregnant on Campus coordinator tells me, "but there is real support and help for them." What does that support look like?
Mainly: Walk with her. "It depends on the student," Rahal stresses. The primary concerns tend to be finances, child care, and housing. However, "each story is unique. Some young women have the confidence, the support, and the means to become a parenting student without too many hurdles. However, for other women, they may be lacking the support of family and friends, or they may not be financially secure. We need to treat each woman's situation differently and address her unique needs. You have to consider her situation, as well as her campus's current resources, and adapt to enable her to get the help she needs."
Like any woman who finds herself unexpectedly pregnant, a pregnant college student must "be embraced with compassion," Rahal says, and the Pregnant on Campus website echoes her words. Asking the student how she got pregnant and what she did and didn't do "is fruitless and unhelpful," once she's with child. "We must stop judging the woman for why she is in this situation," Rahal says. "She needs to know that you care about her. Your support can help relieve her fears and anxieties, and it can help her make a life-affirming decision."
If you're pregnant on campus, know that life is a choice. Staying in school, providing for your new family is an option. For men, too, the Pregnant on Campus initiative's message is: You're not alone.
If people see that it's doable, life happens and death ceases. No young woman should have to deny her motherhood, deny her child life. And she doesn't have to. All of this is true both on and off campus.
— Kathryn Jean Lopez is senior fellow at the National Review Institute, editor-at-large of National Review Online, and founding director of Catholic Voices USA.