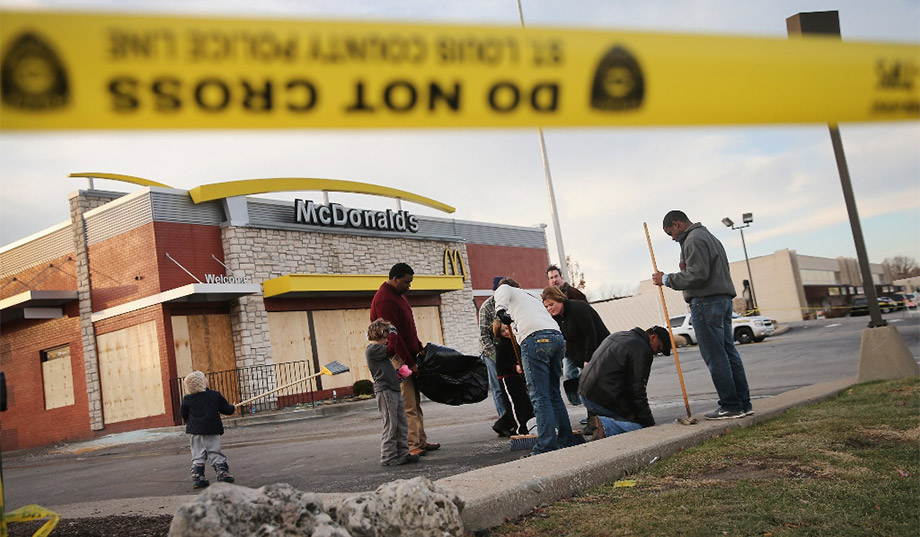 Stores destroyed by rioters were previously the target of minimum-wage protests.
Ferguson, Mo. — After a grand jury here failed to indict police officer Darren Wilson, Louis Head (stepfather of shooting victim Michael Brown) repeatedly screamed to a crowd of protestors: "Burn this b***h down!"
And so they did. But why?
The dozens of white and minority-owned businesses that were smashed along Ferguson's two main commercial streets — South Florissant and West Florissant — employed hundreds of people from every ethnic background in this leafy, mixed-race, working-class suburb. Community leaders here bemoan the lack of jobs, yet now Ferguson will have fewer of them. After the sad death of a black teenager, why deprive his peers of opportunity?
Activists claim that the Ferguson protests are about legal and economic justice, but its furies targeted businesses, the very economic engines that can overcome poverty. These places have endured the most anti-business national economic climate in memory as a Democratic president has harassed them — "You didn't build that!" — with everything from Obamacare to a campaign for a higher minimum wage.
As a resident of Metro Detroit, I arrived in Ferguson expecting a gritty urban landscape. But what is striking about the city is that it is a quiet, bedroom community far removed from central St. Louis. Eleven miles from downtown, West Florissant is a typical suburban-America shopping street populated by barber shops, mobile-phone stores, and national chains such as McDonald's, Taco Bell, Advance Auto Parts, and Mobil. It is sandwiched between St. Louis airport, the middle-class suburb of Florissant, and the global headquarters of Emerson Electric. These aren't the graffiti-scarred urban streets of Detroit's Gratiot corridor — they're more like the safe, ethnically mixed byways of suburban Dearborn, Mich.
Yet Ferguson has been poisoned by the traveling race circus of Al Sharpton, who is best known for his false accusation of rape against law-enforcement officer Steven Pagones in New York's Tawana Brawley case and for his incitement to riot and arson at Freddy's Fashion Mart on 125th St. Now using his MSNBC show and a willing media, Sharpton spun a tale of a white Ferguson cop who killed an innocent black youth. As the grand-jury testimony of numerous African Americans proved, this was a false account.
That falsehood persists here in Ferguson as boarded-up storefronts have been papered over with posters showing two black hands raised in surrender. Having borne the brunt of activists' wrath, these broken businesses now serve as billboards for their propaganda.
Since the rioting, businesses continue to be protestors' primary targets. Activists disrupted the busiest commercial weekend of the year by staging sit-ins at shopping centers in nearby suburbs such as Brentwood. "No justice, no wings!" shouted a protestor staging a "die-in" in front of a Buffalo Wild Wings.
The protests shut down two area malls on Black Friday. Back in Ferguson, destroyed businesses, of course, didn't get to participate at all in the year's biggest shopping weekend. Police opened West Florissant for the first time since the rioting, but the street was empty of activity. Only a few small stores opened, with open painted across their boarded windows. Autotire tire-repair employees cleared smashed glass from their windows, then boarded up the store completely.
"This is St. Louis's race war," crowed Missouri state senator Maria Chappelle-Nadal after businesses burned. "We did not have a race war like other cities throughout the country. This is our race war." Few in St. Louis would join her celebration.
Indeed, the small number of protestors enlisted in this "war" — from 100 to 300 — reflects the lack of support in a metro area that is fed up with the lies and senseless violence. Some local activists complain that the movement is overrun by belligerent outsiders. Only the media remain loyal: Dozens of TV cameras and print reporters continue to broadcast the protestors every move.
On Thanksgiving, the St. Louis Post Dispatch ran a cartoon of blacks with their arms raised in surrender; it simultaneously published a wave of columns suggesting the grand jury was rigged. The New York Times stories, like those in other major media, continue to insist the "white police officer" committed a "fatal shooting of an unarmed black teenager."
In truth, if Michael Brown — a marijuana-smoking hoodlum who pummeled Wilson in his car while on the run from robbing a convenience store — had surrendered, he would in all likelihood still be alive today.
Ferguson has exposed as hollow Barack Obama's 2008 campaign promise of a new kind of black leadership. After Brown was shot in August, Obama used Ferguson as a political wedge in the 2014 campaign, allying himself with Sharpton's mob. If the president had used his bully pulpit to marginalize Sharpton and call for respect for the law, Ferguson might not have burned.
Even before Brown's shooting, the McDonald's on West Florissant — smashed in the rioting this week — had been picketed by a $15-minimum-wage movement supported by the president. Now this business has paid the ultimate price: physical destruction.
A former McDonald's employee, 20-year-old Shermale Humphrey, helped organize strikes against the store, demanding a $15-an-hour minimum wage. Yet, since the Pelosi Congress passed a 40 percent hike in the minimum wage — to $7.25 in 2007 (in Missouri the state law is $7.35) — the unemployment rate for 16- to 19-year-old blacks in cities such as St. Louis has jumped from 29 percent to 42 percent today.
"It's a shortage of everything," Humphrey told a Los Angeles Times reporter. "It's a shortage of jobs. Of African Americans on the police force and in government. Of people not being able to get a good education."
In the torched, terrorized streets of Ferguson, the greatest shortage is a lack of leadership — and foresight.
— Henry Payne is an auto critic for the Detroit News and a syndicated editorial cartoonist.