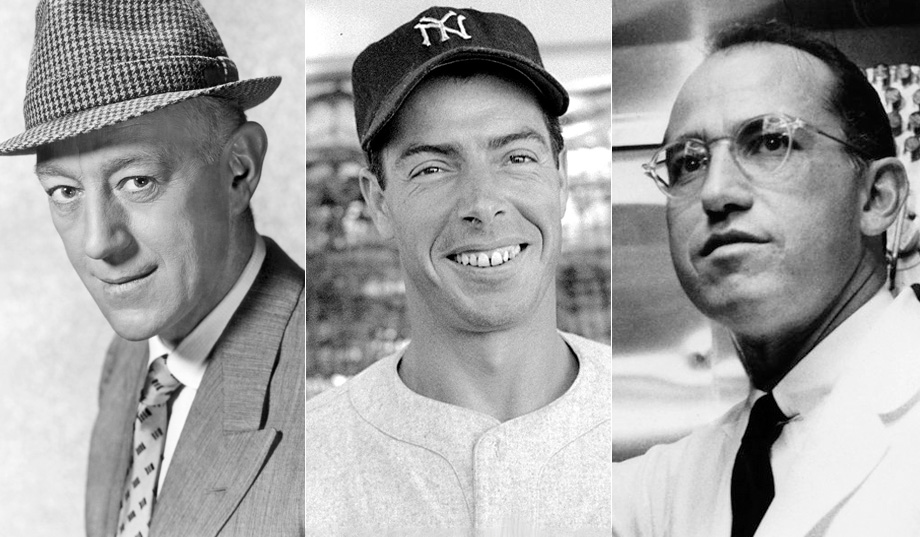 Celebrating centenaries this year: Alec Guinness, Joe Louis, Roger Bacon, and more.
One hundred years ago might have been the start of the Great War, but by any measure, the 20th century rocked when it came to famous babies born in the year '14. Our annual list of centenary births begins with some of the most important people in modern history.
Start with two scientists whose work saved uncounted millions of lives: Jonas Salk, discoverer of the polio vaccine and Norman Borlaug, father of the "Green Revolution."
The world of letters was immeasurably enriched by some of the century's best writers, who maybe first scribbled with crayon in 1914, including Bernard Malamud (The Natural), the Invisible Man's Ralph Waldo Ellison, tragic Welsh poet Dylan Thomas, John Hersey (whose landmark New Yorker article "Hiroshima" can be found here), former Librarian of Congress Daniel J. Boorstin, and Nobel Prize–winning Mexican poet Octavio Paz.
Performing arts in the 20th century would have been far less entertaining without the births of actors Alec Guinness, Tyrone Power, Dorothy Lamour, Clayton "The Lone Ranger" Moore, and blues harp master Sonny Boy Williamson I. Turning a satirical eye on their world of entertainment was Candid Camera's Allen Funt.
If the 20th century was the beginning of modern sports, two of the all-time greats born in 1914 helped make it so: Joe Louis, perhaps the greatest boxer ever, and Joltin' Joe DiMaggio, whose 56-game hitting streak still stands. They were joined by Washington Redskin and Hall of Famer Sammy Baugh and two icons of Chicago sports, White Sox owner Bill Veeck ("as in wreck") and Cubs announcer Harry "Holy Cow!" Caray.
Norwegian explorer Thor (Kon-Tiki) Heyerdahl grew up to show how a primitive raft could cross the Pacific, and thereby maybe account for much of human migration.
Men of world affairs born in this year included U.S. Army general William Westmoreland, perhaps the most public American face of the Vietnam War, and former KGB chief and Soviet general secretary Yuri Andropov (whom the Western media thought might be a reformer because he liked jazz and scotch — some things never change).
The year of Sarajevo, which would drive America to the forefront of world affairs, also saw the births of two men crucial in defining America's image around the world through her most recognizable icon, Superman: Jerry Siegel, creator and writer of the man from Krypton, and George Reeves, the actor who personified Superman for a generation on the small screen (and whose shows are still worth watching with kids on DVD, for a trip back to a seemingly happier and simpler time).
Famous births in '14 drop off pretty dramatically as we move back through the centuries, but 200 years ago was born the man whose name became synonymous with firearms, Samuel Colt. Those who use his weapons today to try and preserve their independence in Ukraine will have celebrated the 1814 birth of Ukrainian national poet Taras Shevchenko. Meanwhile, 20th-century music would have had a huge gap in it if Belgian Adolphe Sax had not heard his first nursery tunes the same year. Finally, the man whose name came to symbolize the world's oldest profession, Civil War Union general Joseph Hooker, was born up in staid Massachusetts (here's a Stars and Stripes piece on how that all might have come about).
As we return to the Enlightenment, music lovers will celebrate the birth in 1714 of Carl Philipp Emanuel Bach, son of the great J. S. Religion in England and worldwide would be transformed by Methodist leader George Whitefield, a central figure in British evangelism and voice in the Great Awakening of the 18th century.
Skipping two centuries in which apparently no one of significance was born, we find ourselves in 1414, where the future Pope Sixtus IV, builder of the world famous Sistine Chapel, founder of the Vatican archives, and gatherer of Renaissance artistic talent was born into the della Rovere family. Meanwhile, the great Sufi poet Jami, who would become a major figure in Persian art and letters, was born in what is today Afghanistan.
As the world emerged fitfully into Middle Ages, a crying infant who would be come known as Dr. Mirabilis, the Oxford friar, philosopher and experimental scientist Roger Bacon, was born, in 1214.
We end this year's review of the famous babies of '14 in the Dark Ages, where the first Carolingian king of France, Pepin the Short, son of the great Charles Martel, was born in 714. Pepin struggled to reorder a continent still suffering from the fall of the Roman Empire more than two centuries before, a salutary lesson in our times of seemingly growing disorder.
Those interested in past famous babies' lists can peruse those of 2013, 2012, 2011, 2010, and the great 2009. 
— Michael Auslin is a frequent contributor to National Review Online.
EDITOR'S NOTE: This article has been amended since its initial posting.​