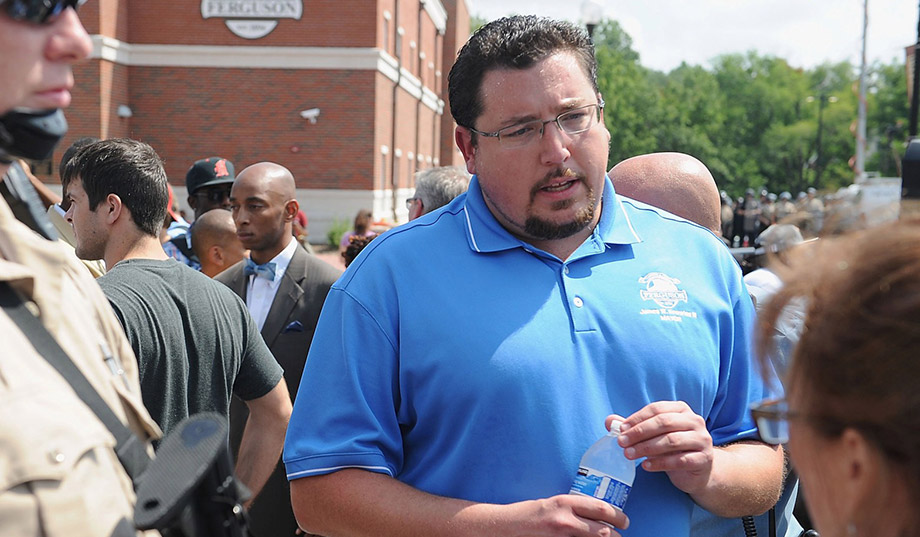 What do you do as your town is being destroyed by violent rioters?
James Knowles III, the 35-year-old mayor of Ferguson, Mo., was about to witness the destruction of his town at the hands of violent rioters.
On November 24, Knowles was home eating dinner with John Shaw, the city manager, when St. Louis County prosecuting attorney Robert McCulloch popped onto his television screen. Knowles — and the rest of Ferguson — had been anxiously awaiting McCulloch's announcement about whether a grand jury would indict police officer Darren Wilson for killing Michael Brown earlier this year.
That morning, Knowles had sent his wife out of town; for months, the mayor and his family had been receiving threats from people angry about Brown's death.
When McCulloch announced the grand jury would not indict Wilson, Knowles started scanning four iPads he had begun using to keep track of the news and to monitor the mobs preparing to wreak havoc on his city. As bedlam broke out in Ferguson, Knowles's neighborhood was eerily silent; his neighbors had barricaded themselves inside their homes.
Police had not been assigned to protect Knowles or other local officials from attack, so that night the mayor, a longtime member of the National Rifle Association, patrolled the neighborhood himself and checked in with his colleagues.
"We're all within a half-mile of each other, so we just jump in the car and go over and check things out, make sure there's not a mob of people setting your house on fire or anything," Knowles says.
Knowles has always called Ferguson home. Elected to the city council at age 25, he has served as mayor since 2011. He was elected at the age of 31, which made him the youngest mayor in the history of Ferguson. He was reelected, unopposed, in 2014. He says he believes no one challenged him because residents were happy with his leadership.
Now, however, he thinks others may be intimidated from running for office in the city. "In the four years I've been mayor we've had two devastating tornadoes and now this. I don't know that anyone is going to want to run for this job afterwards," he says. "This is the toughest thing the city has had to go through."
The part-time mayor of more than 21,000 Ferguson residents has had setbacks in his personal life, too. Knowles, who managed public contracts for Waste Management, a trash-disposal and recycling company, says the company laid him off in 2012 when it consolidated its operations in the Midwest. He was looking for a new job when Brown was shot and the turmoil erupted. Now, he says, "hiring the mayor of Ferguson is not on the top of a lot of people's lists."
But he has overcome obstacles before. A former president of the St. Louis Young Republicans, Knowles has won elections in a community where the odds seem to be stacked against him. Nearly two-thirds of Ferguson residents are black, and they voted overwhelmingly for President Obama in both 2008 and 2012. (Turnout in municipal elections has generally been more favorable to Knowles's party.) He says he grew up in a family of "old-school conservative Democrats," but he identifies with Wisconsin governor Scott Walker.
"I've always believed in a smaller federal government," he says. "I've always believed that a government that governs closest to the people is best, [and] I've always been fiscally conservative. I believe that state and local governments should be making a lot more decisions than Washington is."
On the night Ferguson burned, neither the Missouri state government nor the National Guard responded in time to help save the city. "When we found out we weren't getting the information we needed from the National Guard, I started calling our state officeholders, the governor's office, trying to get an answer as to why the National Guard wasn't being deployed." he says. According to the mayor, he didn't get an answer. (A spokesman for Missouri governor Jay Nixon tells NRO that, contrary to Knowles's assertions, 700 guardsmen were deployed to 100 locations around the region, including the Ferguson command post.)
Before the grand jury even reached its controversial decision this fall, online hackers and identity thieves savaged the Knowles family's credit and attacked his father's bank accounts. Some residents think Knowles simply does not fully understand the problems Ferguson faces. One of them, Charles Henson, points to the mayor's August comment that there was no racial divide in the city of Ferguson. (Knowles later walked back that statement.) "I'm just not sure he totally gets it all and understands exactly what needs to change," Henson says. "A lot of people are meeting . . . but the administration has to change as well — their position, ideologies, training, that kind of stuff."
Knowles didn't head home the night Ferguson exploded until he was confident law enforcement had regained control of the city, by which time several of the city's businesses had been reduced to rubble. Firemen's hoses running through the streets near his home forced him to wait as emergency responders sought to contain the fires. When he finally reached his front door after 4 a.m., he could still see flames licking the sky.
Now, he and other Ferguson residents are left to rebuild a city left in ruin. Knowles thinks Ferguson may have seen the end of the violent riots and looting, but he expects protesters will continue to stage large demonstrations throughout the region.
"A lot of people talk about the new normal, and I'm not sure we know exactly what that is yet," he says. "But one thing that I'm confident of is that commerce will return and businesses will get back to a point where they're having regular customers and being profitable, and that homeowners will be able to have peace in their neighborhoods."
— Ryan Lovelace is a William F. Buckley Fellow at the National Review Institute.