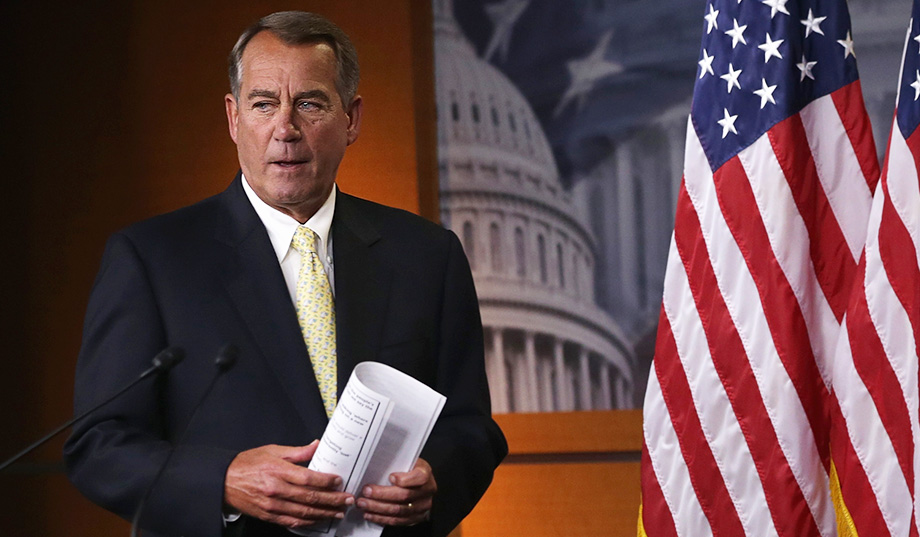 Boehner's opponents waited till the last minute to marshal an attack on his leadership.
Around 10 a.m. this morning, Representative John Fleming (R., La.) received a phone call from a colleague asking him to vote against Speaker John Boehner (R., Ohio) on the House floor today.
Fleming has a longstanding alliance with Representative Steve King (R., Iowa), Representative Jim Bridenstine (R., Okla.), and other ringleaders of the unsuccessful effort to oust Boehner from the speaker's chair, which makes it surprising that this was the first time anyone had contacted him about the issue.
"To ask me to vote against the speaker on the last day like this, without having an alternative to vote for, without really having a chance to vet that person and debate this and discuss this, I said, was just a really bad idea," Fleming told National Review Online, explaining why he voted to confirm Boehner as House speaker. "If we're going to change leadership, we need to do it in a very systematic and organized way."
Fleming's experience is indicative of the disorganization that characterized the coup attempt. And it points to a second problem: the lack of a top-tier alternative — someone such as House Ways and Means Committee chairman Paul Ryan (R., Wis.) — willing to rally the opposition against Boehner. Ultimately, those factors combined with the difficulties inherent in challenging a sitting speaker, sinking the coup.
"We should have done all of that after the election, and then in December, that's when we should have had the battle over who should be speaker," Fleming says.
Representative Ken Buck (R., Colo.), who took office this morning, said that the rebels made it harder for freshman lawmakers to oppose Boehner by waiting so long to go public with the fight.
"If this effort was going to be successful, it would have had to start in November, and it had to be an effort that included the freshman class," Buck, who also voted for Boehner, told NRO. "A lot of the freshman class never received any phone calls from anybody, and that put us at a disadvantage."
That was especially problematic given that the freshmen don't know much about Representative Daniel Webster (R., Fla.), the lawmaker who placed second among Republican candidates for speaker. As of Sunday, Buck said, Webster hadn't decided if he was willing to get in the race, and Webster's ambivalence prompted Representative Ted Yoho (R., Fla.) to throw his hat into the ring. "The delayed effort told me that some people aren't ready to lead," Buck says.
Boehner's detractors responded to those criticisms by pointing to the events of the lame-duck session. After President Obama used executive power to confer the benefits of legal status to millions of illegal immigrants, many immigration hawks wanted the House GOP leadership to fight back immediately. Instead, Boehner backed a $1.1 trillion spending package known as a "cromnibus" — an omnibus bill funding most of the government for a year, but keeping the Department of Homeland Security on a short-term continuing resolution — rather than staging a dramatic attack against Obama's orders.
"We didn't get 72 hours to read [the cromnibus] — 1,600 pages that spend $1.1 trillion," Representative Walter Jones (R., N.C.), who voted for Webster to replace Boehner, told reporters. "Everybody's finding out every day what's in it. That's not what's in the best interest of the people."
That argument didn't sway Fleming, despite his dislike for the cromnibus. "The cromnibus was consistent with other things the leadership has done," he says. "We shouldn't have been surprised."
In keeping with Fleming's point, Jones confirmed that he had a meeting with Webster and small groups of other lawmakers in September, when House Republicans were fresh off of an internal fight over how to respond to Obama's immigration policies and the border crisis.
But the effort began to heat up seriously only in December, when Boehner's most ardent opponents started sounding out a small group of lawmakers to assess their chances of cobbling together the 29 votes needed to prevent Boehner from winning on the first ballot.
They worked hard for weeks to get the support of colleagues such as Representative Tom McClintock (R., Calif.), but they fell short. McClintock, who says he is also "disappointed" in Boehner's leadership, agreed with Fleming that this debate should have taken place in November, at the conference's organizational meeting. By starting the fight on the House floor, McClintock argued, conservatives risked creating a scenario in which they ended up with a more liberal House speaker.
"Having shattered the precedent that the House Republicans are bound by the decision of the House conference on this issue, that then gives license to 29 of the most morally flexible members of the conference to go to Nancy Pelosi and say, 'Hey, let's work a deal for a truly bipartisan, post-partisan House,'" McClintock told NRO.
Given the risks involved and the difficulty in finding a candidate, it's perhaps more surprising that the rebels convinced 24 Republicans to vote against Boehner than it is that they came up short. One Republican congressman said that the results today actually understate the conference's interest in new leadership.
"People — especially activists — hate Boehner," the lawmaker, who voted for Boehner in order to guarantee that House Majority Leader Kevin McCarthy (R., Calif.) wouldn't get a chance to become speaker, told NRO. "It's the most unpopular vote most of us will ever take."
—- Joel Gehrke is a political reporter for National Review Online.