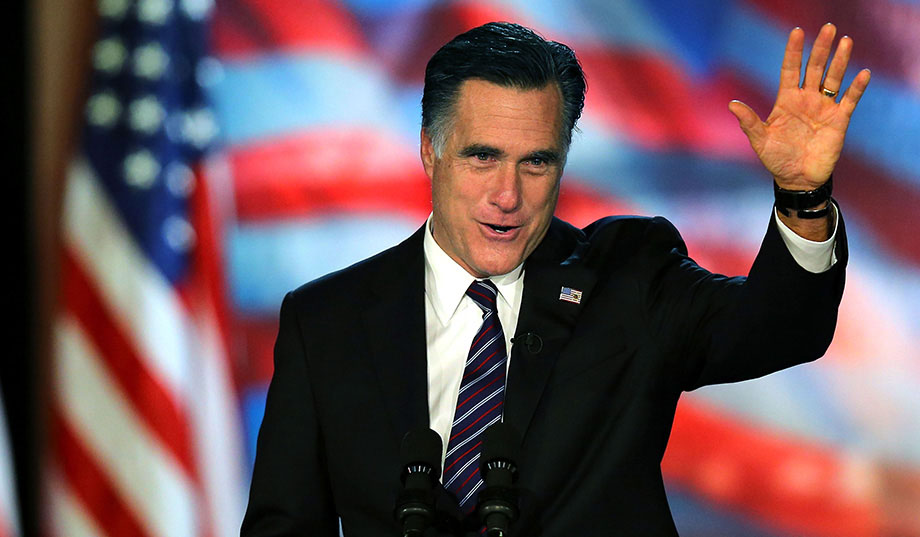 Retread nominees rarely win.
Despite the Left's character assassination in 2012, the consensus is that Mitt Romney is a genuinely good person and excellent businessman. We can debate whether he is a conservative or a moderate. We can uniformly criticize, however, his campaign's execution and the consultant class that made tens of millions utterly failing.
With his announcement that he may run again in 2016, the import of these items increases substantially. But it also becomes worthwhile to look at the basic history of politicians who won their party's presidential nomination, lost the election, and then won the nomination again. The news isn't good for Romney.
Now, lots of men have run for the presidency several times, but either failed to earn their parties' nominations (Pat Buchanan in 1992 and 1996); secured the nomination on their final run, but lost the general election never to run again (Bob Dole in 1980, 1988, and 1996 and John McCain in 2000 and 2008); or won the nomination and the presidency after previous attempts in which they failed to earn the nomination (Ronald Reagan in 1968, 1976, and 1980). But none of these situations are quite the same as losing a presidential election and then giving it another go.
Since the 1900 election, America has had 29 presidential elections. Over those 112 years, excluding sitting presidents, five men earned their party's nomination at least two times. William Jennings Bryan ran as the Democratic nominee in 1896, 1900, and 1908; Eugene Debs ran as the Socialist nominee in 1904, 1908, 1912, and 1920; Eugene Chafin was the Prohibition nominee in 1908 and 1912; and Thomas Dewey ran as the Republican nominee in 1944 and 1948. Those four men lost all eleven of their races — in seven of which they ran as retreads.
The fifth man was the only one to become president. After a narrow loss in 1960 to John Kennedy, Richard Nixon came back as the Republican nominee in 1968 to win the presidency. That means just once in eight tries did a retread nominee win. Obviously, those are not good historical odds.
A third Romney run would fall into one of three categories: He'd humiliatingly lose the nomination; he'd win the nomination and lose the general election, joining the four pre-1950 two-time losers; or he'd win the nomination and the presidency, thereby joining Nixon as only the second person to accomplish such a feat in 116 years.
Keep in mind that when Nixon did it, he had been a U.S. representative and senator from the largest state and a two-term vice president under Dwight Eisenhower, and he'd lost a razor-thin (0.1 points in the popular vote) and disputed (Illinois and Texas) election to Kennedy. He won the 1968 primary after Nelson Rockefeller entered the race late, George Romney dropped out after his infamous "brainwashing" comment, and Reagan ran a half-hearted campaign. (Reagan still managed to garner more primary voters than Nixon, but stood little chance in the delegate count.)
Romney will face a crowded field of well-tested and eager opponents such as Jeb Bush, Scott Walker, and Mike Huckabee. Plus, Romney failed to secure the Republican base in 2012. For example, as I noted in a series of blog posts called "What Happened in Ohio," Huckabee won more votes in 40 of the 88 counties in the uncontested Ohio primary in 2008 than Romney did in the contested Ohio primary in 2012, despite the fact that turnout is far lower in uncontested primaries. Those conservative voters failed to show up in November, which is why McCain's Ohio vote total surpassed Romney's vote total.
The reason history isn't kind to two-time nominees is that the fundamental flaws that resulted in them losing the first time don't disappear in their second run. While supporters can gin up excuses as to why Romney lost, the core reason is that he just isn't that good of a politician. He doesn't connect with Main Street in an authentic way and his political antenna, unlike his business acumen, is weak. Often overlooked is that, in his single election victory in 2002, he didn't even secure 50 percent of the vote for Massachusetts governor. His decision not to seek reelection in 2006 speaks volumes about his ability to win tough elections.
Unlike Nixon, who won five out of seven elections, Romney won just once in four tries: In addition to his two failed attempts to become president, he lost a 1994 Senate race to Ted Kennedy. That is not the record of someone likely to buck 112 years of history. After eight years of Barack Obama, the Right has an enormous opportunity to win the presidency, thereby securing control of Congress and the White House.
We need a proven winner, not a retread.
— Matt A. Mayer is the president of Opportunity Ohio.