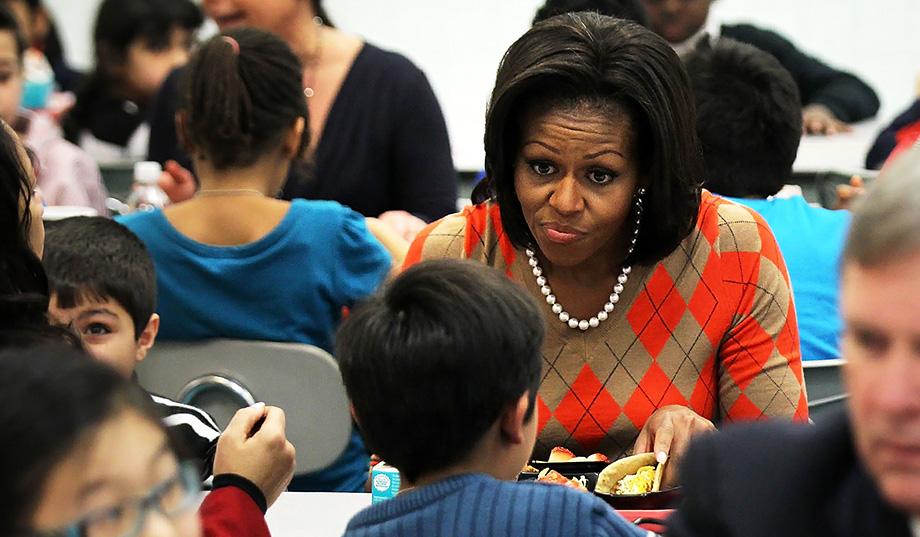 Michelle Obama gives schoolkids a lesson in the false promises of big-government liberalism.
Tucked quietly into last month's spending bill was some good news for the children of America: School cafeterias now have permission to back away from parts of Mrs. Obama's crusade against unhealthy food. This year, thanks to some sub-rosa Republican efforts, lunchrooms can return to using some non–whole grains and salt. Good news for kids, and good news for the country. And I don't just mean because freedom will once again ring from lunch ladies' ladles. This is a tremendous opportunity for conservatives.
Michelle Obama's war on fat kids gives hungry children no quarter. Regulations based on the questionably named Healthy, Hunger-Free Kids Act of 2010 sets maximum calorie allowances; a high school senior is allowed no more than 850 calories per lunch. But that's all right, because he has to consume, at a weekly minimum: fruit (five cups), dark green vegetables (half a cup), red/orange vegetables (one and quarter cups), legumes (half a cup), "other" vegetable (three-quarters of a cup), and "additional" vegetables" (one and a half cups). And don't worry — those seniors won't be hungry; the regulations' "Tips and Suggestions" supplement suggests preparing recipes "with more vegetables" or adding "legumes and other veggies . . . for increased fiber and protein. This fills students up and keeps them satisfied all afternoon." (My italics.) Masses of those filled-up and satisfied students have hopped on Twitter to post pictures of their exceptionally healthy vegetable-mush meals, accompanied by the sardonic hashtag #ThanksMichelleObama.
And though #ThanksMichelleObama may not be Thomas Paine's Common Sense, it amounts to the same thing. These kids are getting first-hand experience with the core of conservatism: that the details of daily life can't be decided in distant halls of power. Seventy-five million children don't all have the same lunch requirements. Idealistic liberal promises of "hunger-free kids" are as empty as promises of cheaper health care & keeping your doctor – or, dare I say, as empty as the kids' stomachs. The youth are learning that big government doesn't work.
Their revolution has started. According to the Washington Times, since the rules were promulgated, 1,086,000 students have dropped out of the National Lunch Program, as  have 321 school districts. The kids who haven't dropped out are having their own Boston Tea Party: The GAO reports that "48 of 50 states [have] cited waste as a challenge," as kids throw away "some or all of their fruits and vegetables." (While dressed as American Indians?) According to the National School Board Association, "unintended consequences" of the Healthy and Hunger-Free Kids Act include "trays of uneaten cafeteria food thrown in the trash." Also, "hungry kids."
Today's 17-year-old hungry kids are tomorrow's 18-year-old voters. And they've all been given a material lesson in big-government liberalism. When we start to gear up for 2016, Reince ought to put that in some ads. And remind his colleagues that there's a way to appeal to young people that doesn't involve Rand Paul.
— Josh Gelernter writes weekly for NRO and is a regular contributor to The Weekly Standard.