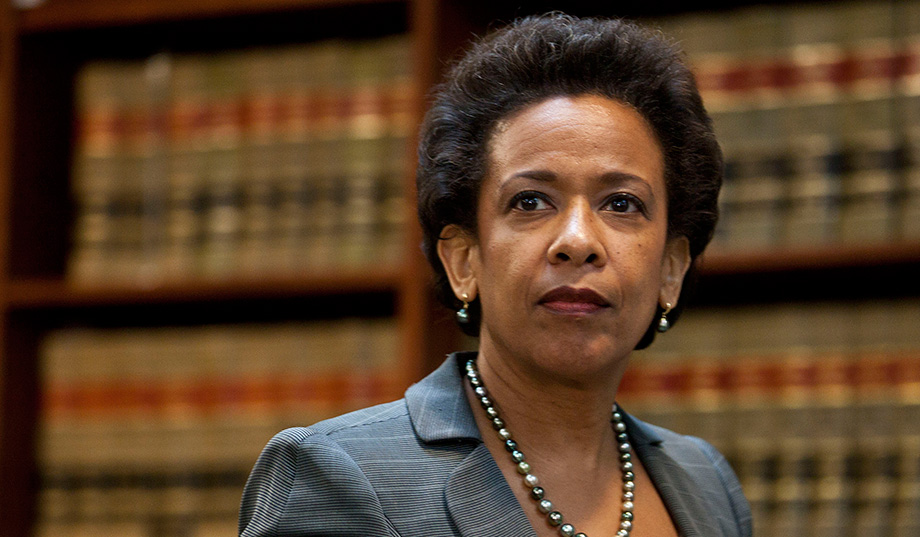 There are allegations her U.S. Attorney's Office is keeping cases quiet.
It should go without saying that the U.S. attorney general, as our nation's chief law-enforcement officer, is expected to wield the Justice Department's full powers to fight for those victimized by crime. It should also go without saying that federal prosecutors routinely make deals with criminals to secure convictions for other, larger crimes, or to save themselves time and the taxpayers' money — and that those criminals' victims sometimes come out the losers in such deals. Yet new evidence suggests that Loretta Lynch, President Obama's pick to take DOJ's reins from Eric Holder, may have gone beyond the accepted norms of prosecutorial conduct in her time in charge of the U.S. Attorney's Office for the Eastern District of New York. Lynch's office appears to have let self-professed criminals walk free in exchange for their cooperation with her office, watched impassively as they committed further crimes, and intentionally kept the victims of those crimes in the dark — denying them their chance to seek tens or hundreds of millions of dollars in restitution in direct contravention of federal law.
In April 2013, Paul Cassell, a former federal judge and law professor at the University of Utah, testified before the House Judiciary Committee, urging the committee to investigate potential wrongdoing by the U.S. Attorney's Office for the Eastern District of New York in its handling of a stock-fraud case, U.S. v. John Doe. Though he didn't mention Lynch by name, Cassell alleged that her office had failed to comply with important provisions of the Crime Victims' Rights Act and the Mandatory Victims Restitution Act. The provisions require federal prosecutors to notify victims of criminal proceedings against those who wronged them, so as to guarantee them their legal right to pursue full and timely restitution against the accused. According to Cassell's testimony, the restitution in question amounted to over $40 million.
The Doe case began just before Lynch's first term in charge of the Eastern District. In 1998, Felix Sater — later revealed to be the "Doe" to whom the case refers — pleaded guilty to federal money-laundering and fraud charges in a RICO case, admitting that he had artificially inflated the price of stock he bought cheaply, defrauding investors and reaping millions of dollars in profit for himself. Then Sater, who has well-documented connections to the Mafia, apparently leveraged those connections to strike a deal.
In exchange for the government's protection in keeping his case sealed and secret, the New York Times reported in 2007, Sater may have worked with the CIA, offering to purchase a dozen missiles from Osama bin Laden on the black market. He also reportedly provided evidence against the Mafia. When Sater was eventually convicted in 2009, the government argued vociferously for leniency on his behalf at sentencing, and he served no time behind bars. Despite having previously signed a cooperation agreement with the Justice Department acknowledging that he owed $60 million in restitution, he was given a paltry $25,000 fine and told to forfeit his house in the Hamptons.
The lawyer who helped Sater obtain the lenient sentence was Leslie Caldwell, Loretta Lynch's former colleague in the U.S. Attorney's Office, who now heads the Justice Department's Criminal Division after being confirmed by the Senate just last year. Though Caldwell had been the senior trial counsel in the Business and Securities Fraud Section of the Eastern District U.S. Attorney's Office when the office first pursued Sater, she later represented him in court after joining a private firm. After his conviction, Sater said in a sworn deposition that Caldwell had counseled him not to disclose whether he had any previous criminal convictions, lest he risk self-incrimination. According to a recent lawsuit, Caldwell advised Sater to keep his mouth shut because he'd renewed his nefarious dealings in high finance after the government let him go free.
"Lynch — in order to get scalps — makes special deals with informants," says Richard Lerner, an attorney who is currently locked in an intense legal battle with Lynch's office over the release of sealed criminal records from the Sater case. Lerner has butted heads with the Justice Department at the behest of his client and fellow lawyer Frederick Oberlander, who sued Sater on behalf of fraud victims. The victims represented by Oberlander include those who were allegedly exploited after the government knew of his past crimes and let him walk anyway.
Oberlander alleges that after the government set Sater free with a slap on the wrist, he went right back to conning unsuspecting innocents. According to Oberlander's suit, Sater managed to build up a real-estate company, find investors, and secure funding from banks without disclosing his criminal past, and proceeded to defraud new victims of millions of dollars. Lynch then fought to keep the details of Sater's case secret, despite having issued a press release trumpeting his role in the crime for which he was convicted at the beginning of her first tenure as U.S. attorney.
The Supreme Court recently denied Oberlander's petition to force the release of the sealed records from Sater's case. But he claims the U.S. Attorney's Office for the Eastern District of New York facilitated and covered up Sater's crimes — before and during Lynch's two stints in charge — in exchange for Sater's cooperation.
Lynch's office did not return NRO's requests for comment and has kept quiet on the matter. A statement to NRO provided by Justice Department spokesman Brian Fallon highlights the Supreme Court's denial of Oberlander's petition last week and claims that 90 percent of "the material at issue" has been unsealed. "The complaints regarding the sealing of the materials in this case have already been litigated on no fewer than three prior occasions, and they have consistently been rejected," Fallon said. "Moreover, many of the key developments in this case occurred outside of Ms. Lynch's two stints as U.S. Attorney."
For their efforts to reveal the impropriety of the U.S. Attorney's Office, Oberlander and Lerner are both being threatened with contempt charges. "Why in hell can't she simply fix the mess instead of trying to cover it up and threaten us with jail if we tell anybody?" Oberlander asks. "There is something radically wrong there." 
Cassell, the former federal judge, tells NRO that he spoke out because he had the sense that the people involved — the prosecutors and the judge in Sater's case — thought it was outrageous for the victims to expect that they would actually get their money back. "This case has what I would call a 'business as usual' feel to it, which leads me to think this is not a one-off, idiosyncratic kind of thing," Cassell says. "It clearly looks like there's the potential for this to be going on in a lot of other cases, and the problem of course is that since these cases are sealed, there's no way for the victims to find out what's happening, there's no way for Congress to monitor how often this is being used."
Cassell says he gets the sense that this is a problem that predates Lynch's tenure, but other evidence suggests Lynch has made a habit of keeping Justice Department proceedings private. Louisiana senator David Vitter, a Republican member of the Judiciary Committee in charge of vetting Lynch's nomination, has already expressed alarm at the possibility that she may be even more dangerous than Holder because of her restrained personality, which he worries will deflect attention from some of the Justice Department's more outrageous actions. Luke Bolar, a Vitter spokesman, tells NRO in an e-mail that Lynch's potential secret docket and possible failure to comply with federal law are huge concerns for the senator. Bolar says Vitter is also raising questions about why Lynch has sought to block the release of flood-insurance documents in another case, documents that he describes as "likely revealing widespread fraud perpetrated against victims of Superstorm Sandy."
And Lynch's questionable actions appear consistent with the playbook of Holder's Justice Department, according to former federal prosecutor Sidney Powell. Powell sees disturbing parallels between Holder's mishandling of the Fast and Furious scandal — in which the DOJ's indifference allowed American guns to end up as weapons used by drug cartels against American citizens — and the conduct of Lynch's office in looking the other way while cooperating criminals harmed more unsuspecting and innocent people. And even as she tells NRO that more information is needed about Lynch's actions, Powell suspects that there are a lot of other cases involved.
"If they have literally been licensing people to go back on the street and commit additional crimes, she certainly should not be attorney general; she shouldn't even be U.S. attorney," Powell says. "That practice needs to be stopped."
Lynch will appear before the Senate Judiciary Committee for a hearing on her nomination later this month or in early February and can expect to face tough questions about her actions as U.S. attorney. In the meantime, Lerner and Oberlander tell NRO that they are calling on Lynch to appear at a press conference to address their questions.
— Ryan Lovelace is a William F. Buckley Fellow at the National Review Institute.