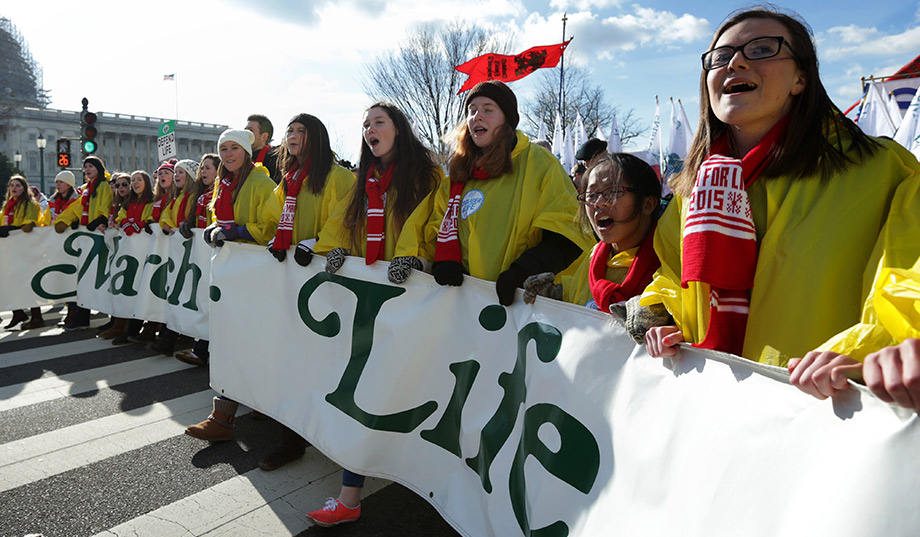 The human face of the pro-life movement.
'I wouldn't have even considered abortion if it weren't legal."
A woman was speaking about her own experience and her own regrets in front of the Supreme Court building on the 42nd anniversary of Roe v. Wade, the decision that made abortion legal in the United States throughout all three trimesters of pregnancy. The rally was organized by a group called Silent No More. And as the young people who flooded the nation's capital for the March for Life — from North Dakota (700!), Louisiana, Tennessee, Kentucky, Ohio, Michigan, Indiana, Florida, and all over the Northeast — got back on their buses to head home, her testimony echoed.
This year, for the first time in my two decades or so of taking part in the March, I witnessed an altercation of sorts. More like a blockade. A small number of activists did not want the march to advance to the Court. So in front of the Court they stood, stopping the march in its tracks, with a big orange and black banner that said, "Abortion on Demand without Apologies." Police officers stood between the abortion activists and the patiently waiting peaceful marchers. After warnings, the activists were arrested, and the people with the permit marched onward, as they do each year.
A few days before, I had been at a New York Encounter conference in Manhattan titled "In Search of the Human Face." It was remarkably timed. There was no strategic coordination between the two groups/movements, but the overlap seemed quite clear. It is precisely when we do not look at faces, do not ask people what they need, or do not hear them out that our politics gets nowhere and no longer seems to make any sense.
This not making sense had been the state of affairs in Congress in the run-up to the March for Life, as a Republican congresswoman insisted that voting on a bill that would seek to restrict the latest-term abortions would hurt the GOP with millennial voters, a much-sought-after constituency. First of all, of course, if something is the right thing to do, it is the right thing to do. Protecting the most vulnerable should be a nonpartisan human-rights priority. But on this particular issue, there aren't even matters of political prudence to give politicians pause. A just-released Marist poll found that 84 percent of Americans think banning abortions after three months is a good idea — including 7 in 10 who describe themselves as "pro-choice."  Too bad Representative Renee Ellmers (N.C.) didn't stand on the stage of the March and see what I saw: a sea of millennials and younger, wanting life and love, wanting something better than the culture of death we have gotten used to and at times doubled down on.
I thought of the human face and the impasse and even meltdown in Washington — the House decided not to hold a vote on that bill to protect "pain capable" unborn infants — as I watched the scene outside the Court, 42 years after Roe. Two sides, no interaction. I thought of what Carl Anderson, the author of many books on the theme of building a civilization of love, later that day called the "tyrannical impulse" of abortion activists. Here we were watching a manifestation of the thinking: Just stand in their way. The real tyranny, of course, is when the government impedes our freedom of conscience, as it has with health-care regulations spawned from the misnamed Affordable Care Act; there is nothing affordable or acceptable about a bill that makes the foundation that is behind the March, along with many faith-based social-service groups and even family businesses, go to court to fight for freedom. This ongoing and growing campaign to mandate obedience to sexual-revolutionary values threatens people's livelihoods and vocational callings with crushing fines for noncompliance. And this will worsen the situation of the people whom these ministries serve.
Once the March was able to move forward to the Court, a Save the Storks sign appeared. That's a group that raises money for ultrasound technology. Anderson's Knights of Columbus, too, have graced some pro-life women's health clinics with 500 ultrasound machines in recent years. Talk about the human face — those windows into the womb are changing and saving lives.
The law is a teacher, it is said. And while the law on abortion is what it is thanks to an activist Court four decades ago, the culture can change hearts. The human face of the pro-life movement is not just a "pro-life generation," as the signs declare, standing for the protection of innocent human life in the womb; it is also the people doing the hard work of making sure women know that, although abortion is legal, they have other options, even if the road of embracing life looks terrifying and, if faced alone, impossible.
But, as a New York Encounter speaker put it at last year's conference, "Alone is a lie." That takes on added context in a religious discussion, but it's a secular fact too: As a society, we are many, not one. We cannot allow any woman to think she is alone. Collectively, we are rich. We are able-bodied. We have great capacity to love.
As I write, a young woman named Sade Patterson is being celebrated by the annual Students for Life conference. She and her pro-life group at the University of New Mexico, like others around the country, are working to make their campuses more hospitable to life. "Motherhood is one of the most important and beautiful gifts," Patterson, herself a new wife and mother, tells me. "I am surprised at how natural it is to step into this journey. I had so many doubts and fears, but every day is a new lesson. Yes, it is hard to be a mother, a full-time student, work, and still have time for things I love to do, but it is also empowering to know that I am capable and strong enough to do this."
Her witness is the way to a different kind of culture. This is a time for apology: No woman should ever feel alone. That's what motivates so many on the front lines of saving lives throughout the country. They see the human face of a woman who is dealing with an unexpected pregnancy, feeling alone, and they introduce her to the human face of the child within her. They love mother and child and walk with them.
Anne Koehl, a nurse who runs the Women's Care Center in Fort Wayne, Ind., told me during a recent visit how when a woman seeking an abortion walks through the doors of her clinic, she listens and lets the woman make clear her needs, and she works to meet them. That's her agenda — "the woman's agenda." It means loving the woman, letting her know she's there to offer help, whether that help is diapers or mentoring — whatever she needs to make life go on.
These are just snapshots of the human face of the pro-life movement. That face is one that congressmen clearly need to encounter more often, because there is beauty there, a beauty that government should aid, not impede. The message is not just about abortion, but about being beacons in a civil society that exists to do what government can't ever do: love.
— Kathryn Jean Lopez is senior fellow at the National Review Institute, editor-at-large of National Review Online, and founding director of Catholic Voices USA. This column is based on one available exclusively through Andrews McMeel Universal's Newspaper Enterprise Association.