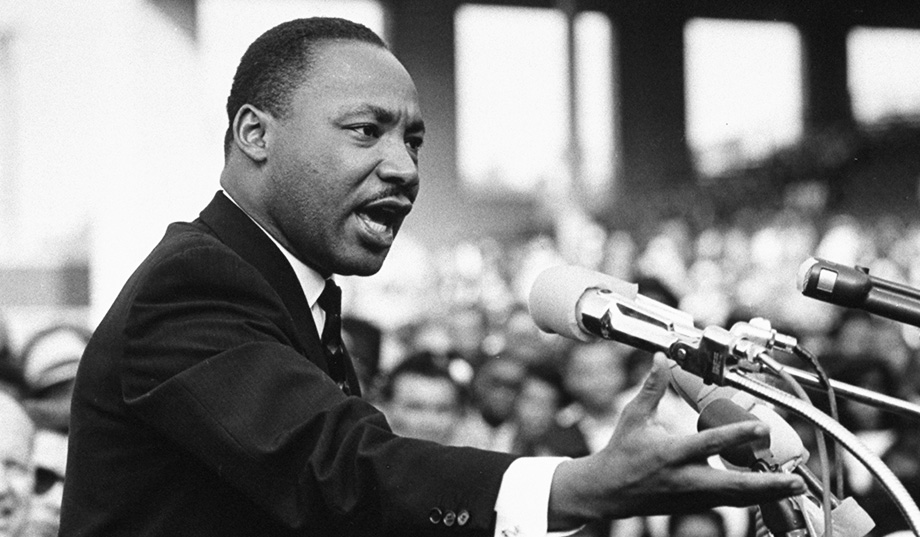 Martin Luther King Jr.'s heirs seem more interested in money than in his message.
The film Selma, a soaring biographical drama about Martin Luther King's role in the 1965 civil-rights marches, opens nationwide this week. Critics and audiences are lavishing it with praise,  but it could have been an even more meaningful film if its producers hadn't been blocked by the King estate — represented by a for-profit company, King, Inc. — from using words from King's speeches, including "I have a dream."
Selma still works because filmmaker Ava DuVernay was able to construct phrases that conveyed King's oratory without using his actual words. King, Inc., is controlled by King's surviving children and holds the copyright to King's speeches. It has so aggressively enforced its legal rights as to make it almost impossible to use those speeches without paying a hefty fee. Film rights to King's speeches have been licensed to Steven Spielberg's DreamWorks. DuVernay told the Washington Post, "We knew those rights are already gone, they're with Spielberg." 
She also noted that she knew there were strings attached to the rights: "With those rights came a certain collaboration." In other words, the King estate uses its control over the copyright to control how King is depicted. It's perhaps no surprise that no major feature film about King has been produced before now.
Recent court cases suggest that DuVernay would have had a strong "fair use" defense for using some excerpts of King speeches. But she apparently decided it wasn't worth the risk of litigation. As recently as 2013, that risk prevented many media outlets from using anything more than the briefest of snippets in commemorating the 50th anniversary of the March on Washington and the "I have a dream" speech.
The risk is real. When Clarence Jones, who was a personal attorney and speechwriter for King, was told by attorneys from King, Inc., that if he wanted to use the full speech in his book Behind the Dream: The Making of the Speech That Transformed a Nation, he would have to pay $20,000. 
"If it wasn't for me copyrighting that speech, the King children wouldn't today own their biggest moneymaker," Jones complained. He said his small publisher feared a lawsuit, so he as the author had to indemnify them from any costs of such a suit. He then dared King family lawyers to sue the man who helped write "I have a dream." They chose not to.
But there are many other occasions when the legal threats have prevailed. In 1996, the King estate sued CBS for using portions of "I have a dream." CBS settled the suit by making a donation to the family's King Center. The family had earlier sued USA Today for reprinting the speech's text and won another out-of-court settlement and an apology. The band Living Colour wanted to start its 1988 iconic song "Cult of Personality" with Martin Luther King saying, "Free at last! Free at last! / Thank God Almighty, we are free at last!" But guitarist Vernon Reed recalls that "we couldn't get approval from the King foundation to use that." They substituted a quote from Malcolm X.
"I think Martin Luther King must be spinning in his grave," former King lieutenant Bill Rutherford told CBS in 2002 in complaining about the restrictions on King's words. "He attempted his entire life to communicate ideas for free. To communicate, not to sell."
No one is safe from the King, Inc., lawyers. Apple, Chevrolet, and Mercedes have been able to use King's words in their commercials only after paying hefty licensing fees. A T-shirt company has been licensed to produce products that "celebrate Dr. King's life and legacy through artistic, fashion-forward designs."
But the group that was behind raising $100 million to build the King monument on the National Mall had to drop its name — the Dr. Martin Luther King Jr. Memorial Foundation — in 2013 because King, Inc., demanded it pay a licensing fee. "At one point as the memorial was ready to be dedicated, King, Inc., had all of Dr. King's books removed from the bookstore on the site of the memorial. The King children wanted to control the bookstore and reap all profits from the selling of merchandise," Roland Martin, a former CNN commentator who was active in building the memorial, has complained. "All of this despite the foundation paying MLK children through King, Inc., $2.7 million to use the likeness of King and his quotes on the memorial on the National Mall."
Family lawyers hunt down scholars who would use King's words. Eyes on the Prize, the PBS documentary on the civil-rights movement, was delayed until the producers made a $100,000 payment to the King family. Julian Bond, head of the NAACP, says the price of his civil-rights textbook went up by at least $10 a copy because he had to pay to include four King documents in it. "The family hasn't done itself a lot of favors with its insistence that somehow they have to profit," Bond said.
Hosea Williams, who in 1968 stood with Dr. King on the motel balcony where he was shot, told the Ottawa Citizen that the profiteering has sullied the King message of humility. "It wasn't white racists, nor was it the white government that did it; the people who killed King's dream are those closest to him, and that's the nightmare," he said.
Managers for the King estate insist they are on firm legal ground and that other prominent figures have copyrighted their works for themselves and their estates. "We cannot allow our brand to be abused," says Isaac Newton Farris Jr., King's nephew and an executive of the nonprofit King Center in Atlanta.
Understood, although I never thought of MLK Jr. as a "brand" before. As copyright lawyer Jonathan Band notes: "The Selma speeches occurred 50 years ago and, under a rational intellectual property regime, should be entering the public domain. This is something for Congress to consider in 2015 as it continues to review U.S. copyright policy; rather than simply focusing on enforcement, it should also restore a balance between protecting artists and protecting free expression."
So even though King, Inc., is within its legal rights, one can't help thinking that Dr. King himself would look askance at all this. He was a fundamentally modest man, who just before his death spoke of how he should be remembered: "Tell them not to mention that I have a Nobel Peace Prize. That isn't important. . . . I want you to be able to say that day . . . that I tried to love and serve humanity."
Indeed. Let us hope that the message of "I have a dream" isn't devalued by some who have appropriated his memory into the more mercenary one of "We have a brand!"
Martin Luther King Jr. is a national hero whose legacy belongs to the American people. Sadly, the lawyers for some members of Dr. King's family don't see it that way.
— John Fund is national-affairs columnist for National Review Online.