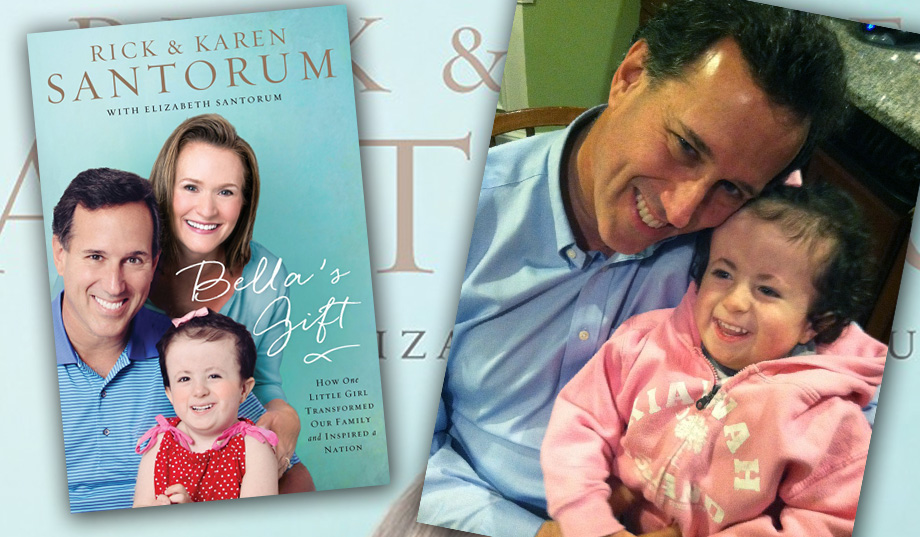 Bella's blessed vulnerability shows that what matters is love.
Elizabeth Santorum was 17 years old when her sister Bella was born. In a new book she wrote with her parents, Rick and Karen Santorum, she reflects on the "shallow" understanding of love she had before her youngest sister taught her something more.
The authors' last name, of course, is familiar to you. Know that Bella's Gift is not just another 2016 presidential-primary pre-season first pitch from a former Pennsylvania senator. This platform is love: the love of family, what a difference it makes, and the real work it is. This one isn't about winning and losing campaigns but about life and death and the real, hard work of love.
"My shallow understanding of love," Elizabeth remembers, "was challenged and deepened when Bella was born and diagnosed with Trisomy 18. I assumed that my little sister would never be able to love me in a way that was familiar to me. We would never share clothes, talk about her crushes, or paint each other's nails. I only saw dependency, not reciprocity."
"I wanted to love her," Elizabeth, who is Bella's godmother, continues, "but I did not know how. Honestly, I wanted her to be able to love me too. I was blind, selfish, and afraid. Yet, when I held Bella for the first time, I saw her fragility and, with it, her perfection. I saw her vulnerability, not her helplessness. She was not passive but responded to me in ways that showed an open receptivity to my love in the form of simple, newborn appreciation."
Since then, Elizabeth writes, Bella has taught her that "the highest form of love is self-giving and chooses the beloved even when it proves difficult." In Bella, her family watches "tenacity, strength, and unqualified love," and is better able to give her the same through her witness.
A copy of Bella's Gift might be given as a present wrapped in a bow, but that's not how the Santorums approach their telling of the ongoing story of her life. Before she was born, her parents knew that Trisomy 18 was a likely possibility for their unborn child. Once it was confirmed, Karen, a nurse, knew the stats. "Of the 10 percent of babies with Trisomy 18 who survive birth, 90 percent don't make it to their first birthday. The prognosis was terrifyingly bleak; the odds were stacked against her. My little girl, Bella, had an extra eighteenth chromosome in every cell of her body, making a genetic code doctors call 'incompatible with life.' Lungs shutting down, holes in her heart, kidney problems, and severe intellectual disability were horrors we should expect."
Recalling the very first hours and days of Bella's life, Karen writes: "My child had been given a death sentence. Scrubbed doctors with words of compassion that felt hollow and insincere told us mere days remained until her body would fail. No surgery could fix this, no medicine heal it."
That baby born "incompatible with life" is now almost seven years old.
While some doctors were wonderful — the book is in part an effort to thank them — others didn't expect much for Bella. One doctor in the neonatal intensive-care unit (NICU), referring to their "situation" instead of his patient, advised: "I don't know why you would want to do anything. You have to let her go. Statistically, there's no hope here." When she defied odds and was still alive seven days later, the same doctor advised them, "Don't grow attached to the baby. It's for the best."
But as anyone who has ever loved anyone or anything of creation knows — and certainly anyone who has ever been a parent knows — you're attached. "I am attached to Bella. In fact, I've been completely in love with her since knowing her existence, and that is what's best," her mother responded, sitting in front of Bella's isolette incubator.
The doctor's words, which partake of the air we breathe, speak of a deeper illness, more powerful in many ways than any genetic disorder. It infects our lives, it poisons our culture and politics, and it gravely compromises medical protocols.
As Bella's father puts it: "We had to fight for appropriate life-sustaining care." He explains: "the hospitals are crawling not with evil mercy killers, but rather, with many people who value human life according to what a person is able to do, rather than on how he or she can love and be loved. Bella, like so many other people with severe disabilities, can't 'do,' but she is loved, and we are especially blessed that she can love. What is more valuable than that?"
Bella's Gift is the story of the frightening, painful, loving, joyful journey the Santorum family has been on. They wrote it as an encouragement to other families who come up against the same obstacles they did; they wrote it as a wake-up call to a culture that all too often sees people with their usefulness in mind rather than their dignity; they wrote it as a testament and testimony to faith, hope, and love.
Remembering another NICU scene with another doctor, Karen quotes a geneticist who, after being honest about the statistics concerning their daughter's condition, added, "There is hope." Hope was right in front of them, a girl who had a "lethal diagnosis." The doctor "leaned forward in his chair, and told us what we desperately needed to hear: 'Bella will write her own book, and I hope it is a good one.'"
And so it is, as Bella keeps writing. In her vulnerability she helps restore some innocence to our times, helping us to see giving and receiving love as being what we're made for and to settle for nothing less. With every look of love, we live.
That's not a political campaign, but a prescription for something more. And love — in the witness of the most vulnerable and suffering and of those who take time with them — can lift even politics.
— Kathryn Jean Lopez is senior fellow at the National Review Institute, editor-at-large of National Review Online, and founding director of Catholic Voices USA. This column is based on one available exclusively through Andrews McMeel Universal's Newspaper Enterprise Association.