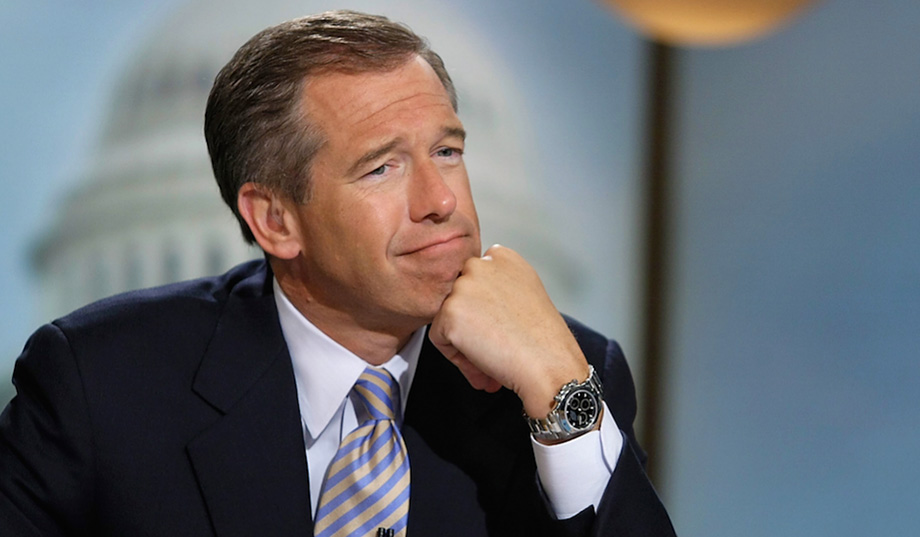 Media personalities survive scandals — if they have the right relationships or blockbuster business value.
In the spring of 2002, NBC Universal announced that Brian Williams, then at CNBC, would succeed longtime evening-news anchor Tom Brokaw.
Brokaw was to relinquish the position to Williams after the 2004 presidential election, so NBC's early announcement of the transition left the network over two years to groom its anchor-in-waiting.
Williams had come up as a local-news anchor in small-town Kansas, Washington, D.C., and Philadelphia. Unlike the men whose ranks he would join, he had not distinguished himself reporting from far-flung places across the globe. Dan Rather, then the anchor of the CBS Evening News, began to make a name for himself in 1961 with live, on-air reporting as a hurricane ripped through Texas. That was followed by stints as a foreign correspondent for CBS in both London and Vietnam. Foreign reporting was the calling card of ABC News's Peter Jennings, who had established ABC's Middle East bureau in Beirut, reported from Vietnam, and been present for the rise and fall of the Berlin Wall.
We almost assume now that the anchors of the major news networks have this sort of experience: that they're among the most seasoned reporters on their news teams. But none of the evening-news anchors do much reporting at all once they reach the top, and there's something odd about a profession in which the person doesn't have to do any of the type of work that got him there. Williams never did much of it in the first place, which begins to explain how he found himself concocting war stories.
The crisis couldn't have come at a worse time for him and for his network. NBC's morning show, Today, and its Sunday show, Meet the Press, have fallen from once dominant positions, and its sister network, MSNBC, is undergoing a shakeup after putting up anemic ratings in 2014. Network insiders are divided on whether Williams will survive, but if he does, it will have little to do with news standards and far more to do with whether network executives believe he can maintain the trust of viewers. The credibility of news anchors, however artificial, is valuable to the business. If Williams's lies have ruined his, he won't be around much longer.
NBC News president Deborah Turness and Williams addressed the Nightly News team on Thursday night. Turness said in a statement on Friday that NBC is conducting an investigation of the incident, but a source says that she expressed her support for Williams and suggested he's been a victim of the 24-hour news cycle. An NBC spokeswoman did not respond to a request for comment.
Williams never much liked reporting from the field and didn't do much of the grunt work that had distinguished his peers. In the spring of 2003, Variety reported, he was under fire for being "too anchor-like before his time." When he was being groomed to take over for Brokaw, foreign-reporting experience was one chance to burnish his credibility.
Iraq, which the U.S. invaded in March of that year, was a good chance for him to rough up his hands a bit. The trip, however, didn't go as planned. The now-infamous helicopter incident left Williams and his crew stranded in a remote part of the desert, where they were unable to file reports. Variety noted that, during a conflict that launched several newsmen to prominence, the anchor-to-be was "barely a blip on the radar."
"Several stars emerged for their coverage of the conflict," Variety wrote. "Williams wasn't one of them."
Meanwhile, his colleague David Bloom died covering the war and another NBC reporter's star rose: That of Lester Holt, which, the Chicago Tribune wrote, "even overshadow[ed]" that of "top anchor-in-waiting, Brian Williams."
Network insiders describe Williams as somebody who especially likes the perquisites of being an anchor and has little time for the drudgery of reporting. That perhaps helps to explain his impulse to borrow valor, as well as what New York magazine dubbed his "burgeoning side career in comedy," which has included appearances on The Daily Show, Letterman, Late Night with Jimmy Fallon, and Saturday Night Live. There's also that bizarre 2012 e-mail to Gawker chief Nick Denton about the sparse posting on the gossip site during the Christmas season. "It was a fallow period for those of us who check your shit 10 times a day by iPhone," Williams wrote.
If Williams was more showman than newsman, that didn't matter to NBC executives because he had something valuable: the ability to create a trusting relationship with viewers. Walter Cronkite, the CBS anchor who served as the archetype for the news personalities of today, signed off by telling his viewers, "That's the way it is." He built an aura of omniscience that helped earn the sobriquet "most trusted man in America." The men who can create that trust — because they look and sound the right way, have the right smarts and experience, and know how to play office politics — have tremendous financial value for the news corporations that employ them. Williams is undoubtedly among those ranks, outperforming Scott Pelley at CBS and David Muir at ABC, and NBC has nobody on deck to succeed him.
Could he still lose his job? Who knows. But the decision NBC News executives have to make won't involve any objective standard but rather loose and slippery calculations that have more to do with business than with news.
There's little rhyme or reason to who survives journalistic scandals except, perhaps, who's in and who's out with the elite establishment and network brass. Fareed Zakaria and Doris Kearns Goodwin can plagiarize with impunity, Lara Logan could bounce back from a discredited report aired on the nation's most trusted news program, David Letterman could have sex with interns, and Bill O'Reilly survived an intern's colorful sexual-harassment accusations. Dan Rather was invincible too — until, losing his edge at 72, he wasn't. Martin Bashir and Alec Baldwin couldn't survive making off-color comments at MSNBC, but they were out of favor with executives who were looking to boost the network's wonks over its populist agitators.
So Williams, at the pinnacle of his career, stands accused of spinning tall tales from Iraq while his journalistic colleagues are getting beheaded by jihadists. At a brutal time for NBC generally, he has been the sole bright spot. Though ABC's David Muir, who took the reins from Diane Sawyer in September, was expected to surpass him in the ratings war, Williams has managed to fend him off and retain NBC's spot at No. 1. His tall tales now could imperil the relationship with viewers that's brought such success.
If he is indeed fired, it won't be thanks to network integrity. It will be because he threw away the very thing that made him most valuable.
— Eliana Johnson is Washington editor of National Review.