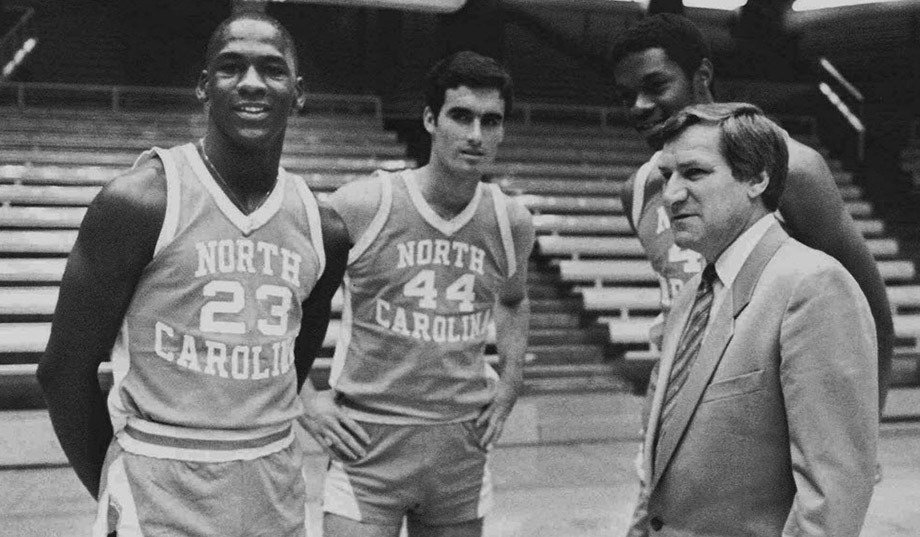 To innumerable young men, he was, as Michael Jordan put it, mentor, teacher, second father.
He was one of the greatest basketball coaches of all time. But he was more than a coach to the hundreds of young men he guided while at the helm of a college basketball program he turned into one of the finest in NCAA history — the University of North Carolina's.
But don't take my word for it. Michael Jordan, the greatest player ever to lace up for Coach Smith, and one of the greatest playersof all time, had this to say about the man he played for three decades ago:"Other than my parents, no one had a bigger influence on my life than Coach Smith. He was more than a coach — he was my mentor, my teacher, my second father."
And Jordan wasn't finished: "Coach was always there for me when I needed him, and I loved him for it. In teaching me the game of basketball, he taught me about life."
Jordan may have left Coach Smith to pursue his NBA dreams. Coach Smith never left Jordan. Even after Smith departed this world last Saturday night at the age of 83, his hold on Michael Jordan was still evident.
Much has been written about the fatherhood deficit in America, and about the decline in the number of men willing to play an active part in raising the boys they've sired.
Not much has been written about the father-figure deficit, and about the role men need to play in shaping the lives of boys they deal with. Smith helped close that deficit throughout his adult life. It's his most enduring legacy.
And what a legacy Smith had. In his 36 seasons as coach of North Carolina, he racked up 879 wins to only 254 losses, a remarkable .776 winning percentage. He retired with two national championships, more wins than any other coach in men's Division I history, and 17 Atlantic Coast Conference regular-season titles — at a time when winning the ACC was as tough as winning a national championship. Or tougher.
Smith compiled that record because he was one of the great basketball innovators, and also a superb teacher. But what separated him from everyone else was his commitment to being that father figure to his players — his commitment to shaping them into good men.
Time and again over the past week, athlete after athlete who played for the man told anyone who would listen that Dean Smith was a father figure to them — a father figure to those who had fathers, like Jordan and, perhaps even more important, a father figure to those who didn't.
Take Phil Ford. He was in high school when he first met Dean Smith. Ford was the most highly sought recruit in America in 1974. Nearly every big college coach in America showed up at the door of the Rocky Mount High School senior's home.
"My mom, when she first met him, thought he was the dean of the school," Ford recalled in 2010. That's the way Smith carried himself — like the dean of an academic program. That more than 95 percent of his players graduated is a record that would make any college dean proud.
"He was about the only coach who told me I was not going to start," Ford recalled. "But my mom sat me down and explained to me that when I was a senior, I could be assured that Coach Smith wouldn't be promising another high-school All-American my starting spot, and I would never have thought about it that way."
Already, the father figure was teaching the young Phil Ford a lesson about integrity, about telling the truth.
While at North Carolina, Phil Ford became the school's all-time leading scorer, and an incredible assist man, too. Coach Smith tailored the team's dreaded four-corners offense around Ford's speed and ball-handling skills. It drove opposing coaches so crazy that they rallied for a rule change. Thus was born the shot clock in the NCAA.
It's no accident that Smith's talents were so great as to lead to a rule change: His basketball bloodlines ran as deep as the blue Carolina sky. It turns out that Smith's coach in college, Phog Allen, learned the game from the man who invented it, and after whom basketball's Hall of Fame is named — James Naismith.
Winning was also in Smith's bloodlines. Under Coach Allen, he was a backup guard on the Kansas team that won the 1952 NCAA title and was runner-up the following year. Smith, the son of two public-school teachers, scored only one point in those two championship games. But it was from the vantage point of a reservist, and from the bench sitting near his coach, that a giant of a coach was birthed. Smith would go on to set on their way two of the next generation's great coaches — fellow Hall of Famers Larry Brown and Roy Williams.
Great coaching apples don't fall far from great coaching trees.
Smith's innovations went beyond X's and O's, however. He was a team-building innovator, too.The now-commonplace "point to the passer," in which a scorer acknowledges the assist from the teammate who enabled the score, started in Chapel Hill. It became a symbol of selflessness and team spirit — the famous Carolina Way.
Smith was also, as John Feinstein pointed out in his tribute in the Washington Post, the first coach to insist that his seniors be recognized before their final home game. He started all of them, whether they were stars or mere walk-ons. On the rare occasion when there were six graduating seniors, they all started. For you folks reading this who don't know the rules, this meant that North Carolina would begin the game with the other team shooting a technical-foul free throw, because it's a violation of the rules to have more than five men on the court.
No one thought a thing of it in the stands. And no one had thought to do that before Dean Smith. If his team ended up losing by one point, so be it.
As graceful and loving as Smith could be, he also had a tougher side. You don't win all those championships being a teddy bear, and Smith could cut people down to size in an instant without ever raising his voice. Feinstein quotes one of Smith's players, Buzz Peterson, Michael Jordan's roommate at UNC:
In practice, he'd say,"'Buzz, do you really think that was a good shot you just took?" . . . Before I could say anything, he'd say, "Let's ask your teammates what they thought. Or do you just want to tell me if you think that was the best shot we could have gotten right there." There was no hole deep enough to crawl into at that moment.
The wins, the future NBA players (he coached over 50), and the great testimonials — all of it would be enough to seal any man's legacy. But Smith was also a civil-rights pioneer at a time when that was not easy in the South.
It was at the urging of his pastor that he did what he did, and it did not make him universally popular. But in 1967, Smith made Charlie Scott the first black scholarship athlete at North Carolina and one of the first in the South. On more than one occasion, he accompanied his young black player to restaurants that would ordinarily not have allowed them in.
Roy Williams, who is now UNC's coach, told a similar story. It was the 1980s, and a country club had called Smith to offer him an honorary membership. Williams never forgot the conversation.
"Would you offer this same opportunity to John Thompson?" Williams remembers Smith asking the person on the other end of the phone. Thompson was Georgetown's coach, and a friend of Smith's. And he was black.
"I couldn't hear the other side of the conversation," Williams says,"but I heard Coach say that he would not accept an honorary membership or any kind of membership to belong to an organization that was not open to a person of color."
It was for this reason, and too many more to list, that Dean Smith was awarded the Medal of Freedom in 2013.
"He was teaching us about life," Eric Montross (UNC 1990–94) told fans in a 2010 tribute to his coach. "Teaching us how to behave, as individuals and as a team."
"Thank you for being tough on me, for showing me, thank you for sticking with me," Hubert Davis (UNC 1988–92) told his coach in that same tribute.
Late last Sunday, more than a hundred students assembled in front of the Dean Smith Center, sang the fight song, and silently lit candles and left signs, including ones bearing the legendary coach's favorite motto: "Play hard, play smart, play together."
When news of Smith's death broke, Mike Krzyzewski — the man who coaches North Carolina's most bitter rival, Duke, just miles down the famed Tobacco Road — had this to say: "His greatest gift was his unique ability to teach what it takes to become a good man. That was easy for him to do because he was a great man himself."
— Lee Habeeb is the vice president of content at Salem Radio Network. He lives in Oxford, Miss., with his wife, Valerie, and daughter, Reagan.