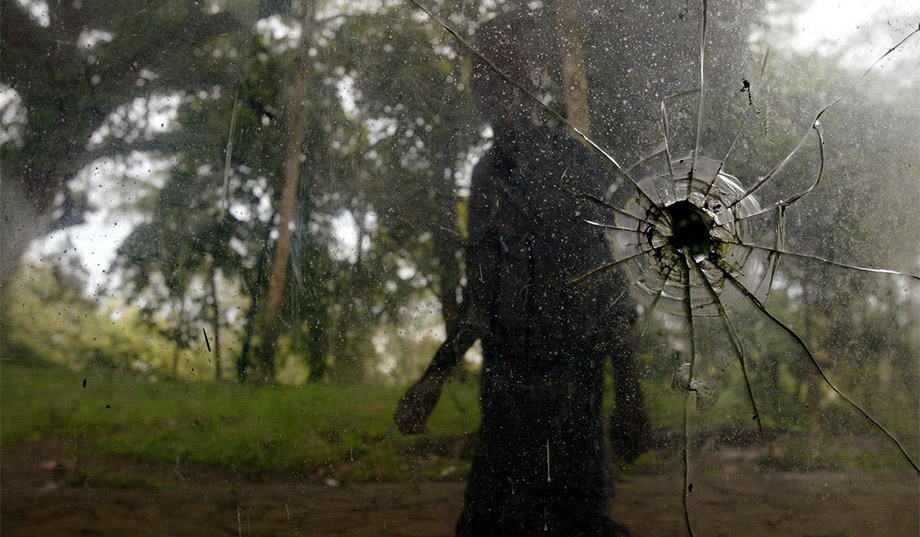 Many say war criminals have made the U.S. their home.
Bernard Goah came to the United States to escape the violent civil wars that turned Liberia into hell on earth. In the 1990s and early 2000s, approximately 250,000 people died at the hands of Liberian rebel fighters, some of them child soldiers. Acts of rape, torture, and cannibalism were committed with impunity. Goah fled Liberia to escape the perpetrators of those acts, but he says several of them live freely and comfortably in the United States.
The federal government celebrated the high-profile deportation of Liberian warlord George Boley Sr. from New York in 2012 and the 2014 arrest of Jucontee Thomas Woewiyu, a former Liberian defense minister found living quietly in Pennsylvania. Those cases may have been the tip of the iceberg: According to a former special agent for the Immigration and Customs Enforcement (ICE) agency and several Liberian men — including Goah — who helped to bring Boley down, many more Liberian warlords, foot soldiers, and human-rights violators now live in the U.S. These war criminals appear to have hidden themselves in plain sight, using nonprofit organizations to help conceal their identities.
"The United States has been a place for the refugee and the oppressed," Goah says. "We can't run and come here only to see the very people who were persecuting us . . . be our next-door neighbors. That's just wrong."
Jeff Parkes, who helped lead ICE's investigation of Boley, for which he received a governmental award, says he was prevented from pursuing other Liberian war criminals.
"There's literally hundreds of these people just from Liberia alone that are in the States that are here freely right now, and nobody is doing anything about them," Parkes says. "And that's [from] just one country."
These criminals arrived under false pretenses, sometimes using the identities of people they fought against — or may even have killed — in the Liberian civil wars.
Liberians who took refuge in the United States from the civil wars say they've spotted several of these human-rights violators. Bernard Goah and Jackson Towah both worked for the Salvation Army in Liberia during the wars before coming to the U.S. Goah and Towah helped the federal government investigate Boley, and they continue to work to expose other Liberian war criminals hiding in the U.S.
According to Goah and Towah, these warlords are hiding under the banner of the Grand Gedeh Association in the Americas, which claims to support the rebuilding of Liberia. The nonprofit group, headquartered in Philadelphia, purportedly works to better the lives of people still living in Grand Gedeh, a county in Liberia. But Goah and Towah say the organization counts suspected former rebel general Michael Koolor, also known as Marcus Johnson of Minnesota, as one of its leaders. The association lists Koolor as the co-chairman of its board of directors, and uses his two names — "Michael Koolor" and "Marcus Johnson" — interchangeably on its website. Goah and Towah say they saw Johnson on Facebook and recognized him as Koolor, a rebel general who fought in the Liberian civil wars for the Liberia Peace Council (LPC).
NRO called Koolor — at a number listed for him by the Grand Gedeh Association and confirmed by another member of the association's board — but the man answering the phone claimed not to be either Koolor or Johnson. The man wanted to know what NRO knew about Koolor and why we were asking questions, but hung up when asked to identify himself.
A couple of days later a man returned NRO's call from the same number claiming to be Marcus Johnson but denying that he was Michael Koolor. He launched into a fury of disjointed statements, in one moment saying that some of his family members were slaughtered during the Liberian civil wars because of their heritage and in the next claiming not to know whether he himself had fought in the wars. He would not explain why the association lists two names for him, and claimed NRO was writing a misleading story.
"This conversation is not between you and I, it is not about me," the man claiming to be Johnson said. "I got my four little daughters to take care of. . . . I let the past be the past and leave the rest with God Almighty." He went on to shout that his people would "one day rise again."
It is worth noting that a report from the Truth and Reconciliation Commission of Liberia mentions a "Michael Kooler," as a rebel leader, but it is difficult to determine if this is the same man living in the United States. ICE has not provided any comment for this story, despite first saying that it would make several sources available to NRO, including the lead case agent who investigated Boley, that agent's boss, and a member of ICE's senior leadership in Washington. The State Department referred NRO to ICE, and the Liberian Embassy in Washington did not return NRO's request for comment.
Other leaders of the Grand Gedeh Association made evasive statements about the details of the organization. Dennis Bowah, the secretary general of the association who confirmed Koolor/Johnson's phone number, avoided answering questions about Koolor/Johnson and the involvement of other association members in the civil wars. When asked directly whether any of the organization's members fought in the wars, Bowah answered, "I think you might be going beyond what you want to know about."
Towah, who once belonged to Grand Gedeh Association himself, says he left when he became concerned that it was shielding Liberian war criminals. "I felt uncomfortable from what I saw firsthand," he says. "Grand Gedeh Association is supposed to be [an] association that is [a] charity, but instead some individuals within the organization used the organization as a springboard to accomplish their own clandestine activity, such as sponsoring subversive activity."
Tax forms filed by the association do not seem to add up either. On the 2013 990 form it filed with the IRS, the organization lists its address as located not in Philadelphia, but in Antigua and Barbuda, a nation in the Caribbean Islands. Tillman Collins, the president of the association, says he reviews the organization's financial statements and believes the address was listed by mistake.
Collins, like Koloor/Johnson and Bowah, wouldn't say whether any of the association's members had fought in the Liberian civil wars, and denied that he ever represented Boley's LPC in the transitional legislative assembly formed during the wars. Instead, he says that he simply represented the people of Grand Gedeh County. Both Goah and Towah claim that Collins belonged to the LPC, and online sources say he represented the warring faction in the legislative assembly.
Several veterans of America's immigration-enforcement agencies say that Liberia may not be the only source of war criminals hiding in the U.S. "There's tons of stuff going on from Sierra Leone, there's tons of stuff going on from Rwanda, there's tons of stuff going on from Uganda. And that's just in Africa," says Parkes, the former ICE agent who helped lead the Boley investigation.
James Chaparro left his position as ICE assistant director of intelligence in 2013, after the Boley investigation was completed. When asked if he knew of other similar war criminals living in the U.S. when he left the agency, he said, "I think the answer is yes," but declined to provide any names. He would only say that people should know that the problem was "probably broader than Liberia."
Don Crocetti, the architect and former director of the U.S. Citizenship and Immigration Services Fraud Detection and National Security Directorate, says that a number of human-rights violators entered the country and were identified during his tenure (2004 to 2011). With the large exception of the southern border, he adds, the federal government is in a better position now to catch criminal immigrants than ever before thanks to biometric tools that can better expose illegal immigrants' real identities.  
It's impossible to know how many Liberian war criminals may be in the U.S. or where they are located. Woewiyu, the former Liberian defense minister arrested in May 2014, is now living under house arrest in Pennsylvania. Boley, meanwhile, appears to be living as a free man in Liberia, after being deported from the U.S. for using child soldiers.
While such high-profile cases have caused many former fighters to scatter, Goah and Towah say, the lack of justice rendered has made other Liberians wary of exposing the criminals, especially since many Liberians came to the U.S. illegally. Several of the criminals hiding in the shadows may have fought as child soldiers and then arrived in the U.S. after 9/11, meaning that they are still relatively young and able to fight. What they choose to do now remains to be seen.
For Americans who were understandably concerned about the potential spread of Ebola from Liberia and other West African countries to the U.S. last year, a clearer, more present danger may already have arrived.
— Ryan Lovelace is a William F. Buckley Jr. Fellow at National Review.