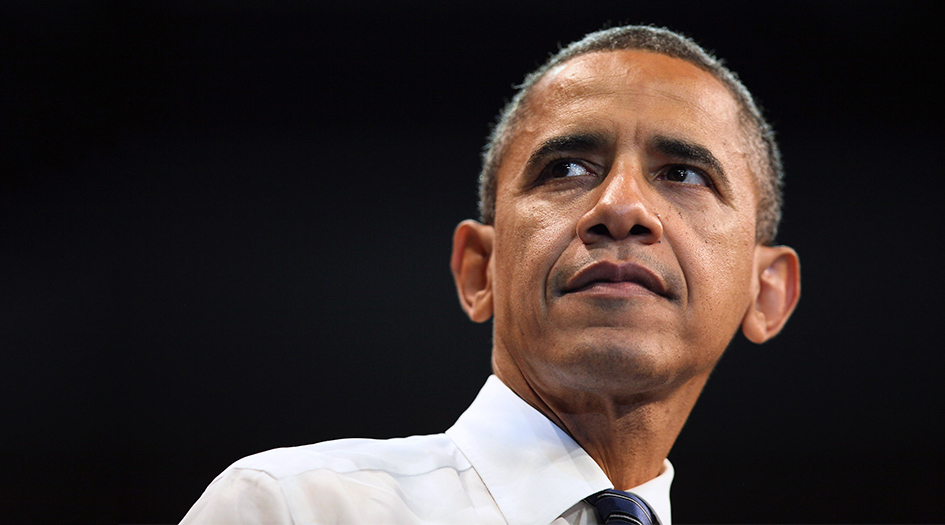 Barack Obama doesn't even like America.
Rudy Giuliani is in the stocks for saying that he does not believe that President Barack Obama "loves America." He said this at a small, private dinner for Scott Walker, who probably will not be inviting Giuliani to very many events in the near future.
Giuliani went on to say that he wasn't questioning the president's patriotism — angels and ministers of grace defend us! — only noting that the president's rhetoric is decidedly low-cal on the American exceptionalism but full-fat when it comes to criticism.
It may be the case that the president is a practitioner of the Smokey Robinson school of patriotism: "I don't like you, but I love you." Something's really got a hold on this guy, and it is not an excessive fervor for the American order.
Questions about patriotism and love of country are, according to our self-appointed referees, out of bounds, déclassé, boob bait for bubbas, etc. Those are questions that we are not allowed to ask in polite society. Why? Because polite society does not want to hear the answers.
Does Barack Obama like America? The people around him certainly seem to have their reservations. Michelle Obama said — twice, at separate campaign events — that her husband's ascending to the presidency meant that "for the first time in my adult lifetime, I'm really proud of my country." She was in her mid 40s at the time, her "adult lifetime" having spanned decades during which she could not be "really proud" of her country. Barack Obama spent years in the Reverend Jeremiah Wright's church as the churchman fulminated: "God Damn America!" The Reverend Wright's infamous "God Damn America!" sermon charges the country with a litany of abuses: slavery, mistreatment of the Indians, "treating citizens as less than human," etc. A less raving version of the same indictment can be found in the president's own speeches and books. His social circle includes such figures as Bill Ayers and Bernardine Dohrn, who expressed their love of country by participating in a murderous terrorist campaign against it.
Does Barack Obama love his country? Call me a rube for saying so, but it's a fair question.
To ask the question is not the same as venting the familiar swamp gasses: that he's a foreigner, at heart if not in fact; that he's a Manchurian candidate sent to undermine the republic; that he's a secret Marxist or secret jihadist sympathizer; etc. Put it this way: Why would anybody who sees the world the way Barack Obama does love America?
For the progressive, there is very little to love about the United States. Washington, Jefferson, Madison? A bunch of rotten slaveholders, hypocrites, and cowards even when their hearts were in the right places. The Declaration of Independence? A manifesto for the propertied classes. The Constitution? An artifact of sexism and white supremacy. The sacrifices in the great wars of the 20th century? Feeding the poor and the disenfranchised into the meat-grinder of imperialism. The gifts of Carnegie, Rockefeller, Vanderbilt, Morgan, Astor? Blood money from self-aggrandizing robber barons.
There is a personality type common among the Left's partisans, and it has a name: Holden Caulfield. He is adolescent, perpetually disappointed, and ever on the lookout for phoniness and hypocrisy. His is the sort of personality inclined to believe in his heart the declaration that "behind every great fortune there is a great crime." (He also believes that this is a quotation from Honoré de Balzac, whose works he has not read, when it fact it comes from Richard O'Connor's The Oil Barons: Men of Greed and Grandeur.) He believes with Elizabeth Warren that the economy is a rigged game based on exploitation and deceit rather than on innovation, productivity, and competition. He believes with Barack Obama that the only reason (e.g.) Staples does not pay its part-time associates more or schedule them for more hours is so that it can pad its executive pay and protect its "billions" in annual profits. (He believes that Staples, whose financials he has not read, makes "billions," when in fact it does no such thing.) Say an admiring word about Steve Jobs and he'll swear that there are four-year-olds working 169 hours a week in Chinese sweatshops producing iPods at the point of a bayonet. He believes that most people get into Harvard and Yale because they have influential parents (that's the University of Texas, unfortunately), that rich Americans mostly inherit their money (in reality, about 15 percent of their assets are inherited, less than for middle-class families), that the U.S. goes to war abroad to enrich contractors at home, and that the entire history of Latin America must be understood through the prism of the United Fruit Company's maneuverings in 1954.
Give Holden Caulfield a television show and you've got Chris Hayes.
Barack Obama has a great, big, heaping dose of Holden Caulfield in him. That and chutzpah: When as a candidate he was in trouble because of his association with the racist lunacy of the Reverend Wright, he responded by giving the American public at large a lecture on racism and its culpability therein, while his minions began proclaiming that the only reason to oppose this politician with the racist associates was — presto-change-o! — racism. But if you believe that the system is basically rotten, that the society that produced that system is basically rotten, that the game is rigged, that your opponents are all phonies and hypocrites, then what's a little intellectual dishonesty in the service of the common good?
There is very little that a man with Barack Obama's views and proclivities should love about the country, beyond the fact that its people are so vulnerable to insipid sentimentality that they twice elected him president.
To love one's country is not to love blindly. After witnessing a spectacular Independence Day fireworks display, William F. Buckley Jr. asked: "Are we being given upscale signs and sounds that serve as phony fermenters of a synthetic patriotism?" This was during the Clinton administration, and he was considering the "disfiguring contemporary data" on crime, abortion, drugs, etc. "Burke said it definitively," he wrote, "that a society, to be loved, must be lovely. The consensus, on the Fourth of July, seemed to be that the American people still think it that, but that some probationary signs are flying."
That was 1998. A decade later and the signs would be far more than probationary. That much is plain to Rudy Giuliani, and it should be plain enough to the rest of us, too.
— Kevin D. Williamson is roving correspondent at National Review.