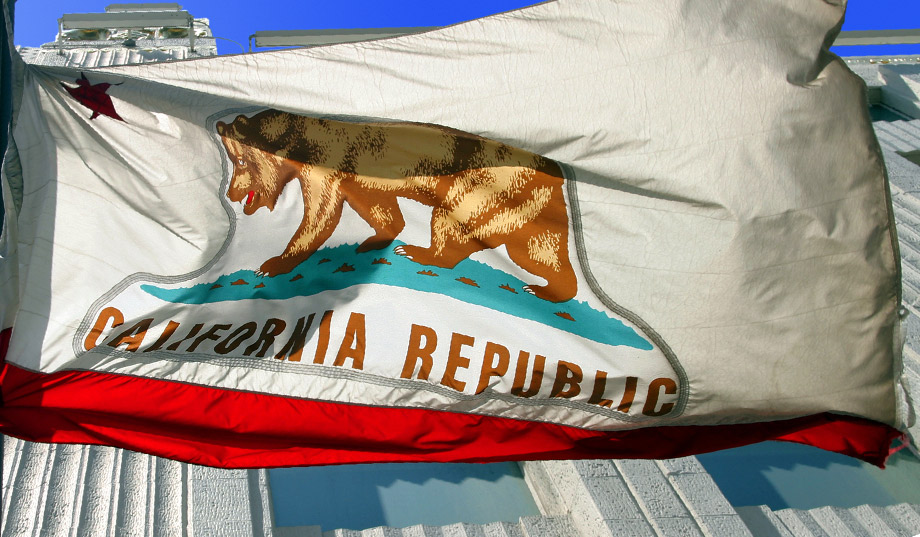 Reports of the GOP's death in the Golden State have been greatly exaggerated.
It seems a foregone conclusion that the 2016 California Senate race will be an easy win for Democrats. But while they may have no chance in 2016, Golden State Republicans have their sights set further down the road, and they like what they see: In the long term, the state's GOP has a deep bench and a good chance of ending years of statewide Democratic dominance.
When Senator Barbara Boxer (D., Calif.) announced her retirement in January, it created an open California Senate seat for the first time since Boxer's initial election in 1993. State Attorney General Kamala Harris, one of California's two rising Democratic stars alongside Lieutenant Governor Gavin Newsom, immediately jumped in to the race to replace her. While other prominent Democrats, such as former Los Angeles mayor Antonio Villaraigosa, have flirted with a bid for the seat, none seem willing to challenge Harris's national prominence, and she remains the heir apparent to Boxer's seat.
Retaking the seat was always going to be a tough task for Republicans, and Harris's formidable bid further dimmed their prospects. Some activists desperately hoped Condoleezza Rice would consider running after a Field poll showed her beating out Harris, but the former secretary of state quickly shot down that speculation. With no one in the current House delegation willing to give up his seat for a long-shot endeavor, California Republicans will do their best to make do with options such as former representative David Dreier, former party chairmen Duf Sundheim and Tom Del Beccaro, and state senator Rocky Chavez, among others.
Though the present may seem bleak – with Democrats controlling every statewide office and both chambers of the legislature – the future of the Republican party in California is brighter than it's been in years. After years of financial woes and lackluster electoral performances, including Democratic supermajorities in the legislature until recently, state Republicans are excited by recent gains in the legislature, and a plethora of local officials who look primed to lead the GOP to better days in the state.
In fact, some rising stars may be best served by keeping their powder dry this cycle, rather than mounting an improbable run against Harris. Republicans are high on their party's bench, but these names need time to establish themselves and gain experience and credibility with voters and donors statewide. For now, they're working toward 2018, when Dianne Feinstein's Senate seat will be up – some believe she may retire – and Jerry Brown is termed out, creating an open race for governor. Waiting a few years will allow the following Republican up-and-comers to get more experience under their belt before taking on a tough statewide run down the road:
Fresno mayor Ashley Swearengin: Ashley Swearengin's impressive run for state controller last year helped raise her profile as a candidate with a bright future in California politics. By coming within 8 points of her Democratic opponent and earning several surprising endorsements – including from the Los Angeles Times – Swearengin established herself as someone to watch. A recent poll found that she was California Republicans' top choice to run for Senate in 2016.
Swearengin announced over the weekend that she would pass on 2016, saying that it wasn't quite her time to jump into statewide politics again, and she would wait until she finishes her mayoral term that same year. While the 2018 Senate race is still in the cards, one consultant hinted at a potential gubernatorial run to the Fresno Bee, emphasizing that "executive leadership has always been a strength of hers."
"Ashley did a lot of really good things to put herself in a position to be a serious contender moving forward," says GOP strategist Mitch Zak, noting that she outperformed party voter registration. "She's got that 'it' factor."
San Diego mayor Kevin Faulconer: Like Swearengin's, Kevin Faulconer's renown represents state Republican efforts to develop credible candidates on a local level, including in mayor's offices. After eight years in the city council, he's still relatively new to the position – he took office in early 2014 following Democrat Bob Filner's resignation amid several sexual harassment allegations. But he's already extremely popular: A whopping 61 percent of San Diegans approve of his job as mayor, and just 17 percent disapprove, according to a new survey this month.
Faulconer will, in fact, run in 2016 – just not for the Senate. Instead, he will turn his focus to his reelection race, which could be competitive in purple San Diego. Another win under his belt would definitely boost his standing, particularly if it's based on his job as mayor and removed from the cloud of controversy that led to his election in the first place.
Nevertheless, Orange County Register opinion editor Brian Calle said the mayor was "most certainly looking at statewide races" and weighing his options for either a Senate or gubernatorial run down the road.
State Assemblywoman Catharine Baker: Her victory was described as "hugely bizarre" and "one of California's most improbable 2014 success stories," but there's no doubt that Catharine Baker earned it. The Bay Area has now sent a Republican to the state legislature for the first time in nearly a decade thanks to her dogged campaign. "She will not be outworked by anyone," Zak says.
"She was a good fit for that Easy Bay district that we've been looking to win back for years," added Jessica Patterson, CEO of California Trailblazers, an organization founded in 2011 to recruit and prepare GOP candidates for the state legislature, Baker included. Patterson pointed to Baker's strong ties to the community, particularly her volunteer involvement in local education initiatives, as the reason for her success.
But she still had to overcome millions of dollars in labor backing for her union-aligned opponent, a nearby Democratic mayor. Registered Democrats outpace Republicans in the district, but a third of voters are not affiliated with either party, which was key to Baker's victory, as she stood against strikes by public-transit employees in the area while her opponent supported them. Her ability to win over and appeal to independent voters should help her as she moves forward.
State Senator Janet Nguyen: Democrats no longer hold a supermajority in the state senate this session, and California Republicans may have Janet Nguyen to thank. This fall, she extended her unbeaten streak, dating back to elections for city council and Orange County supervisor, to pick up a Democrat-controlled seat with a nearly 20-point victory over her opponent, who was joined by Governor Brown in an unsuccessful attempt to help keep the party's two-thirds stranglehold on the chamber.
"Nguyen is one of the hardest campaigners in the state, with a focused ground game that has propelled her to victory in every election she has been in," said Calle.
Born in Saigon, she moved to the United States when she was five, and her compelling life story has led her to be the first Vietnamese-American female state legislator in the country. Nguyen is another alumnus of the California Trailblazers program, and her outlook in the tough swing district appears promising, given that she won with a rout, and her deep roots within the community.
State Assembly Minority Leader Kristin Olsen: As California Republicans look to usher in a new era, Kristen Olsen's rapid ascension is no accident: In less than four years' time, she's gone from a freshman assemblywoman from Modesto to the chamber's minority leader. Along the way, she's proven to be the type of thoughtful messenger who can win over converts, while also uniting an increasingly diverse caucus within her own party.
"She communicates ideas effectively, without the typical vitriol and angst associated with all too many Republican elected officials," Calle says. Zak echoes that sentiment, describing Olsen as having a "keen understanding of messaging and communications."
Chief among Olsen's goals is bettering the state's stagnant economy and improving schools that have struggled under Democratic control. While conveying a positive vision, she also hasn't refrained from holding Democrats accountable for their role in causing those problems. In her new leadership role, she has already received praise for collaborating with the different factions of her party to put forward a unified vision. She is perfectly positioned to make more allies and further boost her name ID statewide in the years to come.
— Andrew Johnson is an editorial associate at National Review.