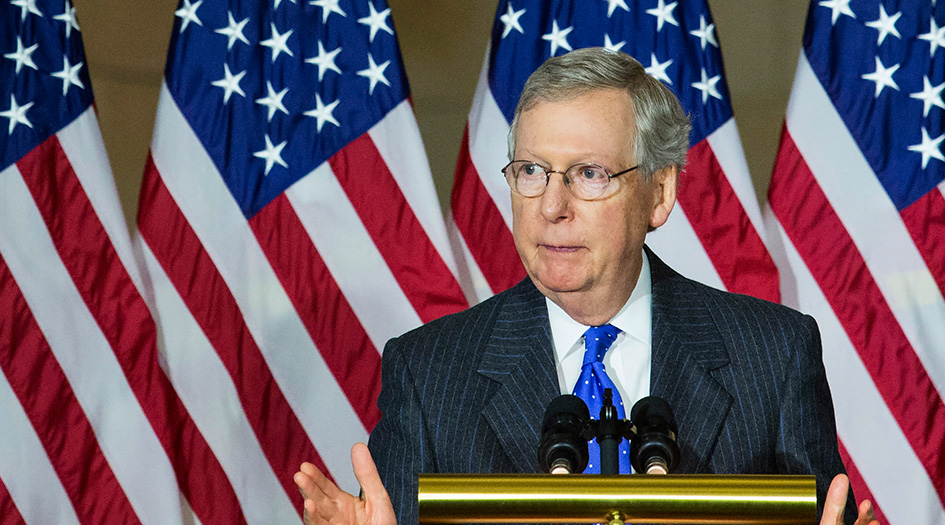 They'll give the GOP presidential nominee the flexibility to craft their own alternative.
Former House speaker Newt Gingrich perhaps best illustrated the complex relationship between Republicans in Washington and the party's presidential nominees when, in the spring of 2011, shortly after launching his campaign, he derided the budget drafted by then–Budget Committee chairman Paul Ryan (R., Wis.), which had recently passed the House, as "right-wing social engineering."
The result was explosive. "You're an embarrassment to our party," one activist in Iowa told Gingrich, whose popularity dropped 27 points among Republican voters over the next two weeks.
This time around, with Obamacare at the center of the policy battles in Washington, Republicans in Washington aren't sure they want to force legislation written in the halls of Congress on the party's presidential nominee. Ryan, now the chairman of the House Ways and Means Committee, is working on a replacement plan that might unite House Republicans. But on the Senate side, there is more hesitancy to coalesce around a single Obamacare alternative. Some senior senators prefer to wait for a presidential nominee to propose a replacement plan, and so the upper chamber is hanging back.
"Common sense tells me that you don't want to do anything between now and the November elections to screw things up for the next presidential candidate," Senate Judiciary Committee chairman Chuck Grassley (R., Iowa) tells National Review.
Various Senate Republicans have health-care-reform ideas, but majority leader Mitch McConnell (R., Ky.) hasn't put his imprimatur on any particular attempt to "conceive an alternative" to Obamacare, according to one Senate aide. "McConnell's big, big contribution to the entire thing has been keeping Republicans united against Obamacare," the GOP aide says. In 2009, when some lawmakers feared opposing the president immediately after his 2008 victory, McConnell convinced several Republicans not to participate in the drafting of Obamacare, which would have nonetheless reflected liberal priorities.
Democrats only resolved their health-care-policy differences after Obama took office, and it seems likely that Republicans likewise won't settle on a single plan until they control the White House.
"I think people have a sense that a presidential nominee would end up making some decisions that a Congress doesn't have to make in a consensus way," says Yuval Levin, a conservative policy expert with whom lawmakers frequently consult.
Republicans do feel an urgent need to come up with a plan to replace at least one aspect of Obamacare, pressure created by the King v. Burwell lawsuit pending before the Supreme Court; if the Court rules against the administration, millions of people in states that did not sent up their own health-care exchanges will lose their Obamacare subsidies.
Senator John Barrasso (R., Wyo.) led a working group to address the matter, which culminated in a temporary measure to provide temporary aid those who would lose their subsidies rather than a full replacement plan. Others have proposed responses to a prospective victory in King, including Paul Ryan. The new House Ways and Means Committee chairman, along with House Education and Workforce Committee chairman John Kline (R., Minn.) and House Energy and Commerce Committee chairman Fred Upton (R., Mich.), suggested in a Wall Street Journal op-ed that Congress should provide that same kind of assistance in the form of tax credits.
As Republicans weigh their options for how to respond to a victory in King, they're likely to settle on the bill that gives the next presidential candidate the most flexibility to decide what Republicans will offer as an alternative to Obamacare. "They would probably say that they'd like to have that kind of latitude," one GOP Senate says of the potential presidential contenders.
Other GOP sources suggest that the Senate may yet rally behind a single plan — that's "the heart and soul of what is an everyday tactical discussion in the senate GOP conference," according to one aide — but the impulse to adopt such an alternative is weakened by the knowledge that Obama will veto the legislation for as long as he is in office. That's why the idea of deferring to the presidential candidates has broad support in the GOP conference, even among Republican lawmakers who tend to regard their own leadership as lacking in ideas.
In the House, majority leader Kevin McCarthy has tapped Ryan, Kline, and Upton to go beyond the King v. Burwell fixes and draft a plan to replace Obamacare entirely, in the hopes of uniting the conference behind a single bill.
But the goal is not to enact legislation that replaces Obamacare, which would be subject to the president's veto, or even necessarily to push it through the Republican-dominated Senate. "You can do a lot of good work in the House that moves the broader conversation in conservative politics," says Brendan Buck, a spokesman for Ryan at Ways and Means. "You look at what he did with his budget proposals over the years and they really became pretty central to what Mitt Romney was proposing. And so, I think as long as we are pushing out good conservative ideas and good thoughtful policy, you will find yourself in a much better place to easily enact things whenever you do have a Republican president."
In the absence of congressional consensus, the debate is moving to the presidential stage. Former governor Jeb Bush (R., Fla.), for instance, proposed replacing the "monstrosity" of Obamacare with a plan that would provide people with catastrophic coverage. Governor Bobby Jindal (R., La.) hopes that conservative hunger for an alternative to Obamacare — he has published a full-scale replacement plan — will help to vault him out of the lower tier of prospective presidential candidates.
That's just the way congressional Republicans like it. As one conservative Senate aide puts it, "There's nothing like a presidential campaign to really force a policy debate on a national stage."
— Joel Gehrke is a political reporter for National Review.