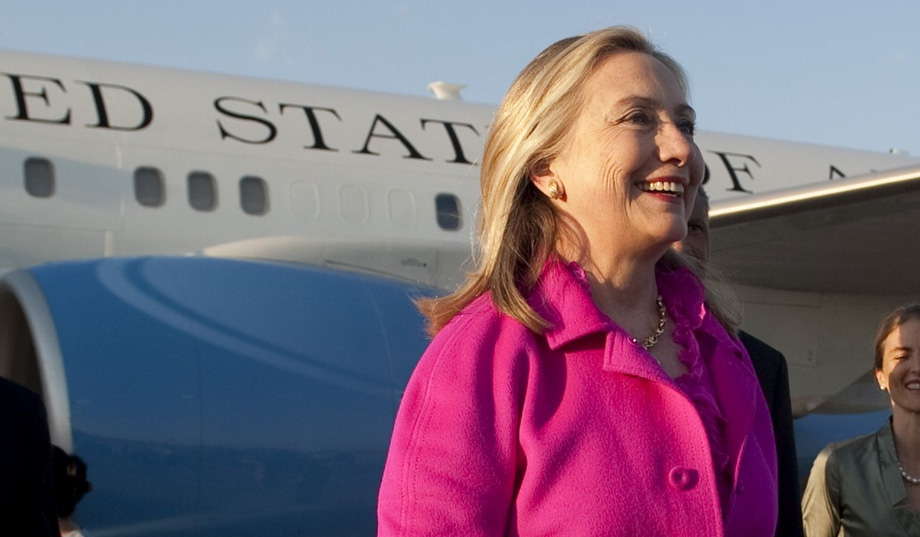 It's barely been a week since a federal lawsuit by David Bossie's Citizens United strong-armed the State Department into turning over records on Hillary Clinton's official travels, but the group is already champing at the bit for more.
After suing once to force State to provide passenger manifests for the former secretary's flights and a second time on March 16 to obtain Hillary's correspondence with Clinton Foundation donors, the conservative advocacy group filed a third Freedom of Information Act (FOIA) lawsuit against the department on Tuesday.
It's all part of a multi-pronged offensive against the secretive cabinet department, a campaign that's itself a dry run for Citizens United's real battle with the upcoming Clinton presidential candidacy in 2016.
The lawsuit filed Tuesday seeks to compel the State Department to respond to three FOIA requests it has outright ignored since they were first submitted between six and ten months ago — long past the statutory 20-day response time.
The requests center around Hillary Clinton's travels during her time as secretary of state. Citizens United is looking to obtain all official photographs and videos taken during Clinton's global sojourns — particularly those not released to the public.
It also wants copies of memos detailing instructions to foreign hotel staff on how to treat Ms. Clinton, as well as any receipts or bills for goodies the secretary required during her stay.
Even considering State Department obstinacy, Citizens United lawyers are optimistic they'll get those records soon. On March 13, a D.C. federal judge ruled in their favor in a similar lawsuit, ordering State to turn over the lists of passengers who flew with Hillary on each of her 47 official trips overseas.
Despite the furious legal assault, however, Citizens United president David Bossie's chief grievance isn't with the State Department. It's with Hillary.
"Were Clinton Foundation donors on these overseas flights, and if so, were photos and videos taken on the trips?" Bossie asked, in a statement provided to NR. "The American people have a right to see the relevant information we've asked for in these three FOIA requests. Citizens United is going back to court today to ensure government transparency and hold Hillary Clinton accountable."
Bossie's beef with the Clintons goes way back. He was the GOP's top investigator at the House Oversight Committee during Bill Clinton's second term, but resigned in 1998 after facing withering White House pressure over his office's erroneous transcription of investigative interviews targeting the Clintons. He became president of the small, conservative nonprofit Citizens United in 2000, where he began shooting political documentaries.
His big break came in 2008 with Hillary: The Movie, a film blasting the woman who was then the Democratic front-runner for the presidency. The movie's targeting by the FEC and the resultant Supreme Court case turned campaign-finance law on its head — and Citizens United into a household name.
Now Hillary is back in the campaign spotlight, and Bossie is ready. The records sought in the State Department lawsuits will be put to use by Citizens United in the tentatively titled Hillary: The Sequel. The new film will examine whether Hillary leveraged her position as the nation's top diplomat to favor friends and Clinton Foundation donors — perhaps by taking them along to the exotic locales she frequented during official trips abroad.
It's also likely to delve into Ms. Clinton's exacting demands and extravagant tastes while traveling — a trait suggested by her insistence on fancy suites, private jets, and absolute control during high-dollar speaking engagements in the United States.
In fact, Citizens United's cinematic assault on the Clinton candidacy is likely to feature even more details of the former secretary's time at the State Department than they've sought out in court so far. Only a fraction of the group's 18 neglected FOIA requests to the department have been brought to court — and the group tells NR that more lawsuits are almost certainly forthcoming.
— Brendan Bordelon is a media reporter for National Review Online.